Game of Thrones con le sue otto stagioni ci ha fatto conoscere numerosi personaggi e, nel corso della sua lunga storia, sono nate diverse coppie che ci hanno fatto innamorare.
Una di queste è stata, senz'ombra di dubbio, la coppia formata dal bastardo di Grande Inverno, Jon Snow (Kit Harington) e dalla bruta, Ygritte (Rose Leslie). I due si conoscono durante la seconda stagione, divenendo nella quarta stagione nemici, combattendo l'uno contro l'altro.
La loro storia d'amore è nata anche dietro le telecamere. Dopo anni di voci riguardo una loro presunta relazione, nel 2017 è stato annunciato il loro fidanzamento ufficiale. I due attori hanno poi convogliato a nozze il 23 giugno 2018, rendendo felici milioni di fan, i quali speravano in un simile lieto fine anche per i personaggi da loro interpretati.
Kit Harington in una recente intervista ha confessato alcune delle scene più belle vissute all'interno di Game of Thrones.
Una di queste vede la partecipazione di sua moglie, Rose Leslie.
Mi è piaciuta la sua morte. Lo so, suona bizzarro. Ho pensato che lei, Rose, ci sia riuscita in pieno. Ed è la prima volta che in Thrones viene utilizzato lo slow motion e penso che sia un momento bello, lei fra mie braccia, mentre questa battaglia infuria sullo sfondo. È stata una di quelle scene incredibili.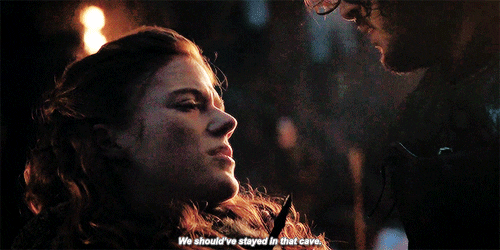 L'attore ha dichiarato che una delle cose che gli mancherà di più dopo Game of Thrones sarà la possibilità di lavorare, nuovamente, con la Leslie.
I due insieme, secondo Harington, verranno sempre associati a Jon e Ygritte dai telespettatori.
Mi piacerebbe lavorare con Rose, ma siamo sposati e abbiamo interpretato questi amanti, quindi lo rifaremo mai?
Voi, invece, quale scena della coppia vi è rimasta nel cuore? E perché?
Fatecelo sapere nei commenti!