HBO sta organizzando ogni evento possibile per mantenere altissimo l'hype dei fan in vista dell'uscita di Game Of Thrones 8 (come se ce ne fosse bisogno).
Nella scorsa settimana siamo passati dalla premiére con tutto il cast a New York (ne abbiamo parlato qui) alla dichiarazione dell'apertura del Game Of Thrones Studio Tour nel 2020 in uno dei centri di produzione dell'Irlanda del Nord (potete leggere i dettagli qui). Adesso HBO entra nel mondo della musica.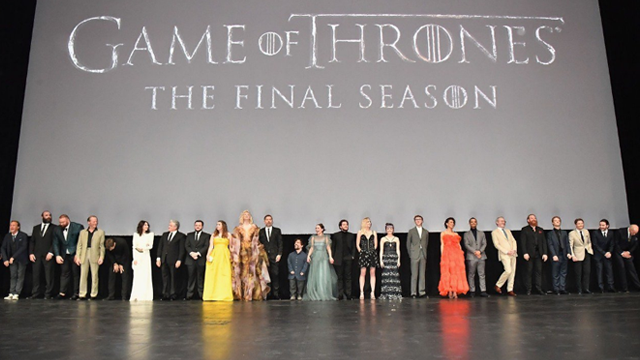 L'emittente televisiva e l'etichetta musicale Columbia Records hanno annunciato la pubblicazione di una raccolta di canzoni ispirate alla serie, intitolata For The Throne.
I cantanti che hanno deciso di partecipare al progetto in onore di Game Of Thrones sono le icone musicali di questi tempi, i nomi sono importanti anche se manca incredibilmente Ed Sheeran, che invece aveva partecipato alla settima stagione.
Un ottimo mix di pop, rock e rap: al progetto For The Throne hanno lavorato The Weeknd, Mumford & Sons, Matthew Bellamy, Ellie Goulding, The Lumineers, X Ambassadors e James Arthur e Travis Scott.
Nel post della pagina Instagram ufficiale dell'etichetta musicale si trova la lista completa dei partecipanti al progetto.
La raccolta intitolata For The Throne (Musica Ispired by the HBO Series Game Of Thrones) uscirà alla fine di questo mese in un formato cd standard.
Attenzione però, perché la Columbia Records non si è fermata qui: verrà messa in vendita anche una versione in vinile con copertina "Fire and Ice" e ben 9 versioni in vinile con una copertina per ogni casata.
Questa raccolta non è la colonna sonora ufficiale, ma piuttosto un'insieme di canzoni che si ispirano alla serie.
Quando anche l'ottava stagione sarà finita. potremo mettere in macchina questo cd e piangere al ricordo di tutto quello che abbiamo passato.