Nella notte a New York si è svolta l'anteprima mondiale di Game of Thrones 8. Il cast, presente in toto nella sua perfezione, si è lasciato fotografare rilasciando anche qualche intervista. Per alcune ore Manhattan ha interpretato il ruolo di Westeros per onorare una delle serie più belle di sempre.
Nella serie di libri di George R.R. Martin, A Song of Ice and Fire, su cui si basa Game of Thrones, le storie di Jon Snow (Kit Harington) e Daenerys Targaryen (Emilia Clarke) verranno raccontate nel libro
A Dream of Spring, chissà quando. Il libro potrà ancora non avere una data ma Game of Thrones 8 sì. La serie andrà in onda il 14 aprile, durerà per sei lunghe settimane con il finale previsto il 19 maggio.
Nonostante sia già primavera noi siamo pronti per ributtarci nel gelido inverno che affligge Westeros, provocato dall'arrivo del Re della Notte e del suo esercito. Alla cerimonia per l'anteprima, svoltasi al Radio City Music Hall di New York, c'erano veramente tutti: Peter Dinklage (Tyrion Lannister), Nikolaj Coster-Waldau (Jaime Lannister) e Sophie Turner (Sansa Stark). Ma non solo guardate chi è venuto a trovare il cast principale:
The Hollywood Reporter, presente a questo magico evento, ha intervistato i nostri attori preferiti, tra cui Emlia Clarke che parlando della fine di un'era ha risposto così: "Questo è magnifico, mi sento benissimo ma è strano". C'era che Bran Stark, interpretato da Isaac Hempstead Wright: "Devo essere onesto, sono un po' sopraffatto in questo momento. Di solito sono abbastanza bravo in questi eventi! Ne abbiamo fatti così tanti, che ci siamo abituati a fare le linee di stampa, ma questo? Questo è qualcos'altro. Deve esserci qualcosa nell'aria."
"Stavo guidando in macchina, guardando fuori dalla finestra mentre venivo qui, arrivando nel mezzo della follia. Ho pensato tra me e me: New York è davvero la capitale del mondo, è meraviglioso, dove altro avremo potuto avere la chiusura del libro se non qui nella Grande Mela?" , ha detto Liam Cunningham, che interpreta Davos Seaworth.
"Come fan dello show, è incredibile. La cosa straordinaria di uno spettacolo come Game of Thrones è la dimensione di questo cast, ci sono alcune persone che non incontri mai. Io non ho mai incontrato Mark Addy fino a ieri.", ha detto l'attore Joe Dempsie (Gendry). Addy, naturalmente, interpretava il re Robert Baratheon (nonché padre di Gendry, shh): "Questo è qualcosa che abbiamo iniziato undici anni fa. È stato un lungo viaggio ed è incredibile sentirsi parte di una famiglia. La HBO è stata davvero gentile, ha permesso anche a noi (personaggi deceduti) di far parte della cerimonia come parte del team creativo. È straordinario. "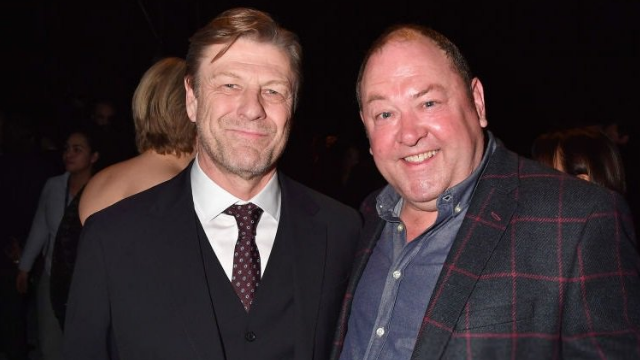 Quasi esattamente otto anni dalla sua prima stagione datata 17 aprile 2011, il cast di Game of Thrones è visibilmente nostalgico. Il gioiello della corona della HBO, ha ottenuto 47 vittorie agli Emmy Awards, un numero impressionante che sicuramente aumenterà in modo significativo dopo la sua ultima stagione. "Ha innalzato il livello ad un altezza fenomenale. La HBO ha speso denaro nel modo giusto in questo show e ogni stagione successiva hanno detto che lo avrebbero reso più grande e migliore. È fantastico.", ha aggiunto Charles Dance, che interpretava Tywin Lannister:
"Quando le persone hanno parlato delle perle che sono venute fuori nel corso degli anni in televisione, da The Wire a Breaking Bad e Mad Men, ognuno di loro ha innalzato il livello di una tacca. Mi piacerebbe pensare che, se abbiamo un'eredità è quella di aver contribuito ad avanzare con una tacchetta la qualità della tv così in un futuro lontano, qualcuno spingerà quella barra ancora più in alto."
Dopo due ore di arrivi sul tappeto rosso, la cerimonia si è spostata all'interno. Le luci si oscurarono, seguite dalle voci di Sophie Turner e Maisie Williams, che mettevano in guardia il pubblico:
Sansa: "Benvenuti all'inizio della fine, troverai sicurezza qui dentro tra le mura di Winterfell – a meno che tu non scelga di violare le nostre semplici regole … Nessuna foto …"
Arya: "Fammi tagliare una gola".
Sansa: "A chi?"
Arya: "Quello con lo stupido taglio di capelli, che sta al telefono."
Sansa: "Non li abbiamo ancora avvertiti!"
Arya: "È il momento perfetto per uccidere qualcuno!"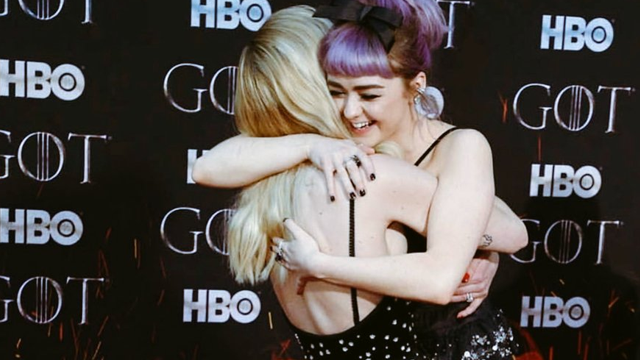 Poi sono saliti sul palco il presidente della HBO, Casey Bloys, e i creatori David Benioff e Dan Weiss. Tutti e tre hanno ringraziato i vari partner dietro le quinte per il loro contributo al successo del Trono, tra cui un elogio speciale a zio George: "Fare uno show televisivo è uno sforzo di squadra, ma Tyrion Lannister, Jon Snow e Daenerys Targaryen sono nati in una sola, brillante, spietata mente: George, grazie per averci permesso di affidare ai tuoi figli le nostre cure."
Dopo i discorsi, Benioff e Weiss hanno presentato il cast completo di Game of Thrones sul palco. Gli attori hanno lasciato il palco dopo una lunga ovazione, successivamente è stata proiettata la prima puntata di Game of Thrones 8. Alla cerimonia erano presenti anche le mogli, i mariti e i fidanzati dei membri del cast. Premio assoluto per la serata va a Joe Jonas che con una foto su Instagram ci mostra Sophie come non l'abbiamo mai vista: abbracciata a Joffrey.
Questa occasione ci ha dimostrato ancora una volta come Game of Thrones non sia solo la storia di Jon o di Daenerys: Game of Thrones è uno show corale che amiamo grazie alle caratteristiche di ogni singolo membro del cast. Il 14 aprile si chiuderà un capitolo nella storia del nostro cuore.