Questo mese verrà ricordato come l'inizio della fine per Game of Thrones, serie televisiva di punta per l'emittente HBO. I numerosi fan non rimarranno però a bocca asciutta, dopo la conclusione della loro serie preferita. È noto che ci saranno dei prequel riguardanti la serie televisiva, ma un'altra fantastica notizia è da poco giunta.
L'emittente ha deciso di trasformare uno dei loro centri di produzione, situato nell'Irlanda del Nord, in uno studio tour. Il Game of Thrones Studio Tour sarà una mostra interattiva fatta di scenografie, costumi, armi e altri oggetti di scena. Il tour includerà delle mostre che analizzano il modo in cui è stato realizzato lo show dal genere fantasy. Il progetto aprirà nel 2020.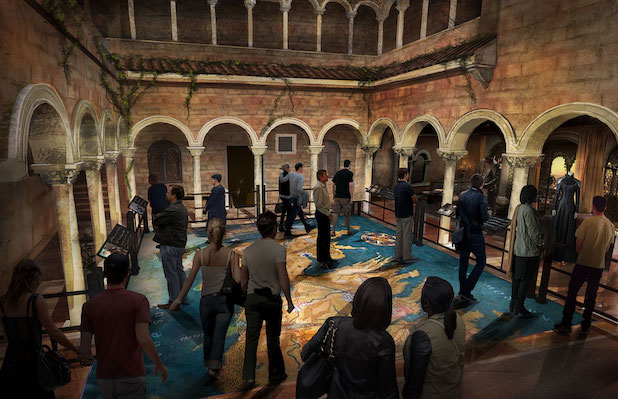 Jeff Peters, vice presidente dell'HBO ha dichiarato a tal proposito:
Sarà un'esperienza coinvolgente nella quale i fan si sentiranno come se fossero all'interno dei loro set preferiti dello show.

Lo studio tour si terrà a Linen Mill Studios a Banbridge, a circa 40 km a sud-ovest di Belfast, dove sono state girate scene nei castelli di Grande Inverno e Castel Granito, e diverse battaglie navali.
Peters ha confermato che il progetto includerà i set e gli oggetti di scena reali provenienti da tutto l'universo dello show: il tutto sarà ricostruito e ripristinato per la gioia del pubblico dalle stesse squadre di costruzione e artisti che hanno lavorato allo show.
Il Game of Thrones Studio Tour è stato ispirato allo studio tour di Harry Potter della Warner Bros., situato al di fuori di Londra. Questo sarà il primo di forse quattro luoghi delle riprese nell'Irlanda del Nord da trasformare in una esperienza interattiva per i fan. Gli altri progetti non sono stati ancora finalizzati, ma le possibilità includono i set ancora in piedi per Approdo del Re, a Belfast e Castello Nero, in una cava fuori città.
Un'ottima occasione per fare un viaggio in Irlanda!