Il nostro Jon Snow non le manda a dire quando parla della stagione finale di Game of Thrones. Durante un'intervista rilasciata a GQ Australia, Kit Harington dichiara diretto:
"filming final Game of Thrones season broke everyone".
Come affermato ieri in un articolo di Entertainment che riporta la notizia, è chiaro che la serie di punta di HBO si sia guadagnata ormai il record di evento televisivo più chiacchierato e atteso nella storia della tv. Ogni giorno qualcuno dell'emittente televisiva, del cast o della produzione ha una da dirne.
Stavolta è l'interprete del Re del Nord a commentare l'ottava e ultima stagione di Game of Thrones in uscita il prossimo aprile. E lo fa con queste parole:
"L'ultima stagione di Game of Thrones sembra esser stata pensata per spezzarci tutti in due. Girare gli ultimi sei episodi è stato faticosissimo per chiunque sul set. Alla fine delle riprese eravamo distrutti. Piangevamo e non sapevamo se per tristezza perché era la fine o perché eravamo fot********e stanchi. Praticamente non dormivamo da giorni."
E rilancia:
"Questa stagione sembrava scritta per farti pensare 'Ok, sono stanco di tutto questo!' Ricordo tutto lo staff andare in giro dicendo 'Ne ho abbastanza! L'ho adorato, è stato il più bel periodo della mia vita, un giorno mi mancherà però ora basta. Ho chiuso.'"
Entertainment sottolinea inoltre che dalle informazioni ricevute sull'ottava stagione non è difficile immaginare perché il cast la pensi in questo modo.
Pare che Vladimir Furdik, interprete del Re della Notte, abbia dichiarato al website ungherese SorozatWiki che nella terza parte della stagione vedremo una battaglia pensata per essere la più grande nella storia della televisione. Coprirà quasi un intero episodio.
Ciò alza di parecchio gli standard (già elevati) cui siamo abituati e di cui parlava il presidente di HBO qui. Se si pensa che la Battaglia dei Bastardi (che in termini di visione dura molto meno della battaglia prevista in questa stagione) ha richiesto 25 giorni di riprese, seicento persone al lavoro e settanta cavalli. E già a proposito di quell'episodio il regista Miguel Sapochnik si era espresso in modo abbastanza severo affermando che riuscire a stare nei tempi sembrava ormai un'equazione matematica.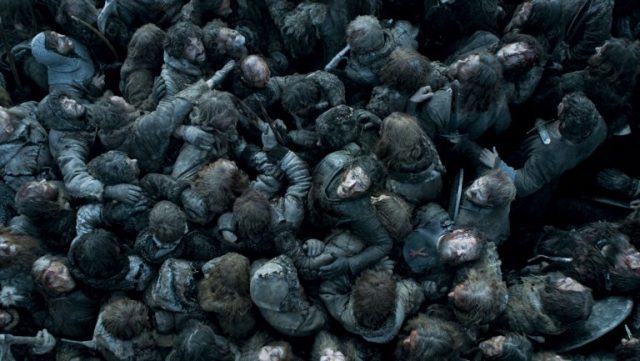 E ha richiesto solo la metà degli sforzi che cast e staff hanno dovuto affrontare per girare l'ultima battaglia di Game of Thrones.
A quanto pare mentre i fan sono devastati al solo pensiero che l'era Game of Thrones stia ormai volgendo al termine, il cast tira sospiri di sollievo e festeggia il proprio ritorno alla vita sociale. La stessa che noi perderemo ad Aprile.