Ci siamo ragazzi, il countdown è iniziato. L'arrivo del nuovo anno ci ha ricordato che manca poco ad aprile e le notizie in uscita fanno salire ancor più la febbre da Game of Thrones. Dopo il trailer pubblicato da HBO (in caso ve lo siate perso eccolo qui) sulla programmazione di quello che sembra sarà un glorioso 2019, l'ultima menzione della rete a Game of Thrones è di qualche ora fa. In un'intervista per Variety il CEO di HBO, Richard Plepler, ha rivelato che guardare l'ottava stagione di Game of Thrones sarà come guardare una serie di sei film.
È uno spettacolo! I ragazzi hanno fatto praticamente sei film. A ogni episodio pensavo 'sto guardando un film
Aggiungendo che ognuno di questi rappresenta una straordinaria delizia narrativa.
Ma non è tutto. Nell'intervista Plepler non ha nascosto la sua soddisfazione, e nemmeno il suo entusiasmo. Ben si capisce dagli elogi fatti agli showrunner David Benioff e D.B. Weiss, dei quali ha detto:
Sapevano che lo standard doveva essere alto. Ma non solo lo hanno superato, lo hanno ecceduto. Ho guardato gli episodi due volte, senza alcun CGI (computer-generated imagery) e sono sbalordito. Sembra che tutti là dentro abbiano lavorato per farci uno straordinario regalo di narrazione e magia
Le parole di Plepler aggiungono un notevole valore alle informazioni già in nostro possesso su quella che sarà la stagione finale di Game of Thrones. Infatti il regista David Nutter aveva già confermato tempo fa durante una sessione "Ask Me Anything" su Reddit che ogni episodio di questa stagione avrà una durata superiore ai 60 minuti.
Dopo le immagini da brivido di Drogon e di Sansa e Daenerys a Grande Inverno, divulgate nei giorni scorsi, le parole di Plepler sono come miele per orsetti in questo clima di attesa. Lo si nota dai commenti degli utenti lasciati sulla pagina online del Daily Mail che ha pubblicato la notizia poche ore fa.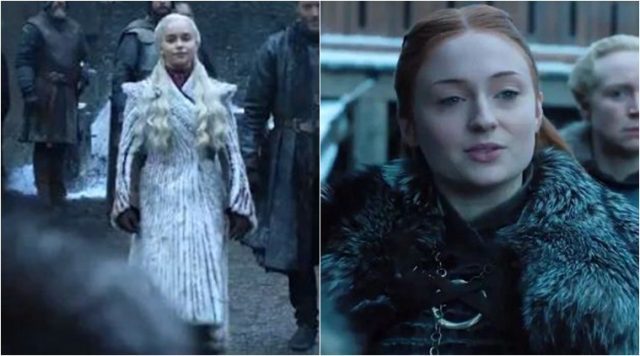 Can't wait! – My money is on Sansa. – Dany will go nuts when she hears that Jon is the rightful heir of the iron throne. – I'm ready!
E voi? Voi siete pronti? "L'inverno è arrivato."