Recitare per molto tempo in una serie del calibro di Game of Thrones è un lavoro durissimo dal punto di vista artistico, ma anche personale. Il cast ha dovuto trascorrere lunghi periodi in diverse parti del mondo, lontano dalle famiglie, immergendosi completamente nel mondo del fantasy. Ciò ha contribuito a una profonda immedesimazione degli attori nei loro ruoli, rischiando di mettere in secondo piano la vita reale.
Alcuni interpreti della serie non sono riusciti a gestire al meglio la celebrità e la pressione sul set. Sophie Turner, ad esempio, ha dichiarato di aver sofferto di depressione a causa delle critiche rivolte alla sua forma fisica e al personaggio di Sansa. Anche Kit Harington ha avuto qualche difficoltà e ha deciso di affidarsi alle cure degli specialisti di un centro di riabilitazione (ne abbiamo parlato in questo articolo).
Emilia Clarke, al contrario dei suoi colleghi, ha sfruttato ogni lato positivo dell'esperienza in Game of Thrones.
L'attrice britannica si è lasciata guidare dal suo personaggio nel percorso che l'ha portata a maturare e a combattere le battaglie della vita reale.
Pensavo di morire, ma Daenerys mi ha ridato la forza.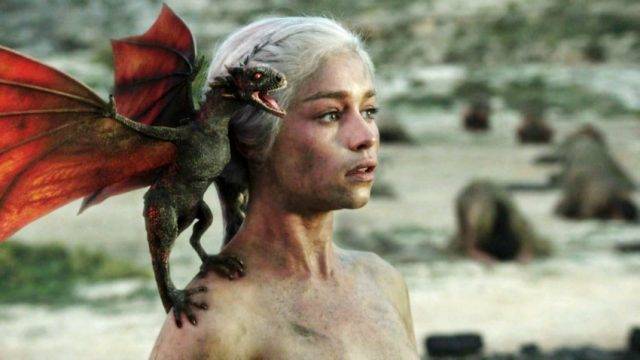 Emilia ha ritrovato la fiducia in sé stessa grazie alla determinazione e al carisma della Madre dei Draghi. L'interprete della khaleesi ha smesso di dare importanza ai chili di troppo e alla forma del suo corpo, imparando a non temere le scene di nudo e i giudizi del pubblico. Ma non è finita qui. La forza del personaggio è stata indispensabile soprattutto al termine della prima stagione di Game of Thrones.
Nel 2011 l'attrice è stata colpita da un aneurisma cerebrale e ha sofferto parecchio. È stata sottoposta a un intervento chirurgico che non ha risolto completamente il problema. Due anni dopo, infatti, Emilia è stata colpita da un secondo aneurisma. Il dolore era insopportabile, parlare era diventato quasi impossibile e l'artista ha pensato più volte di non riuscire a sopravvivere. All'interno dell'ospedale tutti le ripetevano che non ce l'avrebbe fatta, ma l'interprete di Daenerys si è ripresa del tutto, traendo anche insegnamento dal coraggio del suo personaggio. Proprio come la regina degli Andali, Emilia non ha dato ascolto a chi le diceva che non era in grado di vincere la sua battaglia.
Durante le riprese di Game of Thrones l'attrice ha tenuto segreta la sua esperienza spiacevole, ma appena il lavoro è finito ha deciso di fondare l'associazione Same You, per supportare chi combatte contro le malattie cerebrali.
Ma la fine della serie doveva arrivare prima o poi e non è stato facile per Emilia lasciare andare via Daenerys.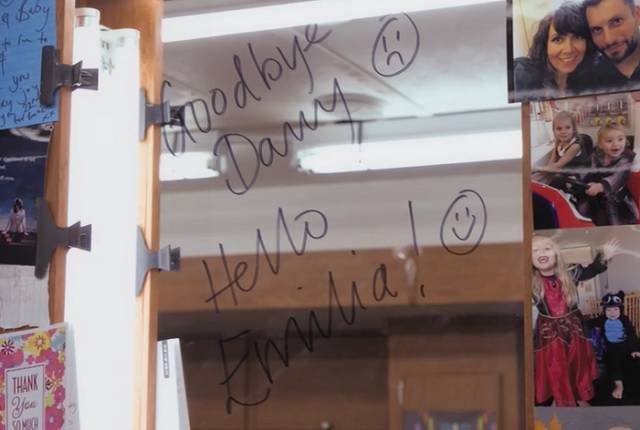 Quelli sono i più bei capelli che abbia mai avuto, non c'è alcun dubbio. È una magia indossare quei capelli. Solo un istante e… Oh mio Dio, ci siamo!

Ho il cuore in gola al pensiero che questo presto finirà. Mettere la mia parrucca mi fa sentire me stessa. [Game of Thrones: The Last Watch]
Le trecce biondo platino sono diventate il tratto distintivo di Daenerys e, indirettamente, anche quello di Emilia Clarke. L'attrice ha indossato cinque parrucche durante le otto stagioni di Game of Thrones, ma ognuna di esse è speciale per lei. Ogni chioma finta ha un nome ed è associata a ricordi indelebili.
Quando l'interprete della giovane Targaryen camminava per strada con i capelli del suo colore naturale, nessuno la riconosceva. La parrucca la rendeva un'eroina, un modello di donna forte e indipendente, ma senza di essa l'incantesimo svaniva in un attimo. Emilia poteva camminare tranquillamente confondendosi tra la folla, risultando quasi invisibile. Perciò è comprensibile che l'attrice trovasse conforto nei momenti in cui poteva indossare i capelli di Daenerys.
<<Game of Thrones ha coinvolto tantissime persone. Per molti di loro questo è tutto. È interessante trovarsi a pensare "Chi sarò senza tutto questo?" Chi lo sa!>>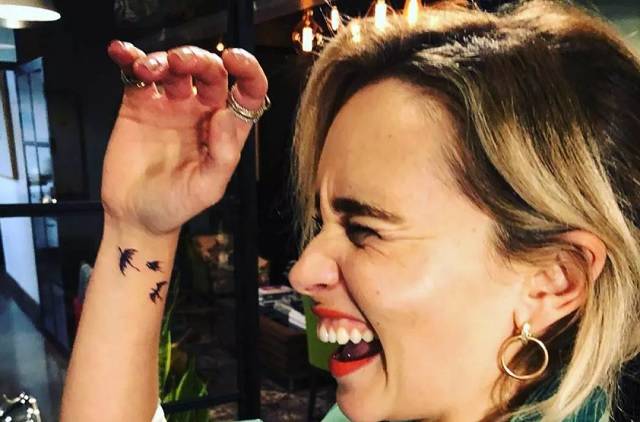 Quando Emilia ha letto la sceneggiatura finale del fantasy di David Benioff e D. B. Weiss ha pianto moltissimo e ha camminato senza meta per cinque ore. In quel momento l'attrice ha realizzato che tutto stava per finire e l'unica cosa che le importava era sapere se la sua famiglia apprezzava il personaggio di Daenerys.
La Madre dei Draghi è stata oggetto di critiche durante l'ultima stagione di Game of Thrones a causa del suo atteggiamento dispotico. Ma Emilia l'ha prontamente difesa, ricordando la natura del personaggio e le ragioni per le quali covava una rabbia tale da sacrificare vittime innocenti e compiere atti scellerati.
L'attrice ha sempre reagito prontamente a ogni critica. Quando si lavora nell'ambiente dello spettacolo si è esposti costantemente al giudizio del pubblico e il fatto che Emilia abbia condiviso tutti i suoi pensieri più intimi e gli eventi della sua vita privata con il mondo intero è un gesto da ammirare.
Perciò è proprio vero che Daenerys ha reso la sua interprete una donna forte.