Game of Thrones è finita, l'eco delle polemiche e dei pianti commossi si sente ancora troppo forte per poter considerare la faccenda ormai solo una questione del passato. Ovviamente, la morte di Daenerys e le conseguenze che ha creato è uno degli argomenti più dibattuti tra i fan della serie.
Anche i modi alternativi in cui si poteva chiudere la parabola narrativa di uno dei personaggi femminili più belli e iconici mai inventati è motivo di forti discussioni. C'è chi trova che la fine riservata alla giovane Targaryen sia giusta e chi invece lancerebbe un Dracarys perentorio sugli showrunner che hanno condannato la Madre dei Draghi a un destino infame. In pochi però si sono presi il tempo per valutare le possibili conseguenze narrative legate al ritorno o addirittura alla non uscita di scena di uno dei personaggi secondari più amati di tutti i Sette Regni. Quella cosa bella e buona che risponde al nome di Daario Naharis.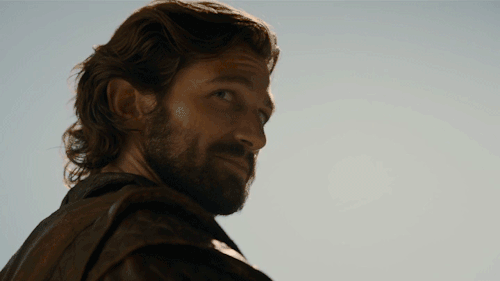 Premesso che nessuno si augurava per la più trecciuta del cast un finale melenso alla One Three Hill, Daenerys è sempre stata una combattente, una a cui non spieghi nulla (neanche se fai Lannister di cognome, sei piccolo e saggio e mandi giù litri di vino scaccione senza battere ciglio!), ma se il personaggio di Daario non fosse stato sbolognato in quel di Meeren a fare non si sa nemmeno cosa di preciso, forse anche il destino della ragazza avrebbe avuto un epilogo differente. E sicuramente alcuni di noi si sarebbero risparmiati a suo tempo un sacco di viaggi mentali immaginando un Daario inconsolabile abbracciato al cuscino mentre ascolta I'll never fall in love again a ripetizione.
Prendiamocelo però un minuto per considerare le possibili svolte che la storia tra i due avrebbe prodotto se non si fossero lasciati così.
Se la Dany si fosse portata dietro Daario che cosa sarebbe successo? Intanto, forse, avremmo evitato un incesto. Poca cosa agli occhi dei Lannister e dei Targaryen ma noi non abbiamo dimenticato quel brivido lungo la schiena che ci ha percorso quando abbiamo visto zia e nipote rotolarsi fra le lenzuola alla fine della settima stagione.
Mi sbilancio un po' di più e lancio l'azzardo: e se la Madre dei Draghi fosse sopravvissuta al finale, grazie alla presenza del Secondo Figlio al suo fianco?
Esaminiamo la cosa prima di iniziare a litigare.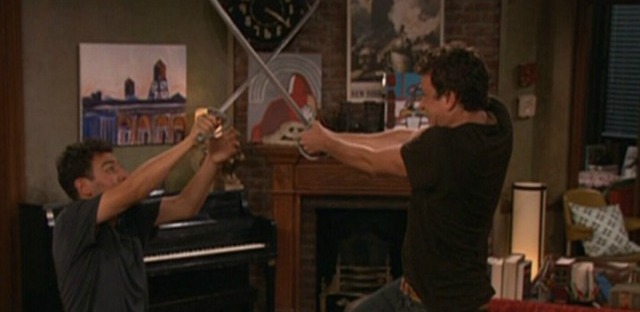 Analizziamo intanto il personaggio di Daario prima di decretare la cosa come impossibile. Daario è un uomo semplice, ok, siamo ben lontani dalle argute e filosofiche sfaccettature del piccolo Lannister ma anche decisamente al di sopra della paralitica espressività di Jon Snow, ma d'altronde non lo era anche Khal Drogo, il grande amore mai dimenticato della regina?
Passioni diverse per carità, il primo ha gusti leggermente più raffinati, se così si può dire, del secondo, il quale si esprimeva in una lingua ruttata e metteva al centro dei suoi svaghi mutilazioni e orgie, una in sequenza dell'altra di solito. Ciononostante Daario, il ragazzo di strada che si è fatto largo nella vita scazzottando come pochi, è sì un uomo dai piaceri semplici e dai modi decisi, ma non così tanto da non meritarsi un posto di rilievo alla corte della Madre dei Draghi e per di più nei suoi anni d'oro, quelli in cui nessuno avrebbe mai detto che avrebbe fatto cose che se il padre defunto fosse stato ancora in vita avrebbe potuto solo accompagnare.
Giunto al cospetto della stessa l'ha corteggiata con la giusta dose di sfacciataggine e rispetto che avrebbe fatto capitolare tutte le donne oneste del creato per poi calare l'asso, in molti sensi, con quel nudo posteriore che ha convinto anche quelle che non volevano ammettere che Daario il Secondo Figlio stava iniziando a farci dimenticare l'uscita dal cast di Jason Momoa.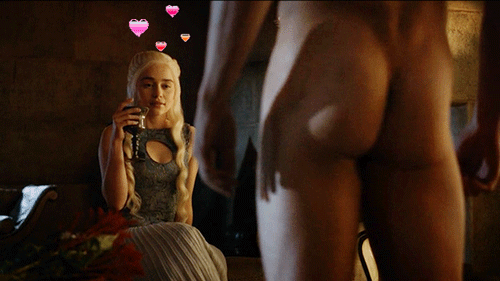 Avvenenza, spavalderia e coraggio però non sono le sole armi con cui Daario ha convinto molti fan di Game of Thrones. L'arma più efficace che gli ha fatto guadagnare un posto d'onore nella corte, e nel letto, della sua regina è stata la stessa che è venuta a mancare alla giovane Targaryen giunta all'ultimo capitolo della sua storia. La lealtà. Eh sì, perché Daario si è giocato la carta più importante fin dal principio, quando ha tradito i suoi stessi colleghi mercenari per quella piccola ragazza e i suoi tre figli squamosi.
Non ha vacillato nemmeno quando alcune sue scelte strategiche si sono dimostrate azzardate e quando la ragazza si è trovata a rischio esecuzione. In quei casi o era al suo fianco o alla sua ricerca, per evitare che tale cosa accadesse.
Certo, la Dany non è di certo una che va salvata. Come la storia dimostra tutt'al più, a una certa, andava solo fermata, ma lui comunque era lì. Pronto a dimostrare la sua lealtà. E se ci fosse stato anche nell'ora più buia? Se fosse stato presente per impedire che il nipote della sua ragazza facesse troppa strada nel suo cuore e nel modo meno legale? Oggettivamente tra i due non c'è gara suvvia! E se fosse stato sempre lì nel momento in cui gli alleati iniziavano a intravedere eredi più malleabili da seguire e s'incominciava a sentire già odore di tradimento nell'aria?
Non è forse questa la cosa che più di tutte ha fatto scappare i cavalli nel momento meno opportuno alla giovane Targaryen? La mancanza di amici nel momento i cui migliori le erano stati strappati dai suoi nemici, viventi e non, e di qualcuno che le dimostrasse lealtà e amore. Con buona pace di Verme Grigio che per capacità logopediche e motivazionali era decisamente il meno indicato per consigliare la tormentata regina. Forse Daario avrebbe avuto un ruolo decisivo nella guerra a Cersei.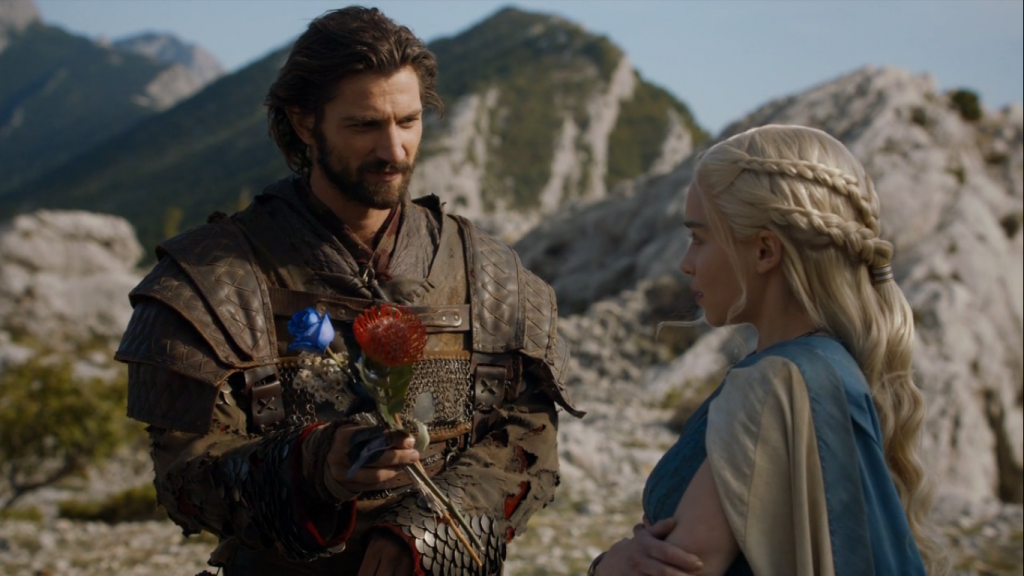 A volte anche una sola persona, quella giusta, può fare la differenza.
In fondo Dany non è sempre stata sorda d'orecchio come nell'ultima stagione. Per amore è una di quelle che, come tante di noi, si è rimangiata dei sonori No che aveva esclamato tempo a dietro. È pure una che si è mangiata un cuore crudo di cavallo solo perché il suo innamorato le ha detto di farlo. Quindi perché non volersi cullare nell'agrodolce possibilità che forse Daario, con il suo sorriso sornione, il suo amore devoto e la sua stoica lealtà (e pure la sua mancanza di parenti in vita che potessero mettersi in mezzo tra lui e la sua amata al grido di a noi questa non piace!, vedi alla voce sorelle Stark) avrebbe potuto ribaltare le sorti di uno dei più discussi epiloghi della storia?
Quindi è un amaro addio quello che diamo a Daario, il culetto più bello e leale dei Sette Regni che pure se non ha stravolto la storia sappiamo essere ancora vivo, a differenza di mezzo cast di Game of Thrones. E forse chi lo sa, un giorno uno spin-off ci svelerà che cosa combina di preciso a Meeren.