Il mondo è bello perché è vario. De gustibus non est disputandum. Sono queste alcune delle espressioni che solitamente usiamo quando vogliamo giustificare un'opinione, impopolare o meno, che non combacia con quella del nostro interlocutore. È chiaro che, per quanto siano retoriche, queste frasi hanno il loro fondo di verità. Quando parliamo di serie tv, e in particolare di Game of Thrones, facciamo un uso spropositato di queste parole, per giustificarci o per rafforzare la nostra posizione.
Il punto è che in questo campo, quello delle opinioni in merito a prodotti televisivi e cinematografici, siamo nel regno della soggettività. Sono così tante le sfaccettature che possono spingere qualcuno a esprimere un parere diverso dal nostro su qualcosa cui è impensabile avere una visione comune. Nelle serie tv, non è la prima volta che un finale di serie divida i fan: i casi più clamorosi del passato sono senza dubbio stati Lost, How I Met Your Mother, Dexter. Cosa hanno in comune queste serie tv? La clamorosa mole di puntate alle spalle, l'enorme quantità di storie raccontate e un fandom estremamente vasto e attivo. Tutto questo può applicarsi anche a Game of Thrones.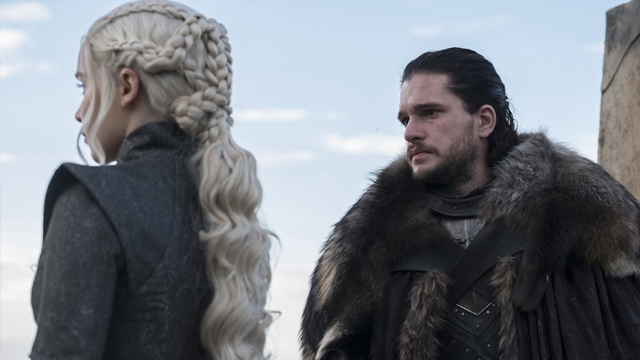 Questo significa che la prima premessa da cui partire è che non è mai facile concludere delle serie così lunghe e articolate. Rinviando ad altre sedi la discussione sui finali degli altri prodotti citati (ma qui potete trovare un'analisi su quello di Lost), cosa possiamo dire dell'epilogo più chiacchierato del momento, quello di Game of Thrones?
La domanda da cui dobbiamo partire è superficiale e banale, come del resto lo è il grande numero di commenti che si sta riversando come una moda su questo series finale: Game of Thrones ha toppato con il suo episodio conclusivo? Secondo me (e torniamo al discorso di inizio articolo): no.
La puntata 8×06 (qui trovate la nostra recensione) ha indubbiamente delle falle, ma è evidente che esse derivino da un'intera stagione (anzi, da due) in cui la struttura narrativa è nettamente cambiata. Se, infatti, le prime sei stagioni sembravano prestare molta più attenzione allo sviluppo delle storie legate ai personaggi, usando le prime come strumento per raccontare i secondi, a partire dalla settima avviene il processo contrario: i personaggi diventano il pretesto per giungere alla conclusione della storia.
Questo, inevitabilmente, ci porta a una parola chiave delle ultime due stagioni di Game of Thrones: fretta. L'ultima puntata, dunque, è figlia di una frettolosità non improvvisa, ma quasi studiata a tavolino e che (questo sì) mi sento personalmente di criticare. Sembra inspiegabile, infatti, la scelta dell'HBO di ridurre il numero di puntate per la settima e l'ottava stagione (rispettivamente di 7 e 6) rispetto alle canoniche 10 di quelle precedenti.
È vero, alcuni episodi durano di più, ma se uniamo questo fattore al tempo perso a causa di storie che non hanno avuto un'influenza nella trama (ehm ehm… Dorne…), otteniamo come risultato una storia frettolosa. Questo vuol dire che il finale è pessimo? C'è ancora una questione da risolvere per rispondere definitivamente alla domanda.
A inizio articolo abbiamo parlato della questione della mole di puntate e soprattutto di storie raccontate come caratteristica delle serie tv che hanno un finale particolarmente discusso. Game of Thrones, in questo senso, primeggia: riuscite a quantificare il numero di storie, di interrelazioni tra i personaggi e in generale di eventi verificatisi durante queste otto stagioni? È quasi impossibile ricordarli tutti. È probabile quindi che la reazione più comune, in tutte le situazioni simili a questa, sia riassumibile con una frase:
Dopo tutto ciò che abbiamo visto, questo è quanto?
Sì, questo è quanto. Perché vedere Bran diventare Re dei Sei Regni, vedere finalmente la conclusione di un gioco iniziato otto anni fa risolversi in una semplice vicenda umana, lascia sempre quella sensazione di incompiutezza. Si badi, non è per chi si è seduto su quel trono: il punto è che Game of Thrones è sempre stata una serie di vicende umane, indipendentemente dalla presenza di draghi ed Estranei. E siamo stati tanto infatuati dall'idea che prima o poi qualcuno dovesse essere il re (o la regina) che non abbiamo mai pensato a come sarebbe stato vivere quell'attimo.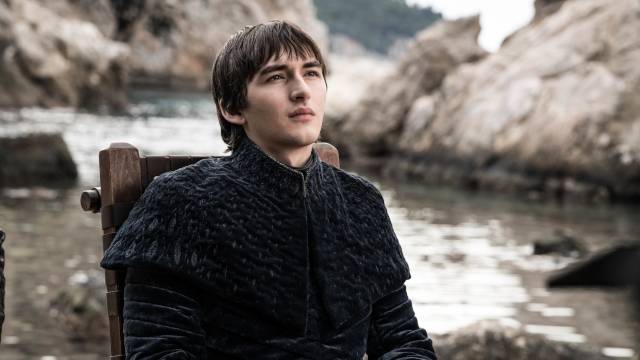 Per questo ritengo che, tutto sommato, Game of Thrones abbia concluso degnamente un compito estremamente arduo. È probabile, inoltre, che il tempo permetterà a molti di rivalutare questo finale. Chiudere un cerchio non è mai facile, alcune serie ci riescono brillantemente, altre sono in grado di fare disastri, altre ancora trovano una via di mezzo: Game of Thrones appartiene a quest'ultima categoria. Del resto, come dice Tyrion proprio nell'ultimo episodio:
No one is very happy, which means it's a good compromise…