Game of Thrones 8 è già animato da un numero considerevole di teorie prodotte dai fan ma adesso ci si mettono anche gli showrunner ad alimentare l'hype. Benioff e Weiss, infatti, nel corso di un'intervista hanno dato una risposta intrigante a una domanda sugli Estranei.
Anche a diversi giorni di distanza dalla puntata "La lunga notte" del regista Miguel Sapochnik, il fandom di Game of Thrones 8 è rimasto scioccato per la scena finale: Arya Stark (Maisie Williams) che uccide il Re della Notte, realizzando in parte la profezia di Melisandre e ponendo fine alla guerra con gli Estranei per sempre. Ma cosa accadrebbe se così non fosse?
I creatori Benioff e Weiss non sono arrivati al punto di promettere altri White Walkers nel finale. Tuttavia durante la partecipazione al programma Jimmy Kimmel Live!, quando è stato chiesto loro se ne vedremo altri nel futuro, hanno dato una risposta decisamente ambigua.
La conversazione di Benioff e Weiss con Kimmel è iniziata coprendo una serie di argomenti che risalgono ai tempi del college, quando hanno mosso i primi passi come duo di scrittura creativa. Poi sono passati a parlare del processo di adattamento con l'autore George R. R. Martin – includendo l'ormai famosa storia su come lo scrittore abbia sfidato la coppia chiedendo loro l'identità della madre di Jon Snow.
Kimmel poi ha avanzato ai creatori Benioff e Weiss una domanda in particolare sulla trama.
Non vedremo più gli Estranei?
"Non abbiamo intenzione di rispondere."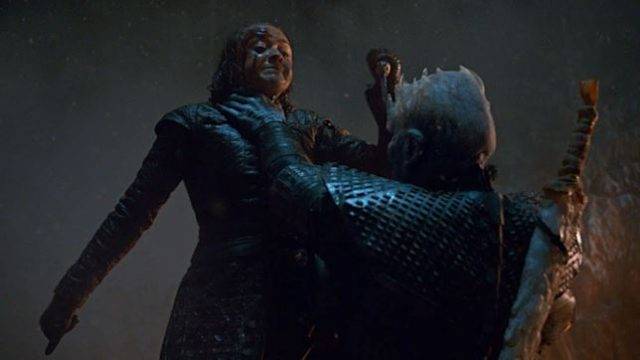 Il capitolo degli Estranei dovrebbe essere definitivamente chiuso: abbiamo visto chiaramente Arya uccidere il Re della Notte, e di conseguenza tutte le sue creature sono sparite sul campo di battaglia. La scena ha mostrato un destino piuttosto inequivocabile per il Re della Notte e il suo esercito.
Facciamo un passo indietro e torniamo alla prima volta che Game of Thrones ci ha mostrato il Night King. Siamo nel quarto episodio della quarta stagione. "Oathkeeper" ci mostra una scena non presente nei libri e pensata esclusivamente per la serie: Estranei in compagnia del figlio neonato del defunto Craster. Ricordate? Lo sgradevole Craster aveva stretto un patto con gli Estranei: a lui e alla sua famiglia non avrebbero torto un capello fintanto che si impegnava a consegnare loro ogni figlio maschio.
La scena mostra per la prima volta il Re della Notte e questi, con un solo gesto, trasforma questo bambino in qualcos'altro. Non sappiamo bene in cosa, perché notiamo solo un cambio di colore degli occhi, ora di un blu innaturale. Forse è diventato un Estraneo, o forse, col tempo, diventerà il nuovo Re della Notte secondo le nuove teorie alimentate proprio da D&D.
Dopotutto, data la riluttanza di Benioff e Weiss mostrata sulla domanda dei White Walkers, perché non potremmo immaginarci il ritorno di questa minaccia, magari in un piccolo filmato dopo i crediti del grande finale?