Qualcuno una volta ha detto che le parole sono frecce, proiettili, uccelli leggendari all'inseguimento degli dei. Le parole sono pesci preistorici che scoprono un segreto terrificante nel profondo degli abissi, sono reti sufficientemente grandi da catturare il mondo e abbracciare i cieli. A volte però le parole non sono niente, sono stracci usati dove il freddo penetra, sono fortezze in disuso che la morte e la sventura varcano con facilità. Nel nostro caso però il castello è ben protetto e le parole sono pietre angolari su cui costruire. La frase che dà il titolo al nostro articolo proviene da Game of Thrones, precisamente dalla 1×02.
A pronunciare la frase è un uomo dai capelli lunghi, dal cuore grande e con un profondo senso dell'onore. Si tratta di Ned Stark, il Lord di Grande Inverno e Protettore del Nord. Il capofamiglia della casata dal motto "l'inverno sta arrivando" si rivolge a quello che fino a qualche tempo fa pensavamo fosse il suo figlio bastardo: Jon Snow. Nessuno avrebbe mai pensato, in quella seconda puntata, che dopo sette stagioni si sarebbe scoperto che in realtà non era suo figlio, ma di sua sorella Lyanna. Andiamo ad analizzare il contesto, le conseguenze e il peso di quelle parole.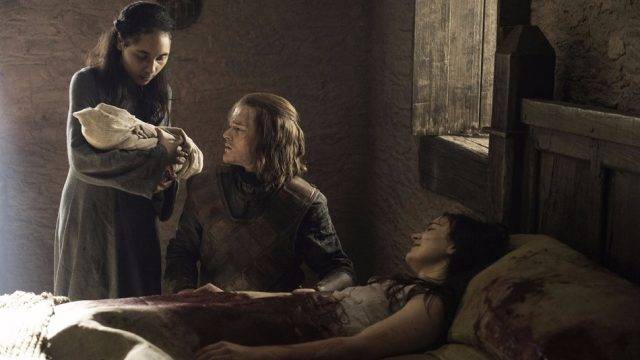 Il valore di una promessa
Rivedendo il colloquio tra Ned e Jon in Game of Thrones ad anni di distanza scende una lacrimuccia a solcare la nostra guancia. Riosservando attentamente la gestualità di quell'uomo d'onore verso un figlio non suo capiamo quanto valore abbia una promessa. La promessa fatta a sua sorella in fin di vita, ovvero di proteggere il piccolo Aegon Targaryen dalla morte. Perché quella sarebbe toccata a Jon se Ned non avesse mantenuto il segreto. C'è anche un'altra promessa: quella fatta allo stesso nipote, di raccontargli della madre una volta che si sarebbero rivisti. Anche questo secondo patto sembra mantenuto perché attraverso un cerchio temporale che inizia e finisce con Jon e Ned arriviamo fino alla 8×01, arriviamo a domenica scorsa.
Proprio nella première vista da 17 milioni (sì, avete capito bene: DICIASSETTE) di spettatori la promessa viene mantenuta. Come? C'è una scena chiave nelle 8×01 che ci fa capire quanto il destino abbia la sua puntualità, quanto si prenda gioco di noi, quanto sia l'ago della bilancia delle nostre vite. Siamo nella cripta degli Stark, il cimitero di statue degli antenati della famiglia. Tra queste c'è anche quella di Ned. Jon è in quel sotterraneo, ha una torcia in mano ed è li per salutare quello che credeva suo padre. Un rumore interrompe la sua contemplazione nel candido e freddo buio, è Sam.
Il resto è ormai storia di Game of Thrones.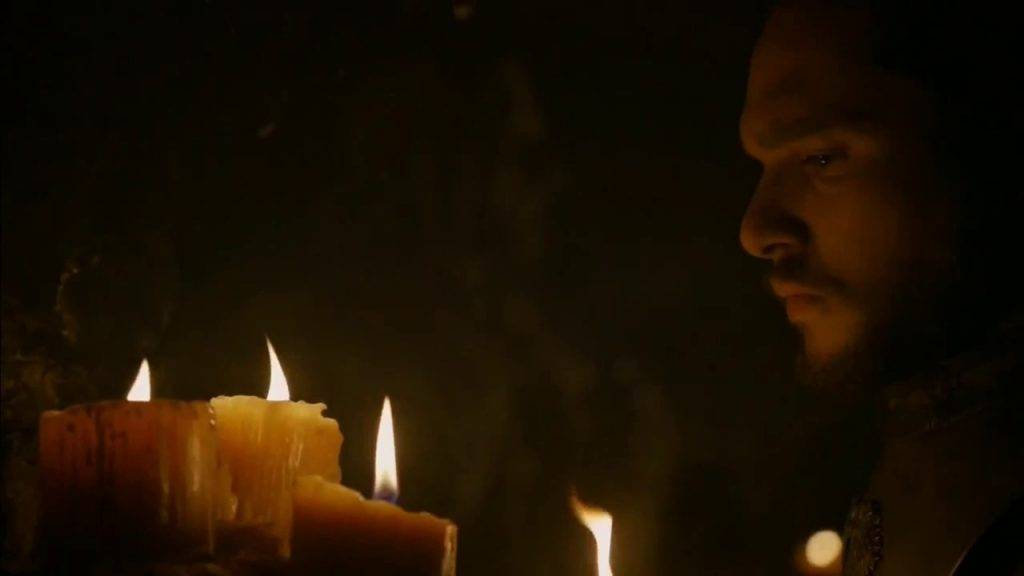 Il dialogo, la scoperta della verità, il silenzio stupefatto, la negazione della realtà, ancora il silenzio e poi lo schermo nero. La verità che cala imperturbabile nella realtà, la storia che illumina le pareti oscure della cripta. È un lampo, un fulmine a ciel sereno. Le parole di Sam arrivano come un inaspettato temporale estivo. Durano pochissimo, ma sono intense e rumorose. E in quel momento capiamo tutto, lo capiamo quando la telecamera mette a fuoco prima Jon e poi la statua di Ned.
Capiamo che quella promessa del capostipite degli Stark è stata mantenuta. I due si sono incontrati di nuovo, si sono rivisti, e in quel momento, in quel preciso istante, Ned gli ha raccontato la storia della sua vita. Non è stato Sam a parlare, il giovane Tarly è stato solo il mezzo che Ned ha utilizzato per raccontare la verità a Jon. Una verità che all'inizio può sembrare menzogna, ma che piano piano scava le rocce, come gocce di acqua pura. Una verità riscalda il freddo inverno alle porte, che mescola ghiaccio e fuoco.
Del resto, il verbo che precede la parola "promessa" quando viene adempiuta è "mantenere", che vuol dire tenere per mano, accompagnare una persona lungo il cammino della sua vita. Ed è questo quello che ha fatto Ned con Jon, con un figlio che non era suo, ma che ha dovuto crescere come tale. Ned lo ha reso ciò che è oggi: un Targaryen con i valori di un uomo del nord. Perché Jon "può non avere il suo nome, ma ha il suo sangue", quello di una madre di casa Stark, quello di uno zio che ha mantenuto la sua promessa.