Uno degli elementi che ha reso Game of Thrones un fenomeno di massa mostruoso è indubbiamente la sua predisposizione a far discutere di sé. Il primo episodio dell'ottava e ultima stagione è finalmente stato rilasciato e il Web è in fibrillazione tra speculazioni, meme e commenti. L'hype creato dalla lunga attesa per la stagione finale della serie colossal HBO ha dato i suoi frutti e già nelle scorse settimane la curiosità era febbrile. Game of Thrones 8 ha già scatenato l'inferno.
Winterfell è stata trasmessa la scorsa domenica negli Stati Uniti e ha già fatto parlare di sé per i numerosi richiami al pilot della serie. Twitter, Facebook e l'app TV Time sono LETTERALMENTE ESPLOSI di commenti ironici, dibattiti e proiezioni. Noi di Hall of Series abbiamo messo insieme i migliori commenti all'episodio 8×01 di Game of Thrones solo per voi.
Cersei e l'elefante hanno dato al popolo di internet numerose idee sulle quali sbizzarrirsi. Nonostante l'imminente guerra contro i White Walkers infatti, la principale preoccupazione della regina sembra essere la mancanza di un elefante da poter cavalcare…
E poi, il meme definitivo:
Ma l'ironia del Web non si è concentrata solo sull'ossessione di Cersei per gli elefanti. Uno dei momenti più toccanti del pilot di Game of Thrones 8 ha avuto per protagonista Sam e la confessione da parte di Daenerys di aver giustiziato suo padre e suo fratello. Jhon Bradley ha magnificamente interpretato la disperazione che si potrebbe provare per una simile scoperta. Su Twitter hanno dato un'interpretazione singolare di quel frangente:
Anche lo sguardo di Daenerys quando ha dovuto spiegare a Samwell che suo fratello era morto insieme al Lord di casa Tarly è stato leggermente rivisitato…
Un altro elemento che ha colpito tantissimo i commentatori del primo episodio di Game of Thrones 8 è stato indubbiamente lo sguardo di Drogon durante le effusioni tra Jon e Daenarys. Il maestoso drago infatti ha deliziato gli spettatori con uno sguardo davvero difficile da decifrare…
Ma tra tutte, la versione "Uomini e Donne" dello sguardo del drago è memorabile:
Insomma, Twitter sembra essere il paradiso per i commentatori di Game of Thrones 8. Ma anche l'app Tv Time ci ha regalato immagini divertentissime e assolutamente memorabili. Vediamo le migliori insieme:
1) Bronn il mercenario
Le stagioni passano, ma il desiderio di Bronn resta sempre lo stesso. Qualcuno si decide a dare un castello a quest'uomo?
2) Jaime e Bran
Il finale dell'episodio pilota di Game of Thrones 8, con la reunion tra Jaime e Bran, ha suggerito una svolta "Quasi Amici" per i due che è a dir poco geniale!
3) Bran l'osservatore

Se siete a Winterfell e vi sentite osservati, non vi preoccupate: è Bran!
4) Bran e Jaime: i conti in sospeso
"Quando ti imbatti in quell'amico che ti deve dei soldi…". Lo sguardo tra Bran e Jaime ha dato un sacco di idee al popolo del Web!
5) Cersei, la regina volubile
Se vuoi una prostituta, pagala. Se vuoi una regina allora guadagnatela
Cersei nel primo episodio dell'ottava stagione di Game of Thrones ha dato a Euron Greyjoy una risposta epica. Peccato che abbia cambiato idea in un batter d'occhio!
6) Drogon lo spione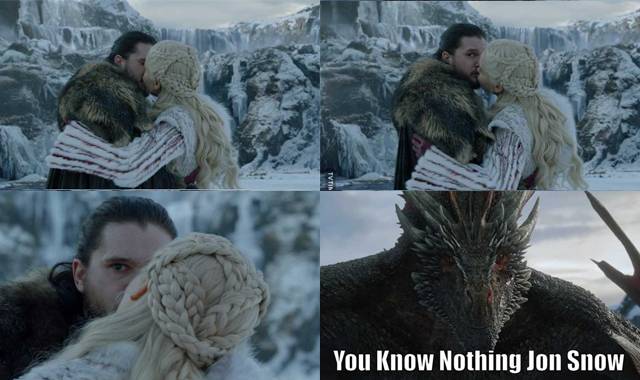 In questa immagine Drogon assiste al bacio tra Jon e Daenerys e cita Ygritte. Quella è tua zia!! Non sai niente Jon Snow!!
7) A proposito di incesti…
Nella scena tanto attesa in cui Sam confessa a Jon che lui non è mai stato il bastardo degli Stark, lo fa iniziando con la frase: "Lyanna Stark è tua madre". Forse sarebbe stato più opportuno iniziare con la frase "Ned Stark non è tuo padre". Questo perché Lyanna e Ned erano fratello e sorella. Immaginate i momenti di puro orrore provati da Jon prima di scoprire che non è frutto di un incesto, ma che suo padre era un Targaryen?
8) Hype
L'attesa per Game of Thrones 8 era tale che anche solo l'inizio della sigla è stata un'emozione incredibile.
E questi erano solo alcuni dei commenti migliori alla 8×01. Siamo solo all'inizio e abbiamo già meme in abbondanza! Non ci resta che attendere il secondo episodio e scoprire quali geniali immagini ci regalerà…