Ed eccoci arrivati alla fine dei nostri appuntamenti settimanali con The Walking Dead.
Devo ammettere che all'inizio di questa stagione non mi sarei mai aspettata un finale come questo. Quando si parlava di "cambiamento in The Walking Dead" probabilmente era proprio questo che si intendeva.
Questo episodio è insieme apertura del libro "la chiave per il futuro" e la chiusura di ciò che rappresenta tutto il passato. La separazione definitiva tra vita e morte, anzi tra vivi e morti. Rick è arrivato a capirlo e ora dovrà impegnarsi per dimostrarlo a tutti (noi compresi, forse).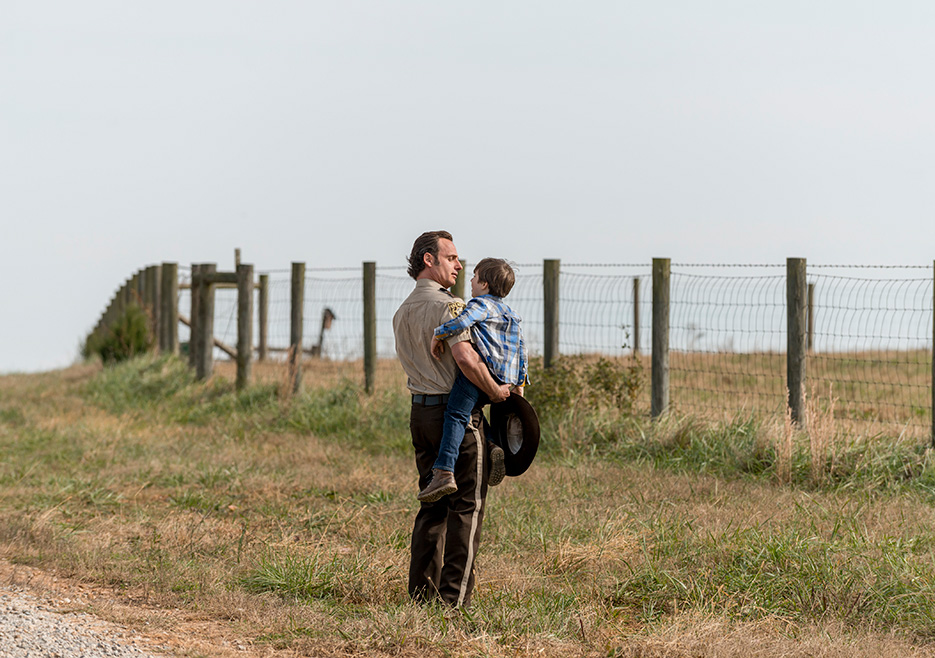 La puntata si apre e si chiude con "io ricordo..". La risposta di Rick alla lettera di Carl è semplice, veloce e diretta.
Nel flashback vediamo Rick appoggiare il cappello sulla testa di Carl. Quel cappello, visibilmente troppo grande, è come una sorta di "simbolo di responsabilità". Rick lo ha indossato a lungo prima di cederlo a Carl e nelle puntate scorse lo abbiamo visto fissarlo mentre prendeva decisioni importanti.
Il cappello da sceriffo venne consegnato a Carl dopo la sua ripresa dallo sparo di Otis alla fattoria di Hershel. Il ragazzo, in seguito, non se ne è mai separato, fino all'ultimo giorno. E' come un passaggio di testimone, un passaggio di eredità e di responsabilità mischiate alla speranza. Ora quel cappello appartiene a Judith e lei riuscirà a trarne tutti gli insegnamenti possibili.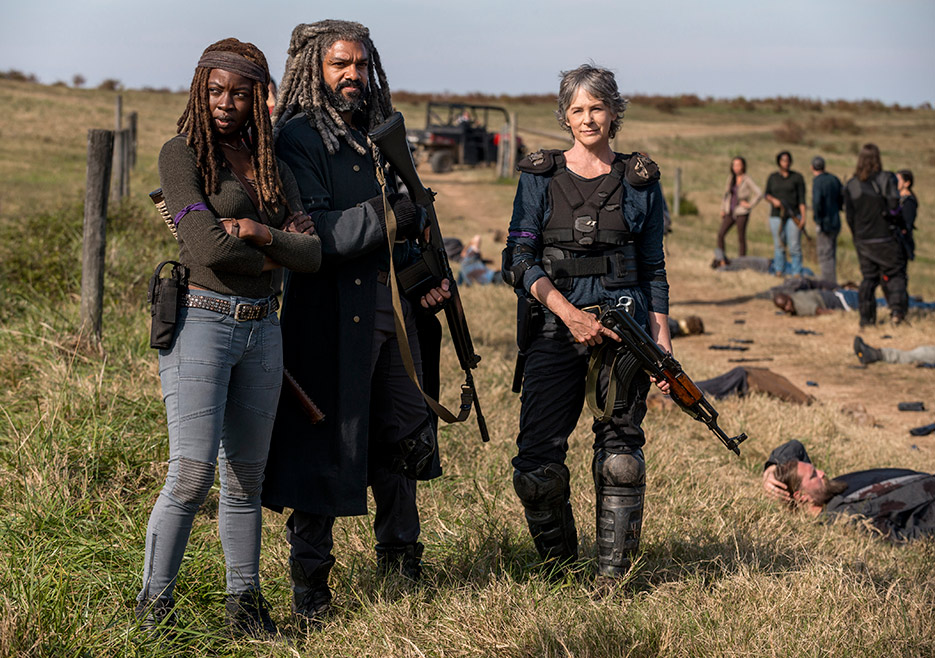 Sono tanti i riferimenti alle puntate precedenti e, addirittura alle stagioni precedenti.
Il primo collegamento importante ed immediato è quello di Rick che si guarda allo specchio dopo aver osservato Gracie. La bambina, indifesa proprio come nella prima puntata di questa ottava stagione, non ha paura di chi compare sopra il suo lettino. Ad avere paura può essere solo l'uomo che guarda se stesso e non si riconosce. 
Per Rick Grimes questa volta non è così. Sa chi è, sa chi è diventato, sa chi può e chi vuole essere. Per averne un ulteriore conferma gli basta chiedere a Siddiq come suo figlio ha perso la vita. Gli serve perchè sa bene quello che vuole fare (combattere e se possibile risparmiare Negan) e gli serve ricordarsi ancora una volta per che cosa vale la pena morire.
Carl è morto "onorando una donna che non conosceva". E visto che "tutto quello che resta delle persone che perdiamo sono le loro idee" Rick si sente finalmente pronto ad onorare suo figlio.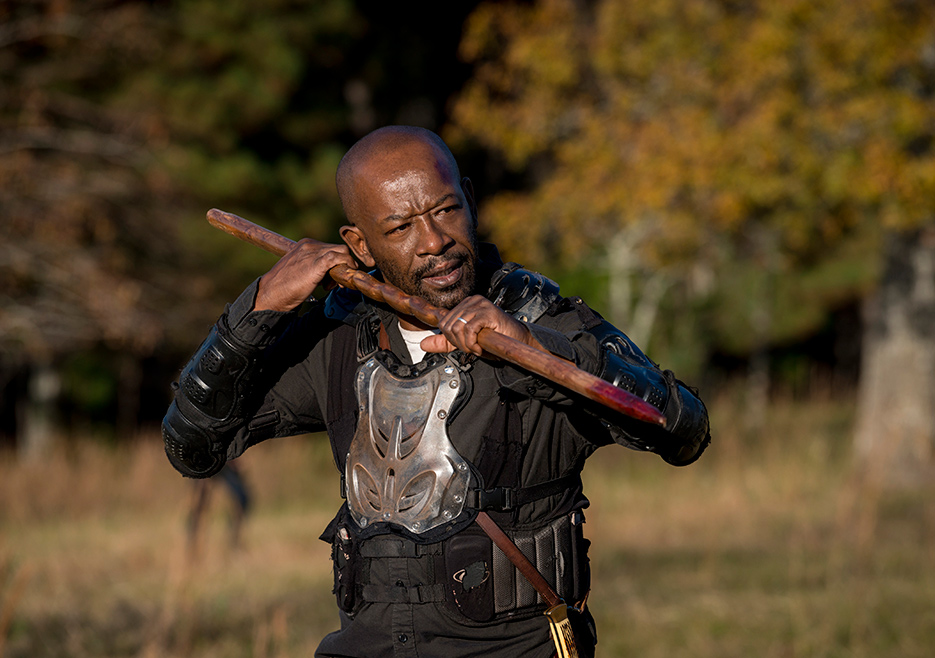 The Walking Dead però rimane sempre The Walking Dead. Nel suo mondo non esiste il lieto fine. Non per tutti almeno. Per ogni uomo che riprende il controllo di sè ce n'è uno che lo perde. Per ogni persona che viene accolta in una comunità ce n'è una che muore. Per ogni persona che muore ce n'è una che ne porterà dietro il peso.
E' ovviamente il caso di Morgan, l'altra faccia della medaglia rispetto a Rick. Il signor Jones dopo aver preso parte alla sconfitta di Negan, decide che la sua strada deve proseguire. Deve salvaguardare ciò che resta di se stesso e gli altri. Con la minaccia ad Henry ha capito di poter far del male a qualcuna delle persone vicine, quindi decide di allontanarsi.
Nessuno si azzarda a trattenerlo. Nessuno può farlo. "Me la caverò, so che lo farò" e lo sanno anche tutti gli altri.
Morgan è ricomparso in The Walking Dead quando Rick aveva più bisogno di lui. E' sempre stato così, fin dal principio. Ed è proprio con il principio che si chiude anche questa sua nuova parentesi. Non è un caso infatti che la perfetta sconosciuta Jadis gli rivolga la domanda "come ti chiami?" come lui rivolse a Rick anni prima.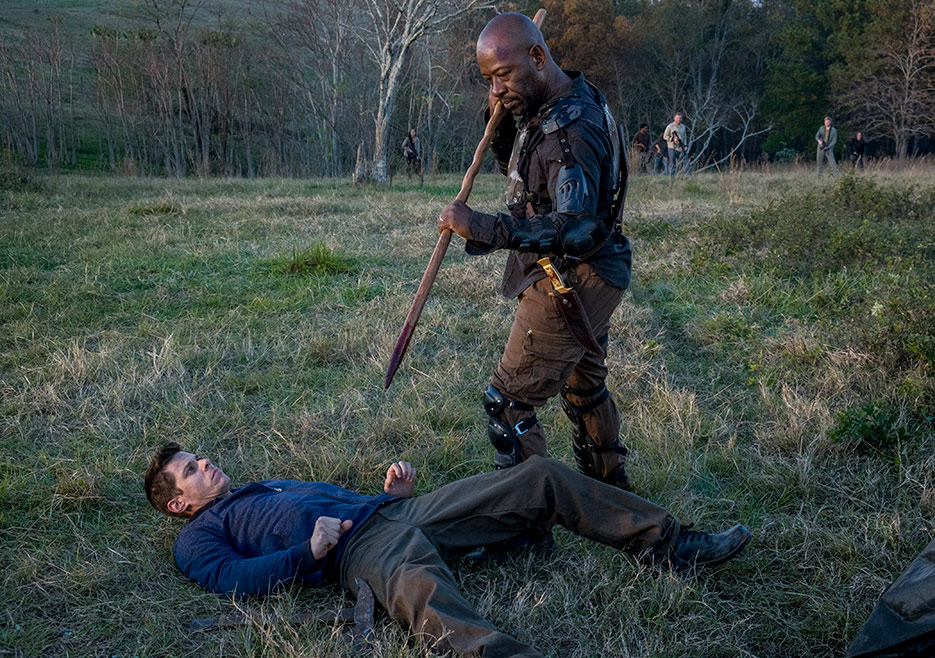 Nello scorso episodio avevamo parlato di Eugene e del suo essere consapevole o meno di avere in mano la chiave per la risoluzione della guerra.
La risposta non ci ha messo molto ad arrivare e a farsi sentire. L'inettitudine e la codardia hanno alla fine ispirato il genio a compiere il suo atto di coraggio. Per giorni e giorni ha osservato il suo nemico, lo ha conosciuto e lo ha portato dalla sua parte. Ha sfruttato la sua ira per porre fine a tutto.
Dopo i vari tradimenti subiti, l'errore di Negan è stato proprio quello di farsi abbindolare da Eugene. Sono bastati una pistola pronta e caricata, il bamboccio con su scritto "Rick" e i proiettili infallibili caricati per dare solo un'effimera soddisfazione. Sono bastati dieci secondi.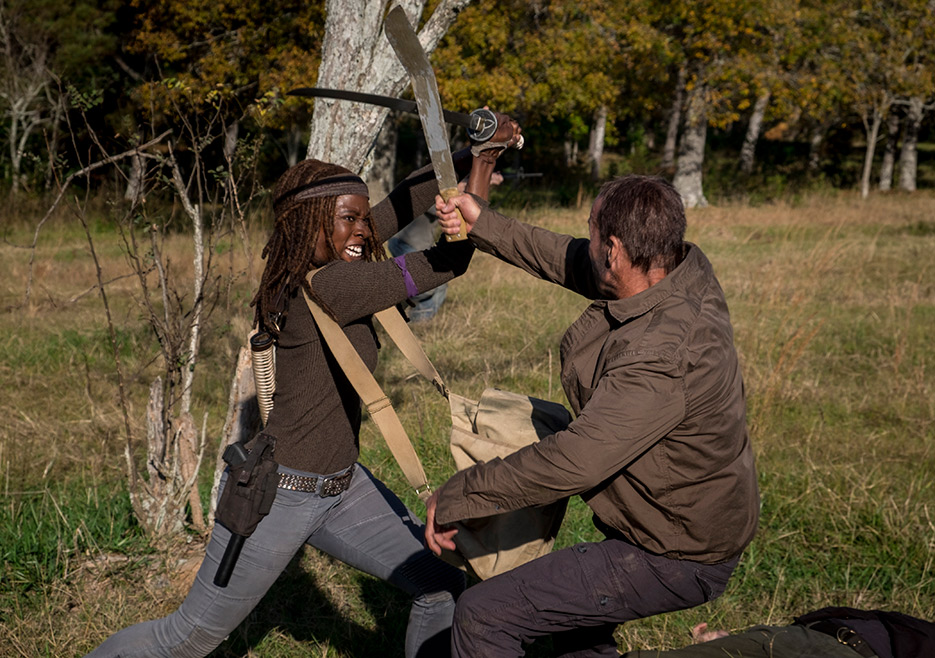 "Carl ha detto che non deve più essere una lotta, mai più."
E' con un vetro rotto e insanguinato che Rick ha la possibilità di archiviare per sempre il problema Negan. Ma è con un "salvatelo" che la tirannia ha fine.
Sarebbe stato tutto più semplice se non lo avesse detto, se lo avesse lasciato semplicemente morire. Rick Grimes è Rick Grimes. Tutti lo guardano e tutto dipende da lui. Lui non è mai stato un leader amato da tutti, fin dall'inizio. Le decisioni scomode sono quelle che devono essere prese da uno come lui. E' una sua responsabilità.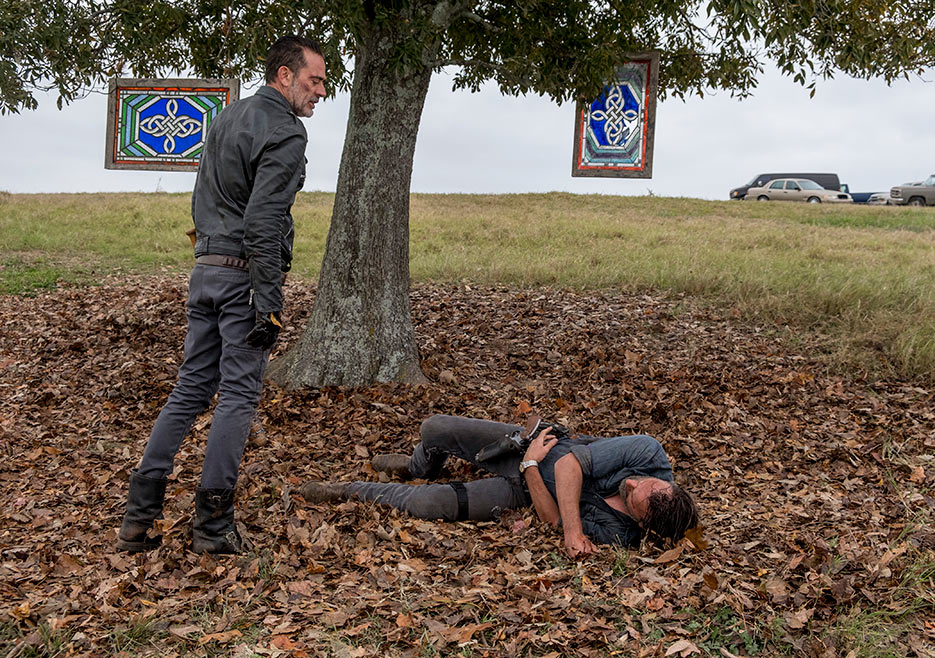 "Non possiamo fare giustizia, ma così è finita"
"Negan è vivo, ma il suo modo di fare le cose è finito. E chiunque non possa accettarlo ne pagherà il prezzo. Lo posso assicurare. Per chiunque voglia vivere in pace con giustizia e trovare un punto di incontro.. questo mondo è vostro di diritto. Noi siamo la vita, quella è la morte. E verrà a prenderci se non restiamo uniti. Quindi andate a casa, poi il lavoro comincerà. Il nuovo mondo comincerà. Tutto questo è solo il passato. Deve esserci qualcosa dopo."
Il richiamo alle parole della prima puntata dell'ottava stagione è anche qui evidente. Già da allora Rick aveva intenzione di risparmiare i lavoratori del Santuario, ma anche quello non era abbastanza. Questa volta, davanti alle quattro comunità riunite, serviva un segno di misericordia più grande. Un vero punto da cui ripartire che non poteva essere nient'altro che risparmiare la vita di Negan.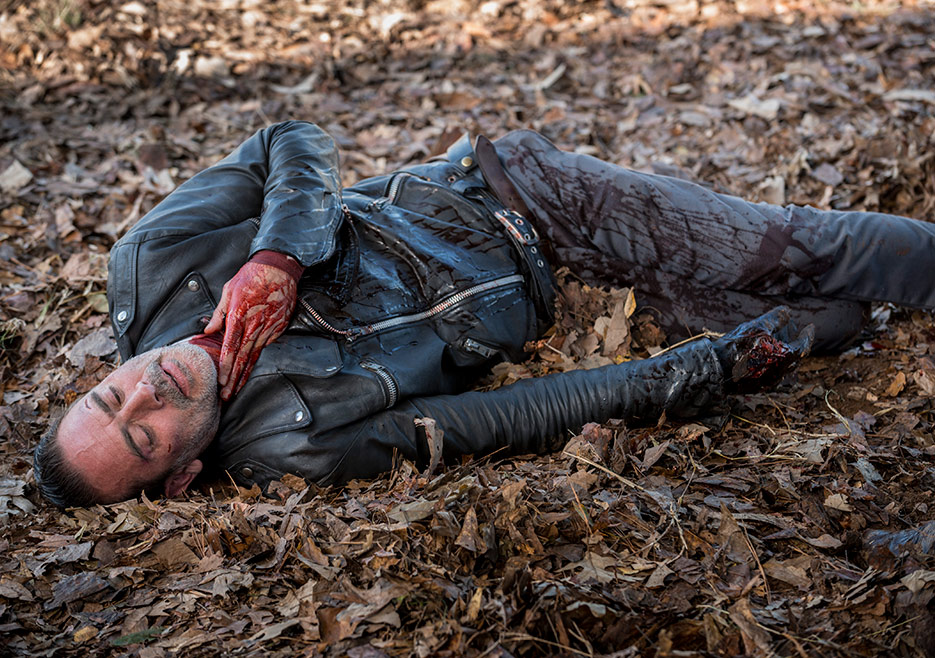 Qualcuno lo accetta subito, qualcuno ovviamente no.
Maggie non è ancora pronta a far prevalere la misericordia sull'ira. E' ancora presto o forse quello non è il suo compito. Permette ai Salvatori di rimanere, ma solo dopo aver ribadito più volte che non fanno parte di quel gruppo. Concede ad Alden di costruire, ma solo perchè può aiutarli a sopravvivere.
Nemmeno Daryl è d'accordo, ma alla fine replica il gesto applicandolo a Dwight.  Si rende conto che lo stesso destino poteva toccare anche a lui se all'inizio fosse capitato su strade differenti. Gli offre l'opportunità di ritornare libero com'era prima di incontrare Negan, prima di fare del male a qualcuno e prima di essere costretto ad inginocchiarsi a chiunque.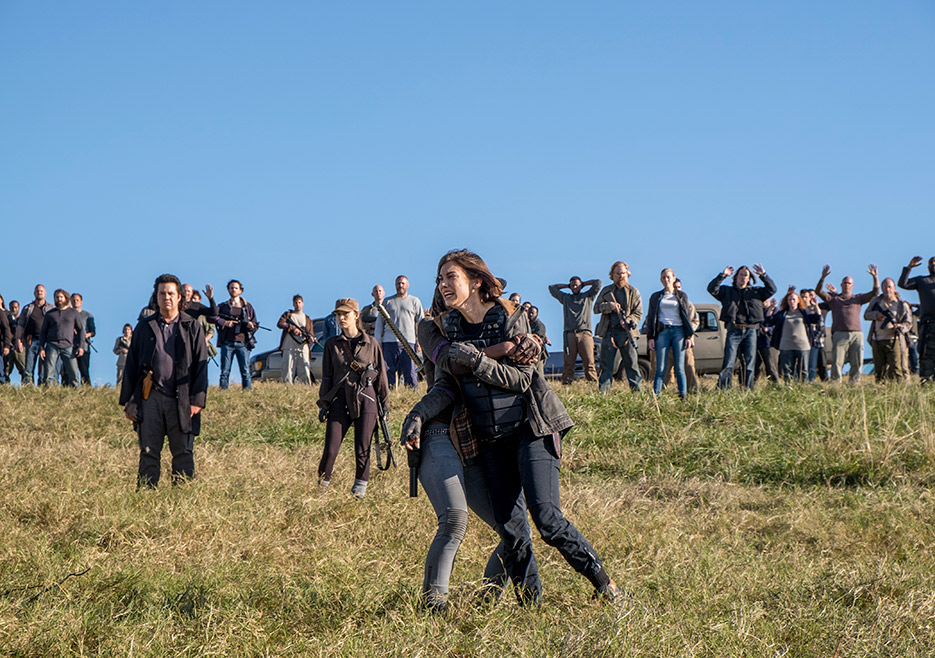 La perfetta conclusione per questa puntata sono le parole di Rick in una lettera immaginaria rivolta a suo figlio Carl.
"Caro Carl. Io ricordo. Avevo dimenticato chi fossi. Tu mi hai fatto ricordare. Ricordo quella sensazione mentre camminavo con te quel giorno, come se finalmente sapessi chi ero per la prima volta nella mia vita. Il fatto è che camminavamo fianco a fianco ma tu mi portavi da qualche parte. Mi portavi qui. Portavi tutti noi verso il nuovo mondo. Carl tu mi hai mostrato il nuovo mondo. Tu lo hai reso reale. Io vedo. Io ricordo. Papà"
La chiamo "perfetta conclusione" perchè è ovvio che Rick non si riferisca solo alla passeggiata nei campi tanti anni prima, ma anche alla passeggiata della prima puntata in cui parlavamo del nuovo mondo da costruire e di ciò che sarebbe rimasto dopo la guerra con Negan.
La chiamo "perfetta conclusione" perchè le ultime parole sono le stesse che Rick disse a Carl dopo l'invasione della mandria di zombie ad Alexandria, dopo l'incidente che causò la perdita dell'occhio a Carl.
Gli disse esattamente: 
"Mi sbagliavo. Pensavo che dopo aver vissuto dietro a questa recinzione così a lungo, forse non potessero più imparare. Ma oggi ho visto di cosa sono capaci, di cosa noi siamo capaci se restiamo uniti. Ricostruiremo la recinzione, espanderemo la recinzione. Non finisce qui, non può finire qui. Tutto quello di cui parlava Deanna è possibile, è tutto possibile, adesso lo capisco.
Quando ero lì fuori con loro, quando è finita, quando ho capito che questo posto era di nuovo nostro ho avuto questa sensazione. Ci ho messo un po' a ricordare cosa fosse perché non la provavo da prima che mi svegliassi in quel letto di ospedale: voglio mostrarti il nuovo mondo Carl, voglio farlo diventare realtà per te. Ti prego Carl, lascia che te lo mostri. Ti prego figlio mio, non morire."
Ora quelle parole hanno cambiato soggetto. Carl ha mostrato il nuovo mondo. Carl è stato in grado di indossare il cappello da sceriffo, di prendersi la responsabilità di cambiare visione. Carl lo ha fatto diventare realtà.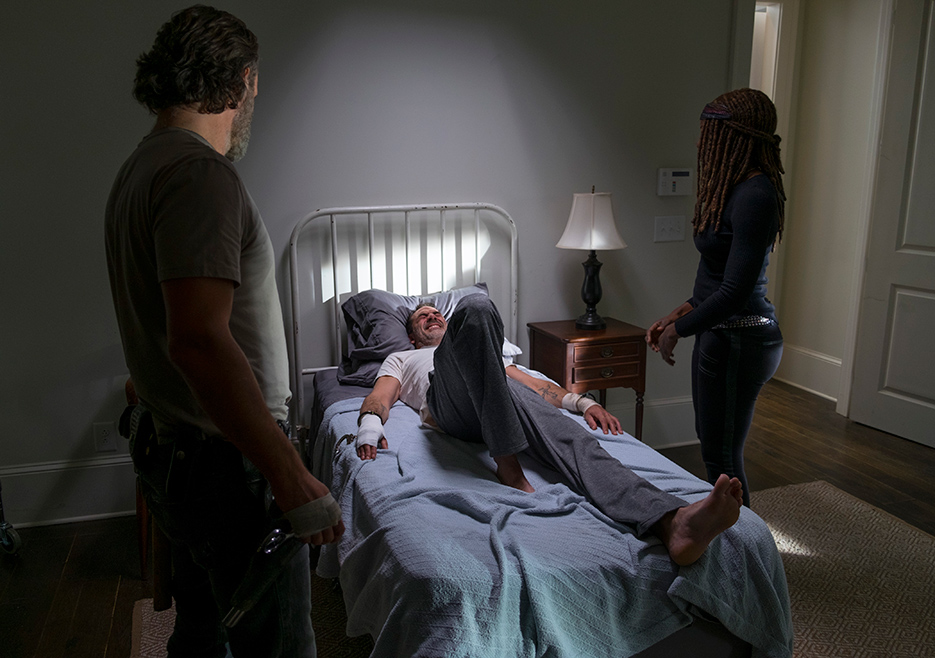 Prima di salutarci, vi invitiamo a passare dalla nostra gemellata The Walking Dead ITA. Sulla loro pagina Facebook troverete in questi mesi tutti gli aggiornamenti sulla nuova stagione e tante discussioni a cui prendere parte. Restate connessi con loro mettendo subito 'mi piace'!
Non dimenticatevi di passare anche dai nostri amici di:
Caryl Italia e Dwighty Boy – Austin Amelio Italia
Norman Reedus Italia. e The Walking Dead Italia
FIGHT the Dead. FEAR the living – The Walking Dead gdr e The Walking Dead Pagina Italiana