Who are you? I am Negan

Welcome to Woodbury
The Walking Dead è una delle Serie Tv più amate della storia. Di riflesso ci ha regalato anche alcuni tra i personaggi più discussi del panorama televisivo. In un telefilm che indaga la natura umana in un mondo post-apocalittico un ruolo, particolarmente importante, è quello rivestito dagli antagonisti di Rick e del suo gruppo di sopravvissuti.
Non a caso una delle critiche più comuni rivolte alla Serie è proprio riferita al livello scadente di alcuni dei villain apparsi nella storia. I Wolf e i cannibali di Terminus, infatti, vengono notoriamente associati alle stagioni meno godibili. Al contrario, altri rappresentano l'essenza della Serie, incarnandone pregi, difetti e contraddizioni.
Eccezion fatta per Shane, la cui complessità psicologica e morale lo rende qualcosa in più di un villain puro, restano due gli antagonisti più iconici: il Governatore e Negan.
Prima di proseguire con l'analisi sento di dover fare una cosa che di solito evito accuratamente, ovvero sbilanciarmi. Per quanto mi riguarda il Governatore surclassa Negan sotto tutti gli aspetti, finora. Quel finora non è trascurabile in quanto, mentre il primo ha ormai tirato le cuoia da diverse stagioni, il secondo è più coinvolto che mai nella storia. Ragion per cui le cose potrebbero cambiare, ma oggi bisogna arrendersi all'evidenza.
Non è una questione di performance recitativa poiché, va detto, sia David Morrisey che Jeffrey Dean Morgan hanno dato prova di essere grandissimi attori. Non è neanche un discorso legato alla trasposizione dal fumetto che, in questo articolo, non verrà minimamente preso in considerazione. È un ragionamento ben più ampio che trascende, almeno in parte, anche dai singoli personaggi.
Gli sceneggiatori conoscono molto bene la regola non scritta secondo cui il cattivo perfetto possiede sempre un lato umano. Seppur minuscolo e insignificante, esso rappresenta il suo punto debole, nonchè l'elemento capace di alimentare tutta la sua ferocia.
Anche il cinema rispetta questo principio – un nome su tutti Darth Vader – con la sola eccezione, forse, di Anton Sigurh in Non è un paese per vecchi. Sul piccolo schermo, da Walter White a Tony Soprano, passando per Ben Linus, tutti mostrano la loro microscopica goccia di umanità.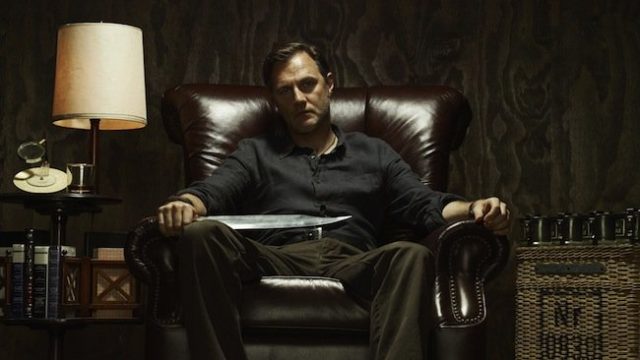 Anche il Governatore rientra perfettamente in questo schema.
In quanto psicotico, egli alterna momenti di gentilezza e fascino ad altri di furia sanguinaria. Il Governatore è quello che prova un amore smisurato per la figlia Penny – incapace di ucciderla anche dopo la trasformazione in zombie – e che poi fa una strage degli abitanti di Woodbury in seguito al fallimento della spedizione alla Prigione. O, ancora, fa innamorare Andrea per poi causarne la morte attraverso uno dei piani più malati concepiti in tutta la Serie.
Philip Blake ha fatto la sua apparizione in una fase di The Walking Dead in cui il nuovo mondo post-apocalittico non era ancora stato assorbito completamente. E questo personaggio rappresenta proprio ciò che ci voleva in quel momento. Per paura di morire egli ha abbracciato il proprio lato oscuro, mostrandosi in tutta la sua vigliaccheria e arroganza. Ne è scaturito un vortice di tensione costante che, nelle stagioni successive, non è più stato eguagliato.
Con una sola eccezione. Si, perchè è innegabile che il biglietto da visita di Negan sia stato meraviglioso (ne avevamo parlato qui). La famosa notte in cui Negan ha fatto il suo show non ha coinciso, tuttavia, con il rilancio della serie, bensì si è trattato di un caso isolato in mezzo a tanta fuffa.
Il risultato è che il cattivo che avremmo amato odiare si è rivelato una figura eccessivamente caricaturale e poco verosimile.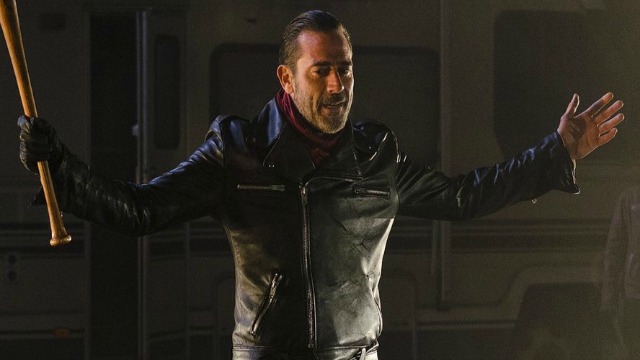 Eccezion fatta per il primo episodio – che nella logica di The Walking Dead, come tutti gli episodi strategici, non fa testo – Negan ha fatto più di un favore a Rick.  Non ha più ucciso uomini chiave perseverando con questa politica, malgrado i casi Carl, Rosita e Daryl; ha eliminato qualche rogna come Spencer; si è scagliato, senza pietà alcuna, contro gli stessi Salvatori, tra chi è stato bruciato o sfregiato col ferro.
Sappiamo che tiene in mano il comando sfruttando la paura, ma non è del tutto chiaro perché i Salvatori non si ribellino a lui. Il suo è, dunque, un problema dovuto a chi scrive personaggi e storie. La sceneggiatura di The Walking Dead, non più solida come ai tempi del Governatore, potrebbe quanto meno risparmiargli determinate situazioni in cui, alla prova dei fatti, non può comportarsi da Negan. In altre parole: gli tarpano le ali.
Se il Governatore segue i canoni del cattivo perfetto, Negan non ha del buono in lui.
In compenso mantiene il ghigno e le battute anche in contesti totalmente inopportuni. Più di tutto, però, non abbiamo un background del suo passato che ci aiuti a capire perchè è così. Forte dell'impatto mediatico che ha seguito l'assegnazione del ruolo a Morgan, ci viene chiesto di temere Negan sulla fiducia. Fiducia che viene reiteratamente tradita.
Magari dopo l'ottava stagione ci smentiranno, ma per ora non c'è partita. Il Governatore è un villain più completo, temibile e verosimile di Negan, a cui resta solamente la percezione di un potenziale mal sfruttato.
Ed è un enorme peccato: solo Dio sa quanto The Walking Dead avrebbe beneficiato di un cattivo coi controfiocchi.