Lo sappiamo, il mondo delle serie tv è un posto spietato ed imprevedibile. Classici della comicità come Friends e The Big Bang Theory hanno rischiato di non essere nemmeno prodotti perché i loro episodi pilota non sembravano abbastanza convincenti agli occhi dei produttori, mentre una delle serie animate attualmente più longeve – I Griffin – era stata addirittura cancellata dopo sole tre stagioni, salvo essere poi salvata dai dati dei dvd venduti successivamente. Stravolgimenti di questo tipo sono piuttosto frequenti nel brutale show business, perciò non vi stupirà scoprire che alcune delle serie più di successo nella storia della televisione, come l'iconica The Office, sono state vicinissime alla cancellazione dopo la messa in onda di pochi episodi.
Abbiamo qui raccolto 5 serie tv che hanno rischiato la cancellazione dopo pochissime puntate, ma che per fortuna sono state salvate regalandoci stagioni di puro intrattenimento.
1) The Office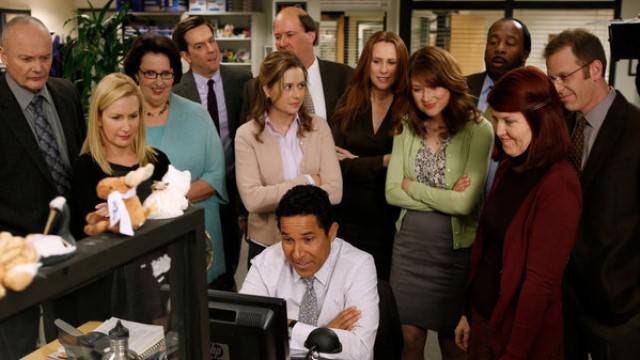 Quando la prima stagione di The Office US – composta di soli 6 episodi – è andata in onda per la prima volta nel 2005, sono stati ben pochi a rimanerne impressionati. Infatti quei primissimi episodi ricalcavano troppo lo stile della versione originale inglese della serie, il cui umorismo tipicamente britannico mal si adattava al contesto statunitense.
I rating della prima stagione, già non particolarmente convincenti, diminuivano di episodio in episodio, lasciando ben poca speranza per un rinnovo. Tuttavia, l'intervento di Kevin Reilly, capo di NBC – il network su cui The Office è stato trasmesso per ben 9 stagioni – salvò la serie. Reilly infatti credeva molto nella comedy e, nonostante le pressioni esterne, decise di darle una seconda possibilità. Sappiamo oggi che la sua scelta è stata quella vincente visto che, dopo oltre 15 anni , The Office rimane la serie tv più guardata al mondo.
The Office è andata in onda per 9 stagioni e un totale di 201 episodi.
2) Parks and Recreation
La storia dietro la quasi cancellazione di Parks and Recreation non è molto diversa rispetto a quella di The Office. Le due comedy condividono infatti network (NBC) e creatore (Greg Daniels, insieme a Michael Schur, già autore e produttore esecutivo di The Office), oltre che ad avere entrambe rischiato la cancellazione dopo una prima stagione debole di soli 6 episodi.
Anche nel caso di Parks and Recreation i primi episodi non avevano convinto il pubblico, forse proprio perché nel suo essere un mockumentary la serie pareva quasi essere la sorella minore meno divertente della già citata The Office. A partire dalla seconda stagione, ma soprattutto dalla terza, Parks and Recreation è riuscita a trovare una propria identità ben distinta e a diventare un cult del genere comico, che può vantare guest star di altissimo livello come Michelle Obama e Joe Biden.
Parks and Recreation è andata in onda per un totale di 7 stagioni e 126 episodi.
3) Star Trek
Non vi sorprenderà sapere che proprio NBC ha quasi cancellato senza possibilità di appello una serie tv che ha fatto la storia della televisione ed è considerata un cult dopo più di 50 anni dalla sua uscita.
Stiamo parlando della serie originale di Star Trek, trasmessa per la prima volta tra il 1966 e il 1969. Durante i tre anni in cui la serie è andata in onda, NBC ha tentato di cancellarla per ben tre volte – la prima delle quali a ridosso del suo debutto – ma ogni volta i fan di Star Trek sono insorti, arrivando persino a marciare in costume sotto la sede della casa di produzione.
Star Trek, rispetto alle altre serie presenti in questa lista, ha avuto una corsa piuttosto breve – solo 3 stagioni e 80 episodi – ma l'impatto culturale della serie e in generale del franchise sono stati tali da perdurare per oltre 50 anni.
4) Baywatch
Sempre in casa NBC, un'altra serie cult che è stata vicinissima a finire la sua corsa dopo una sola stagione.
Tra spiagge sterminate e pericoli incessanti, Baywatch ha consacrato la figura del bagnino come una delle più eroiche nel panorama televisivo degli anni Novanta. Forse però non sapete che nel 1989, dopo una prima stagione dagli ascolti davvero deludenti, la serie era stata cancellata da NBC anche per via dei costi di produzione elevati.
Tuttavia il protagonista di Baywatch David Hasselhoff, insieme ai creatori della serie, non si diede per vinto. Grazie a un processo noto come sindacazione, per cui i diritti delle repliche di una serie vengono venduti ad altri emittenti minori, riuscirono a raccogliere sia abbastanza soldi per produrre nuove stagioni, sia a coinvolgere il grande pubblico televisivo, facendo sì che Baywatch diventasse un successo internazionale.
Baywatch è andato in onda per 11 stagioni, per un totale di 242 episodi prodotti.
5) Seinfeld
Nel 1989 non fu solo Baywatch a fare il suo deludente esordio su NBC, ma anche la capostipite della comedy moderna, l'unica e inimitabile Seinfeld.
Il pilot di Seinfeld venne accolto come piuttosto debole, mentre il pubblico trovava fastidioso che la serie fosse di fatto basata sul nulla. A questo si aggiungevano i già esistenti dubbi di NBC che aveva dato l'okay per la produzione di soli 4 episodi, contro i 13 allora consueti per una prima stagione.
Fu l'intervento di Rick Ludwin – uno degli uomini più importanti in casa NBC – a rivelarsi salvifico per Seinfeld. Infatti, Ludwin convinse i vertici di della rete a produrre altri quattro episodi e a rimandare in onda la puntata pilota, che stavolta registrò numeri molto più solidi a livello di pubblico.
Seinfeld è andata in onda per 9 stagioni e 180 episodi, è stata la serie più vista nella seconda metà degli anni novanta e il suo episodio finale è il quarto più visto nella storia della televisione.