"Ci hanno donato pieni poteri, ci hanno isolati, perché noi gustassimo meglio, sull'orlo della catastrofe, la nostra fratellanza di nemici. Gustiamola. Assaporiamola. Ma finisce tutto qui. Il privilegio dei grandi è di vedere le catastrofi da una terrazza".
Il drammaturgo Jean Giraudoux faceva pronunciare queste parole, nel lontano 1935, a uno dei protagonisti della sua opera di maggior successo. Il personaggio era Ulisse, l'opera "La guerra di Troia non si farà". La Prima sanguinosa, orrorifica Guerra Mondiale si era conclusa da meno di vent'anni e un nuovo conflitto era alle porte. Per Giraudoux quell'opera rappresentava lo straziante atto d'accusa all'uomo, il monito destinato a rimanere inascoltato: una tristemente consapevole profezia di Cassandra. Ettore come l'autore viene da un vittorioso quanto crudo conflitto: vorrebbe la pace e si incontra con Ulisse per mediare le parti. Ma Ulisse sa, nel suo pragmatico realismo, che la pace non ci sarà e che, in fondo, i potenti possono solo stare a guardare im-potenti le catastrofi da una posizione privilegiata.
Phillip Price, il vero, tragico protagonista di questo episodio di Mr. Robot è uno di quei potenti, uno dei "più ricchi, più influenti uomini che esistano". Guarda il mondo crollare dalla terrazza di un attico. Forse guarda brindare alla fine di tutto e osserva i suoi pari sorridere mentre Irving nell'episodio 3×07 indica là, in alto, su quell'ultimo piano in festa: "Non importa quanto impegno ci metti, il risultato finale è sempre questo". Forse, se gli attacchi terroristici non avessero compromesso la sua posizione di CEO dell'E-Corp, brinderebbe e riderebbe anche lui.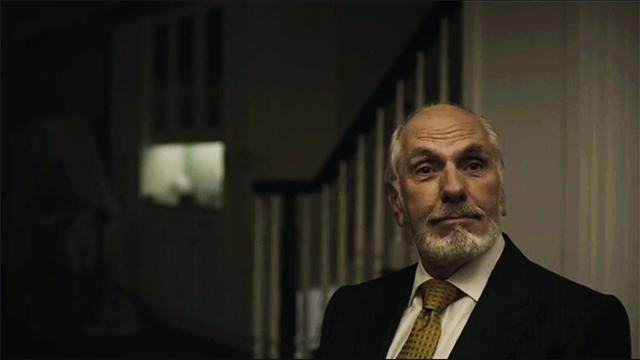 Phillip Price è uno dei più influenti e potenti uomini che esistano eppure è impotente. Quella frase di Irving allora, quell'espressione carica di rassegnato, disilluso cinismo oltrepassa lo steccato. Esmail ruota faccia alla luna e affonda lo sguardo sul potere, su chi, di quel potere, è uno dei più limpidi interpreti. Ma Phillip Price da influente si scopre marionetta, strumento in balia di interessi superiori. Scopre che neanche lui può ribaltare l'esito. Scopre che, anche per lui "il risultato finale è sempre questo".
Ettore, l'idealista difensore degli ultimi si incontra con Ulisse, il potente, realista eroe e re. Mr. Robot si incontra con Phillip Price. Entrambi vogliono la pace. Entrambi vogliono l'"undo" dell'hackeraggio. Eppure nessuno dei due sembra avere il potere per realizzarlo. Entrambi vivono nella consapevolezza che c'è qualcosa di superiore a entrambi, qualcosa che li ha manipolati. La guerra non l'hanno evitata, difficilmente riusciranno ad annullarla. Entrambi sono soli e guardano dall'alto Roma bruciare, accomunati dalla loro visione d'insieme. Sono déi che guardano impotenti le conseguenze delle loro azioni, mossi da un'ineluttabile Ananke, da un destino che è necessità inalterabile.
Il destino è Whiterose.
È lui il motivo di un mondo che gira sempre uguale a se stesso, l'espressione di una forza superiore, dell'Ananke di fronte alla quale neanche le divinità possono nulla. "Neanche gli dei combattono contro Ananke", affermava il lirico Simonide. Ananke in greco è Forza ma anche Necessità. È il motore oscuro e imperscrutabile del Chaos che si afferma sopra tutto. La violenza e l'irrazionale, la follia e la crudeltà. La devozione a un esito di morte a cui nessuno può sfuggire. Il non-senso dell'universo e dell'esistenza umana ("everything means nothing to me").
La guerra per Giraudoux è il destino comune e inevitabile, quell'esito che si impone contro ogni logica. Ulisse lo sa, Ettore nel suo idealismo non vuole crederci, vuole sperare, come Elliot, che "everything will be all right". Price e Mr. Robot sono sulle mura di Troia e dall'alto guardano la guerra. Vedono le drammatiche e incontrollate conseguenze delle loro azioni e sono consapevoli che sopra di loro c'è l'Ananke. Una consapevolezza, questa, che è propria solo dei forti, solo di coloro che hanno il quadro generale: è questo "il privilegio dei grandi".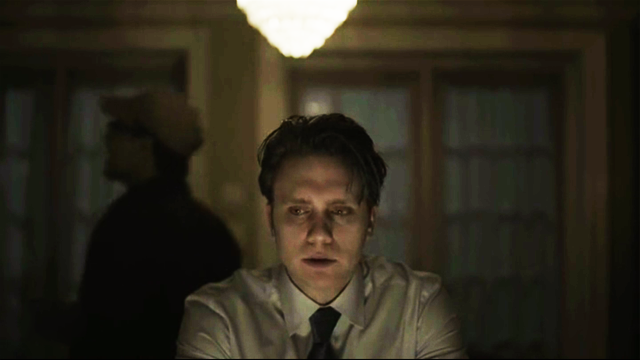 Quello che non ha Tyrell che nella sua megalomania ha creduto di potersi elevare a dio e che pensa che la sua elezione a CTO dell'E-Corp sia dovuta al fatto che Price "Si vergogna per avermi licenziato […]. Non sa che fare e la Sua azienda ha bisogno di me. Alla E-Corp serve la mia immagine, la faccia di un eroe".
Ride Price, ride per l'ottusità di Tyrell, per la sua incapacità di vedere la guerra dall'alto.
Di rendersi conto che non è altro che una marionetta nelle mani di Whiterose. Uno strumento del destino. "Non è che non so cosa fare, è che non vale la pena fare niente per te": Tyrell è ormai ininfluente, non conta più nulla. È un fantoccio e verrà sfruttato quando necessario. Anche Angela ha gli occhi chiusi di fronte alla trionfale riabilitazione di Wellick: "Le cose stanno tornando com'erano". La ragazza non è mai uscita dalla camera di interrogatorio che appariva nella 2×11. L'ha riprodotta nella sua stanza: il pesciolino, i telefoni, i poster motivazionali. Ogni cosa rispecchia il contesto manipolativo in cui la ragazza ancora ora si trova.
A nulla servono le parole di Elliot. Angela è chiusa dentro, una parete la frappone a lui. Quella parete che nello scorso episodio sembrava essere stata infranta. Il protagonista di Mr. Robot è solo su quella terrazza. Guarda il suo nemico, Price, ed entrambi assistono impotenti alla rovina. Il loro confronto è la contrapposizione di due poteri molto diversi. L'uno maturo e radicato nel tempo (e nella società), l'altro violento ed estemporaneo, isolato e (facilmente) strumentalizzato. "Catastrofi mondiali come questa non sono causate da lupi solitari come voi ma avvengono perché uomini come me lo permettono", afferma Price ribadendo un concetto già sviluppato da Esmail nei precedenti episodi.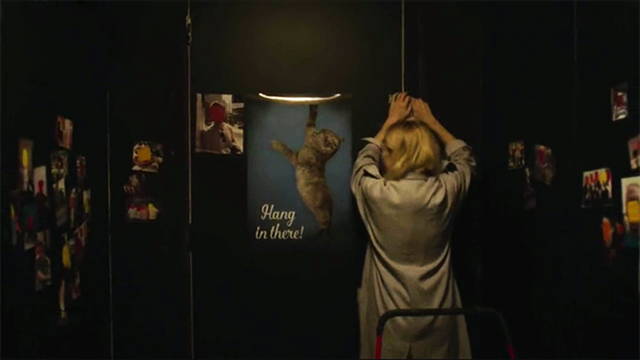 Mr. Robot ne è consapevole, lo sa da quella rivelazione di Irving ("È stato concesso di accadere perché è stata comprata e pagata da gente come loro"). Ma non si rende conto che la sua volontà di potenza è isolata: la sua è una missione solitaria ("Io, io, io!", fa notare Price nelle parole di Mr. Robot), priva di seguaci, senza devozione, senza quella fanatica dedizione alla causa propria dei membri della Dark Army.
"Non può imporre una missione, signor Alderson. Deve ispirarne una".
Ma Elliot non è in grado, non è un leader: la sua è una battaglia personale, intima. Una battaglia che in primo luogo avviene con se stesso. Anche in questo episodio assistiamo all'immagine di forte valenza simbolica di Mr. Robot che fa (scrive allo specchio) e di Elliot che disfa (cancella): le due anime in lotta. Questa volta però è l'Io cosciente che si mostra restio ad accettare il messaggio di pace lanciato dall'Es. "Non ho bisogno di lui", sbotta Elliot.
Dall'altro lato c'è il potere dell'establishment, quel Philip Price espressione del "Vero potere [che] non ha bisogno di tracotanza, barba lunga, vocione che abbaia. Il vero potere ti strozza con nastri di seta, garbo, intelligenza" (Oriana Fallaci). La magistrale interpretazione di Michael Cristofer ci restituisce la figura di un uomo raffinato e arguto che ha perso la sua battaglia col destino-Whiterose ma mantiene il savoir-faire che lo ha sempre contraddistinto. Un uomo che come Ulisse mantiene forse un briciolo di speranza nell'uomo, in quello sguardo del tutto particolare che riserva ad Angela e che sembra svincolarsi da logiche di potere.
Phillip Price è un uomo ma è soprattutto espressione del potere costituito, come Mr. Robot lo è di quello rivoluzionario. Status quo e contestazione. Price e Mr. Robot. Entrambi su quella terrazza. "Il privilegio dei grandi è di vedere le catastrofi da una terrazza". E non poter far nulla per cambiare il destino. A meno che non si scenda nell'agone. Vedremo se Elliot sarà in grado di farlo.