Il finale di Mr Robot ci ha lasciato senza fiato per intensità e profondità del messaggio. A distanza di un mese dalla conclusione proviamo a carpirne il significato e a ricostruire la trama della serie alla luce di quanto scoperto nella 4×13.
La 4×13, episodio finale di Mr Robot, ci ha svelato il significato di quella realtà alternativa in cui i due Elliot vengono a collidere. Nell'episodio precedente avevamo potuto pensare, neanche troppo convintamente, a una deriva sci fi nell'idea che questo fosse il mondo parallelo generato dalla macchina di Whiterose. Ora, invece, capiamo che si tratta di una realtà tutta interiore: il mondo creato dal "nostro" Elliot per imprigionare il "vero" Elliot.
Ma chi è l'uno, chi l'altro e quando avviene questa "incarcerazione"?
Andiamo con ordine. Partiamo spiegando chi rappresenta il "nostro" Elliot. Per farlo dobbiamo procedere a ritroso ricordando alcuni passaggi delle stagioni precedenti. Nell'episodio 2×04 veniamo a sapere che Elliot in una data imprecisata (2015?) lavorava ai test di sicurezza informatica di un'azienda. I colleghi, esasperati dalla sua capacità di violare costantemente i firewall da loro creati, lo rinchiudono nella stanza dei server. Qui il ragazzo "si addormenta" e quando si risveglia tutto è distrutto.
Visto l'accaduto, Elliot è licenziato e si rivolge a una psicologa, Krista, per alcune sedute. Ma perché lo fa? Perché evidentemente l'accaduto era stato la conseguenza di un preoccupante scatto rabbioso. Non solo, il fatto che Elliot non ne abbia memoria, testimonia che l'episodio si associa anche a un disturbo dissociativo: in quel momento, cioè, è letteralmente "fuori di sé", un'altra persona. Ecco, quello è il "nostro" Elliot. L'altra persona.
Cosa rappresenta allora l'Elliot che abbiamo sempre conosciuto? È la rabbia sopita del vero Elliot, tutta quella frustrazione repressa che trova sfogo nella figura di un "giustiziere": l'hacker con felpa e cappuccio pronto a farla pagare a chi lo merita. Così si spiega l'hackeraggio al proprietario del sito pedopornografico (1×01), che gli ricorda gli abusi paterni, e tutte le successive decisioni.
Ma quando prende il sopravvento?
Il "vero" Elliot continua le sedute da Krista finché non torna Darlene (2×04). È questo, probabilmente, il momento in cui il "nostro" Elliot assume il controllo. Nell'istante in cui indossa la maschera tratta dal film (fittizio) "The Careful Massacre of the Bourgeoisie" il ragazzo precipita nella falsa realtà e l'Elliot che conosciamo inizia a "vivere".
Solo in una circostanza, in un dialogo con Darlene in cui la tranquillizza sul ritorno di Vera, l'Elliot reale riprende coscienza. Il resto del tempo rimane rinchiuso in questo mondo rassicurante in cui tutto va al meglio. Ma perché in questo luogo, asettico e monotono, manca Darlene? Perché la ragazza rappresenta per Elliot la più intensa e reale relazione che ha mai avuto: da lei passa, infatti, nel finale, il suo risveglio, dal suo amore inesausto.
Ma allora chi sono Mr Robot, il Bambino e la Madre? Come spiegato dalla "finta" Krista nella 4×13 si tratta di altre istanze della mente di Elliot create in momenti diversi. Ma quello che più importa è comprendere cosa rappresentano. Mr Robot è ciò che il vero padre non è mai stato: una figura genitoriale forte, capace di difenderlo e proteggerlo, di "estraniarlo" nel momento dell'abuso e in occasione di violenze fisiche sostituendosi a lui (per esempio nel pestaggio in cella, nella seconda stagione).
È Mr Robot a farsi carico di quel dolore che Elliot non potrebbe reggere.
La Madre è invece simbolo dei sensi di colpa di Elliot: della sua convinzione di essere colpevole della morte del padre, di essere debole e fragile e incapace di affrontare la vita. Il Bambino, invece, è il suo spirito combattivo, rappresenta quel coraggio che ha avuto da piccolo cercando di opporsi come poteva alle molestie paterne.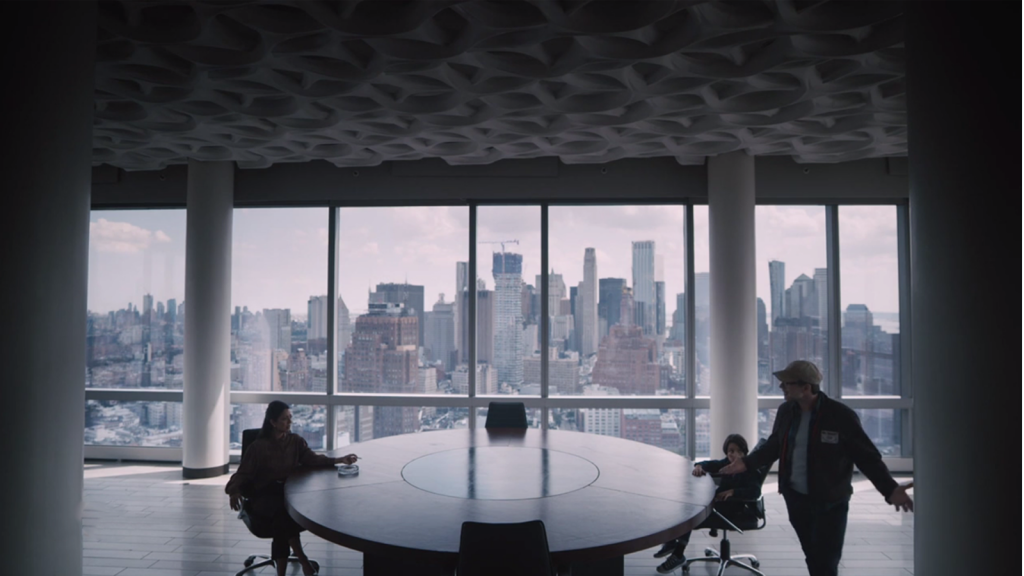 Il palazzo con ampie vetrate (che rispecchia lo studio di Tyrell nella sede della E Corp) in cui vivono queste "anime" è la mente di Elliot, il palazzo mentale sede della sua coscienza. Nel finale il "nostro" Elliot ritorna al suo posto, sceglie di farsi da parte, di accettare di essere solo un "pezzo" di Elliot. Così il vero Elliot viene "liberato", mentre le proiezioni di tutto ciò che era accaduto nel periodo del suo stato di "incoscienza" scorrono nella sua mente. Ora ricorda, ora può rientrare in possesso della sua vita, stringendo la mano della persona che più di ogni altra l'ha riportato "alla vita".
Ma il "nostro" Elliot, Mr Robot, la Madre e il Bambino non scompaiono.
Non possono scomparire perché, nel bene o nel male, rappresentano una parte di Elliot. Quando Elliot prova rabbia ma anche voglia di giustizia, là c'è il "nostro" Elliot. Quando si sente fragile e avvinto dai sensi di colpa, là c'è la Madre. Quando si rifugia in sé stesso in cerca di protezione e forza, là c'è Mr Robot. E infine quando lotta per difendersi ecco che emerge il Bambino.
Compito di Elliot sarà fare in modo che nessuna di queste "anime" prenda il sopravvento sull'altra ma che ognuna sia "controllata" e gestita da sé stesso. Questa sarà la sfida che attende Elliot, ora consapevole che un mondo reale, per quanto orribile, è preferibile a un rifugio fittizio e senza significato, fatto di noia e bugie.
E in questo quadro ci siamo anche noi, l'"amico".
L'ascoltatore silenzio a cui costantemente si rivolge l'Elliot incappucciato. Siamo una parte di Elliot ed Elliot è una parte di noi. Con lui, nel finale, ci lasciamo andare, accettiamo di dover dire addio all'Elliot che abbiamo conosciuto e amato, di cui siamo stati amici.
Salutiamo così la parte migliore del vero Elliot, quella che ha cambiato le cose e ha cambiato sé stesso. L'Elliot che ha cambiato anche noi, ora consapevoli che l'unico mondo possibile è quello in cui viviamo.
Consapevoli che dobbiamo lottare per migliorare questa realtà, non distruggerla per rifondarne una nuova, come avrebbe voluto Whiterose. E possiamo farlo partendo dal migliorare noi stessi, scoprendoci forti e aperti alla possibilità di amare e di superare, non cancellare, il dolore. Scoprendoci noi stessi nella nostra interezza. Scoprendoci veri Elliot Alderson.