Rieccoci qui con la recensione del nuovo episodio di Grey's Anatomy "Ain't That Kick in the Head". Anche questa settimana, la nostra cara Shonda ci ha fatto prendere un grande e grosso infarto. Non so voi, ma io ho avuto davvero molta paura per Amelia. Quando la puntata è cominciata e ho visto la Shepherd e tutto lo staff in posizione da Supereroe, mi si è scaldato il cuore e ammetto di aver avuto voglia di alzarmi dal comodo e confortante divano e assumere la loro stessa posizione in segno di rispetto.
Continuavo a ripetermi, proprio come i medici che assistevano all'intervento, che sarebbe andato tutto bene, ma sinceramente me la stavo facendo sotto. Shonda riesce a eliminare i personaggi e in modo particolare gli Shepherd con la stessa facilità con cui io riuscivo a fallire ogni singolo compito in classe di matematica, una cosa pazzesca! Quando poi, l'operazione si è conclusa e il dottor Koracick ha affermato che fosse andato tutto bene, ho finalmente ripreso a respirare normalmente.
Ma era solo l'inizio dell'episodio e sembrava tutto troppo tranquillo. Ecco perché sapevo che al suo risveglio Amelia avrebbe avuto qualcosa che non andava. Ormai, dopo quasi quattordici anni, la signora Rhimes è diventata prevedibile. Ma tornando ad Amelia. Al suo risveglio ho perso la capacità di parlare, esattamente come succede a lei. E prima che potessi commentare in alcun modo, ci ha pensato lei a esprimere ciò che ognuno di noi ha pensato.
Fortunatamente la sua era solo una fase. Non so voi, ma la scelta di far sentire i pensieri di Amelia, mi ha ricordato il momento in cui Derek, dopo l'incidente, arriva in ospedale e cerca di comunicare con i medici, cerca disperatamente di dirgli cosa fare, non riuscendoci. La scelta di farci sentire entrambi i pensieri, suppongo non sia un caso. La signora Rhimes raramente lascia qualcosa al caso. Quindi non ha fatto altro che volerci fare del male, riportandoci alla mente uno dei momenti più dolorosi nella storia di Grey's Anatomy. Grazie Shonda, sei davvero una persona gentile.
Tutto sommato, però, sapere cosa passasse nella mente di Amelia dopo l'operazione, mi ha fatto piacere. Ho trovato, invece, inquietante il fatto che all'improvviso abbia cominciato a parlare in francese. La cosa più inquietante (ma allo stesso tempo affascinate) è il fatto che i ricordi di questa lingua risalissero a quando i mini Shepherd andavano all'asilo. Weird!
Ma ovviamente la sofferenza dei fan non poteva terminare così facilmente. Ed è qui che Shonda ci piazza l'amnesia di Amelia. Sì, perché quando ricomincia a parlare in inglese e Meredith e Owen sono lì, super felici che non aspettavano altro, succede una cosa strana. Amelia ricorda esattamente cosa le è successo, ricorda di aver avuto un tumore e ricorda probabilmente anche cosa mangiò a colazione durante il suo primo anno all'asilo francese (still weird), ma per un istante dimentica completamente che suo fratello Derek sia morto e chiede di lui alla povera Meredith. Se c'è una cosa certa in Grey's Anatomy e che la Grey non avrà mai una gioia. E durante questa scena possiamo vedere la rappresentazione del MAI 'NA GIOIA stampato sulla sua faccia. 
Il rapporto tra Amelia e Meredith non è mai stato idilliaco. La Grey è sempre stata prevenuta nei confronti della Shepherd. Come darle torto, la vita di Amelia non è delle più esemplari e si è sempre comportata un po' da pazza. Solo adesso sappiamo che questo suo modo di fare era derivato dal tumore. In questo episodio, invece, vediamo una Meredith Grey attenta e apprensiva nei confronti della cognata. Era sempre nella stanza di Amelia ad assicurarsi che facesse progressi e che stesse bene.
Ho adorato il momento in cui, all'inizio dell'episodio, Amelia raduna tutti (o quasi) i suoi amici medici nella sua stanza d'ospedale e assegna a ognuno di loro un compito. Ho amato la frase che dice proprio quando la scena giunge al termine: "In questo momento, vi voglio tremendamente bene". Ammetto di aver versato anche qualche lacrimuccia. Amelia è un personaggio troppo prezioso e la sola idea che Grey's Anatomy sarebbe potuto continuare senza di lei, mi fa stare male. Quindi, grazie Shonda Rhimes per non averla uccisa.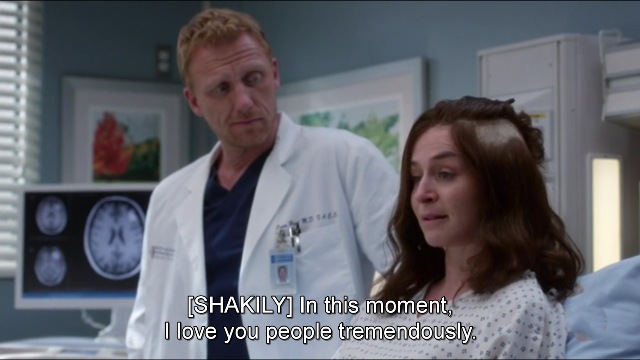 Giuro che questa è l'ultima cosa riguardante la Shepherd che dico in questa recensione. Dopo essersi ripresa e dunque dopo essere guarita, arriva anche per lei il momento di andare a casa. Ovviamente non mi sarei mai aspettata che tornasse a casa con Owen e sinceramente sembra che nemmeno lei se lo aspettasse. Ma il dottor Hunt su certe cose, proprio come un colosso, non riesce a mollare l'osso. E così la convince a tornare a casa.
Adesso. Probabilmente era giusto così, probabilmente Owen ha ragione e il posto di Amelia è davvero accanto a lui, ma anche quanto detto dalla Shepherd non fa una piega. Giustamente la donna non può essere certa che i suoi sentimenti e le sue decisioni mentre stava con il dottor Hunt, non fossero legate al tumore. Dunque – a mio parere – avrebbe avuto più senso se fosse tornata a casa con le sue sorelle e avesse fatto lì mente locale. La scena in cui va via in auto con Owen è stata priceless. Non si può spiegare quanto fosse preziosa. È proprio l'immagine della felicità. Sprizza gioia da tutti i pori, un po' come quando i tuoi ti dicono che devi andare a fare visita ai parenti che non sapevi nemmeno che esistessero. *insert sarcasm here*
Ma andiamo avanti e parliamo di un altro grande protagonista di questo episodio, l'immenso, il bellissimo, il meraviglioso Jackson Avery. Dopo aver preso parte al prodigioso intervento di Meredith, questa gli chiede di poter togliere il suo nome dalla documentazione in quanto interessata a concorrere per l'Harper Avery, il famoso premio che porta il nome dell'ormai defunto nonno di Jackson. Tra l'altro la cosa che mi ha fatto ridere, è il fatto il nostro bel chirurgo plastico fosse appena tornato dal funerale del nonno e – con tantissimo tatto – prima Alex gli chiede quanto avesse ricevuto in eredità e poi Meredith gli fa questa tristissima richiesta. Chiedere ai medici di Grey's Anatomy di avere un po' di tatto è come chiedere alla matematica di essere facile: IMPOSSIBILE. Certo, capisco anche il punto di vista della Grey, sappiamo bene cos'è successo con Cristina per il premio Harper Avery.
Nell'episodio c'è anche Catherine che come al solito raggiunge vette di epicità così elevati da non poter nemmeno essere calcolati. Adoro questo personaggio perché è estremamente manipolatore. L'adoro perché è sempre molto schietta e autoritaria. Ho amato i suoi momenti con Richard nell'episodio, ma soprattutto l'ho amata quando interrompe una conversazione tra Jackson e l'egocentrica Maggie (che anche in questo episodio di Grey's Anatomy ci ha dato prova di essere fastidiosamente egocentrica).
Per un istante ho avuto paura, sembrava quasi arrivato il momento in cui Shonda avrebbe fatto il danno facendo intrallazzare Jackson e Maggie. Avevo già Twitter aperto, pronta a scrivere Tweet cattivi alla signora Rhimes, quando è arrivata Catherine e ha riportato la gioia in tutti i cuori dei fan dei Japril. Le è bastato ricordare ai due, quasi in maniera velata, che sono ormai fratellastri. Avrebbe meritato un applauso infinito. Spero che, dopo questo suo intervento, non dovremo più preoccuparci di quest'orribile coppia.
Ho apprezzato tantissimo Riggs. Inizialmente stavo per insultarlo senza sosta perché continuava a chiamare Meredith nei momenti meno opportuni. Fortunatamente, poi, mi sono ricreduta. Nathan è andato a prendere il piccolo Farouk, figlio adottivo di Megan Hunt. Sono stata davvero felice di questo gesto, ha seguito i consigli della Grey ed è riuscito (quasi sicuramente) a riconquistare la Hunt. Un po' mi dispiace per Meredith che, ancora una volta, non è riuscita ad avere una gioia. Prima sua cognata dimentica che suo marito sia morto e adesso il suo nuovo ragazzo riesce a riconquistare la sua fidanzata storica. Mi spiace per lei, ma è sempre bello sapere che certe cose non cambiano mai in Grey's Anatomy. Chiedere la felicità di Meredith è come chiedere a qualcuno di regalarti la luna.
Mi è piaciuta tantissimo anche April. Ho riso tantissimo quando è andata in chiesa a pregare di non dover staccare la spina ad Amelia qualora qualcosa andasse storto. Sono sempre stata Team April, sin dalle prime stagioni in cui è comparsa. E vederla star male per sua figlia e per Jackson, mi fa davvero piangere il cuore. Adoro quanto sia bad ass sul lavoro eppure così fragile nella vita privata. Ho adorato la scena in cui è stesa sulla barella e parla con Arizona di quanto sia difficile tornare a casa la sera quando non spetta a lei stare con Harriet. Ho amato la risposta data dalla Robbins che subito si affretta a raggiungere la collega e amica per darle conforto. Lei è probabilmente l'unica che possa capire come ci si senta a condividere un figlio.
Adoro tantissimo il rapporto d'amicizia che si è creato tra loro. Spero davvero che questo rapporto non si rovini mai. April ha bisogno di qualcuno che le sia accanto e quel qualcuno, già da un po' di tempo, non può essere Jackson. Incrociamo le dita e speriamo con tutto il cuore che la Japril ritorni presto insieme.
Ho trovato esilarante la scena in cui alcuni dei medici sono seduti a bersi il caffè e scherzano tra loro prendendo in giro le sventure che gli sono capitate, immaginando di dare la colpa di tutto ciò a un ipotetico tumore che le avrebbe giustificate, proprio come è successo con Amelia. Anche se è poco carino nei confronti della Shepherd, l'ho trovato davvero divertente e sicuramente è un modo molto efficace per sdrammatizzare.
A fine episodio, mentre Arizona è a letto con Carina, scopriamo che Sofia Torres Robbins Sloan vuole tornare a Seattle. Questo significa che anche Callie tornerà? Non vedo l'ora di sapere come si svilupperà la faccenda. Incrociamo tutti le dita e speriamo che la Torres riesca almeno ad apparire come guest star.
Anche questo episodio di Grey's Anatomy mi è piaciuto tantissimo, speriamo che Shonda continui così. Vi lascio il promo della prossima puntata, sembra davvero interessante. Teniamo le dita incrociate e aspettiamo. Fatemi sapere che ne pensate.