# #
Non è tutto oro quello che luccica. Un po' mi spiace di aver utilizzato questa frase come anticipazione per le pagelle della seconda puntata di Game of Thrones, perché sarebbero state perfette per la terza.
# #
Avrebbero calzato come un guanto di lana per proteggersi dall'inverno che, lentamente, sta arrivando per davvero. Metaforicamente, con la cupa aura di sospetto, paura e intrigo che avvolge gli Stark; letteralmente, a giudicare dai fiocchi che accolgono Jon Snow al Castello Nero.
E proprio al figlio bastardo di Ned che è dedicata la terza puntata della prima stagione del Trono di Spade, non a caso intitolata "Lord Snow".
# #
Le illusioni di Jon sulla vita dei Guardiani della Notte, costruite in anni di racconti epici dello zio Benjen, vengono spazzate via dalla dura realtà della barriera.
Una confraternita fatta, più che da uomini in nero, da uomini neri.
Ladri, stupratori, assassini, gente della peggiore specie stipata e compressa in pochi metri, dove l'onore e le avventure cantate dai menestrelli non trovano posto, scalzati via dal rancore, l'obbedienza e la rabbia cieca.
Un luogo nel quale il figlio del signore del Nord vale tanto quanto l'ultimo avanzo di galera, anzi di meno, perché ancora non ha dimostrato nulla. Un posto che ti obbliga a lasciare fuori dal portone chi eri prima di varcarlo, ma che ti regala anche la possibilità, se prima non eri nessuno, di diventare finalmente qualcuno, almeno nel microcosmo del Castello Nero.
Centinaia di miglia più a Sud, la situazione è molto simile.
King's Landing è un covo di vipere, le finanze del regno sono al collasso ma all'ordine del giorno del consiglio ristretto c'è il torneo per il Primo Cavaliere. Uno sfoggio di opulenza che stride con gli abiti dimessi e la severa austerità di Ned Stark. Un fiero Lupo del Nord che vive un conflitto interiore, tra la tendenza innata ad obbedire all'ordine costituito e la fedeltà alla propria casata.
Anche per lui la verità rischia di essere un fardello ben peggiore di quanto creda. Sta subodorando la trappola tesa tra i falsi sorrisi della capitale, ma il suo irriducibile senso del dovere gli impedisce di voltare le spalle.
Eddard è un uomo che cerca di mantenere un equilibrio impossibile, e che sente piano piano scivolare via da sotto i piedi il sottile filo che ancora lo separa da una rovinosa caduta. Lo si capisce dagli appelli disperati con cui cerca di tenere salda la famiglia, la stessa disperazione che lo porta ad affidarsi ad un uomo che, per indole e sentimenti, è consapevole che non potrà mai essere suo alleato.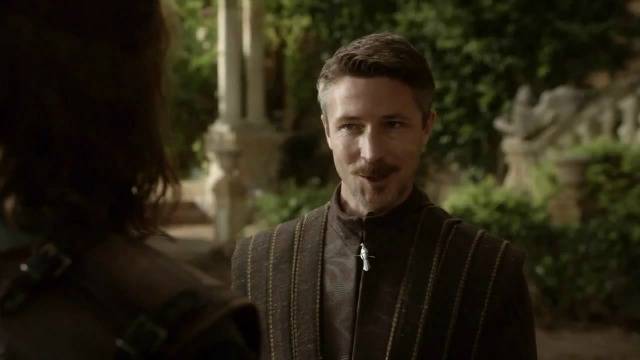 Mentre nel gelido Nord sono la forza bruta, l'onore e il silenzio ovattato dalla neve a comandare, per vivere e sopravvivere nella capitale bisogna sapere dosare le parole.
Come dirle, quando dirle, soprattutto a chi dirle.
Non è una mera coincidenza il fatto che riesca a recuperare solo il rapporto con Arya. La figlia minore è come lui, è soggetta agli stessi impulsi, agisce secondo le medesime logiche. Trova perfetta corrispondenza tra pensiero, parola e azione. Come suo padre non è affascinata dalla maschera della Capitale, ma guarda con sospetto al volto che è celato.
Non dimentica la fine di Micah, comprende il sacrificio di Lady e inizia a capire i pericoli che si annidano negli angoli della Fortezza Rossa.
Tutto il contrario di sua sorella Sansa, ammaliata dalle vane promesse di una sorta di Las Vegas in versione Game of Thrones che la acceca con le proprie luci stroboscopiche e il lusso ostentato, ma che in fondo è pur sempre stata costruita sulla sabbia.
Presto anche lei conoscerà la vera faccia della città e del ragazzo che crede di amare. È solo questione di tempo, per tutti e tre.
Perché se mai si è visto un uomo sbagliato nel posto sbagliato, questo è Lord Eddard Stark ad Approdo del Re.
Centinaia di miglia più a Est, la situazione è simile.
Anche per Viserys è arrivato il momento della doccia fredda. Non è facile vivere nel ricordo di una stirpe regale, crogiolandosi – facendosene schiacciare – nella convinzione di essere l'ultimo Drago rimasto a tenere acceso il braciere della dinastia Targaryen.
Così come nel Castello Nero, anche tra i selvaggi Dothraki non è il tuo nome o quello di tuo padre a fare di te un leader riconosciuto. In questo senso, la treccia di Viserys è molto, molto corta.
Allo stesso tempo, un ego ipertrofico come quello dell'ultimo figlio maschio del Re folle non riesce a stare in un angolo, ad osservare la propria sorella – l'unica persona, in fondo, che era riuscito a soggiogare psicologicamente – sbocciare e prendere la propria strada, formando una propria personalità da regina.
Anzi, da Khaleesi.
La consapevolezza, quando arriva tutta in un colpo solo, può essere capace di partorire mostri. E non c'è niente di peggio del cocktail micidiale tra una realtà sbattuta in faccia senza troppi complimenti e un orgoglio ferito per generare situazioni irrecuperabili. Quella di Viserys sembra aver già, dopo sole 3 puntate, superato il punto di non ritorno.
Jon, Ned e Viserys. Tre personaggi agli antipodi, ma uniti da un destino comune che in questa controversa prima stagione di Game of Thrones li farà convergere verso la stessa epifania:
la verità fa male.