Come tante altre star del cinema hollywoodiano, anche Al Pacino è approdato nel mondo delle serie Tv: il suo nuovo progetto è Hunters, che arriverà su Amazon Video nel febbraio 2020.
Hunters racconta la storia di alcuni cacciatori di nazisti negli anni '70. Pacino interpreta Meyer Offerman, co-fondatore di un gruppo di cacciatori di nazisti che vive a New York.
Ad affiancare Pacino c'è Logan Lerman (protagonista della saga cinematografica di Percy Jackson) nei panni di Jonah Heidelbaum.
Questa è la sinossi della serie:
"Quando la nonna di Jonah viene uccisa improvvisamente, Meyer recluta Jonah nei Cacciatori, i quali hanno scoperto che centinaia di ufficiali nazisti vivono tra loro e cercano di creare un Quarto Reich negli Stati Uniti. I cacciatori iniziano una ricerca per scovarli e sventare i loro piani."
Dopo il primo trailer, ora un nuovo trailer ufficiale rilasciato da Amazon Video ci dà più dettagli e ci presenta i cacciatori di nazisti: "una scassinatrice, una spia, un soldato, un maestro del travestimento e due esperti d'armi".
"Sai qual è la miglior vendetta? La vendetta."
Hunters arriva su Amazon Video il 21 febbraio 2020 con 10 episodi.
La serie è creata da David Weil e prodotta da Jordan Peele (Get Out, Us) con la sua casa di produzione Monkeypaw Productions.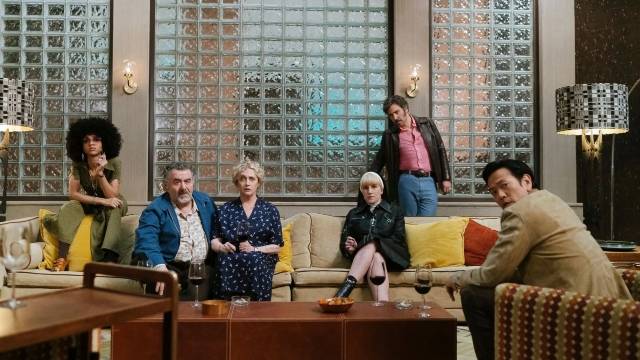 Oltre a Pacino e Lerman, nella serie è presente anche Josh Radnor, conosciuto per avere interpretato Ted Mosby in How I Met Your Mother.
Nel cast troviamo inoltre Jerrika Hinton (Grey's Anatomy), Carol Kane (Unbreakable Kimmy Schmidt), Dylan Baker (The Good Wife), Tiffany Boone (The Chi) e Lena Olin (Alias).
Hunters non è la sola serie originale di Amazon Video che parla di nazisti. The Man in the High Castle, ispirata dal romanzo di Philip K. Dick, racconta come sarebbe il mondo se il Reich nazista e l'Impero giapponese avessero vinto la Seconda Guerra Mondiale.