E TU, DA CHE PARTE STAI?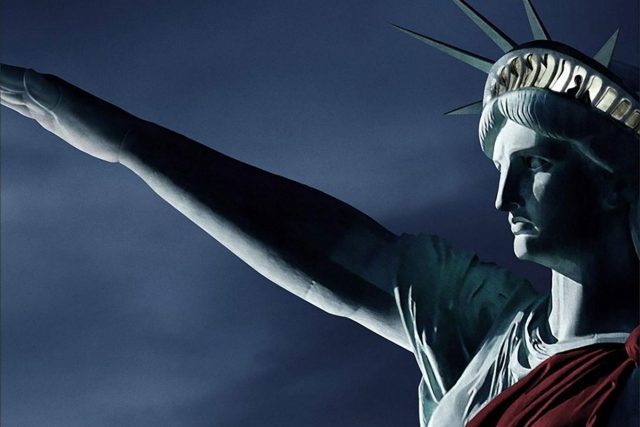 Ambientata in un mondo ucronico dispotico, The Man in the High Castle si è affermata come un prodotto unico tra tanti nell'universo televisivo.
Basata sull'omonimo romanzo a firma di Philip Kindred Dick, Amazon Video (con la co-produzione di Ridley Scott) ci consegna uno show che, nel corso di due stagioni ci ha sorpreso e a tratti spiazzato.
UNA SERIE TV CHE DIVIDE
Ma non nascondiamoci e muoviamo verso un'analisi obiettiva. The Man in the High Castle ha ottenuto grande consenso, ma anche spigolose critiche. Indubbio che ci si trovi dinanzi a un comparto tecnico di altissimo livello, i maggiori temi di discussione e critica ruotano principalmente su questi presupposti.
LIBRO vs SERIE TV
Il primo riguarda la scelta di allontanarsi dall'humus letterario originale.
Una critica comprensibile, ma sterile. La penna e la macchina da presa sono due mezzi di comunicazione potentissimi, eppure un identico messaggio va ad assumere forma e sfumature diverse a seconda del veicolo con cui lo divulghiamo. Tutto ciò è inconfutabile.
Esistono inoltre necessità tecniche e tempistiche che fisiologicamente comportano una distanza tra i due prodotti, esigenze che a volte vengono a conciliarsi, talvolta no. Ma tutto ciò non va necessariamente identificato come un handicap. Si dev'essere consapevoli che ci si approccia a un prodotto seriale e non a un libro, diretta espressione della mente e della fantasia di chi lo scrive. Dunque, nell'epoca degli adattamenti e dei reboot, quando leggiamo nei titoli di apertura "basato su", è già sintomo del doversi attendere qualcosa di diverso.
Fatte le dovute premesse, ecco che il nostro parere sarà strettamente limitato a ciò che il prodotto di Amazon Video ci ha mostrato.
LA SVASTICA SUL SOLE
Il secondo punto verte sulle tematiche trattate all'interno della Serie Tv e le polemiche che ne sono scaturite, memori anche di una pubblicità che potremmo definire "poco ortodossa".
The Man in the High Castle non è destinata a un target di nicchia, tuttavia richiede una visione "particolare". Una visione che definiremmo intelligente e matura, che passa attraverso una lettura sdoganata da pregiudizi, prettamente artistica. A questo punto ci rendiamo conto della portata e della caratura del suo messaggio.
ASPETTATIVE
Ultimo punto. Abbiamo letto varie recensioni e pareri, sia a firma della critica più autorevole, che di appassionati recensori occasionali.
Nessuno ha contestato che questa sia una Serie Tv di ottima fattura, tuttavia qualcuno (oltre a sottolineare la lontananza dal romanzo) ha patito una certa lentezza.
The Man in the High Castle parte con ritmi forse compassati, ma fisiologici all'interno di una struttura narrativa che necessita di basi forti per compiere uno sviluppo tale da raggiunge il culmine in un secondo momento. Bisogna avere pazienza. Come scritto in precedenza, chi si attendeva una viscerale analisi psicologica, al pari del libro, sarà rimasto deluso proprio come coloro che lo ritengono un semplice spy-drama.
Perché The Man in the High Castle è una fotografia umana, un'istantanea di come sarebbe potuta essere la storia, se il corso degli eventi avesse preso una direzione diversa e contraria. Di come si sarebbero potute evolvere cultura, tecnologia, stile di vita. Di come saremmo potuti essere noi.
Avrete intuito che, per quanto si cerchi di essere razionali, noi siamo dei fan che (al di là dei gusti personali) accettano serenamente la parola di chi non reputa questa Serie Tv "sensazionale", ma non sono d'accordo con chi l'etichetta come uno show "nella media".
Ma cosa rende The Man in the High Castle meritevole delle nostre lodi? Che siate dei fan o semplicemente serial addicted curiosi di saperne di più, scopriamo quali sono i 5 pilastri che l'hanno resa una Serie Tv di successo.