Tutti i membri del cast del Game of Thrones 8, nel corso dei mesi, si sono sbizzarriti con le dichiarazioni. E alcuni di loro stanno dicendo le cose più deprimenti e intriganti. L'ultima, ma non per importanza, è Sophie Turner che ha partecipato a questa intervista video di Channel NewsAsia, insieme a Maisie Williams (Arya), Gwendoline Christie (Brienne), Carice van Houten (Melisandre), Liam Cunningham (Davos), Rory McCann (il Mastino) e Richard Dormer (Beric Dondarrion). Gli attori parlano dei loro primi giorni sul set e dei loro ultimi giorni e di ciò che hanno "rubato" a fine riprese.
Kit Harigton, come abbiamo già detto in questo articolo, si è divertito portando a casa la statua di se stesso (quella che si vede nel teaser), così da metterla in giardino. Non sorprende che quasi tutti piangessero il loro ultimo giorno di lavoro, anche persone che non piangono spesso, come Carice van Houten. Anche Ser Davos rivela i particolari più deprimenti: "Ho provato a non piangere, ma non ci riuscivo". Invece, Sophie Turner entra più nel dettaglio: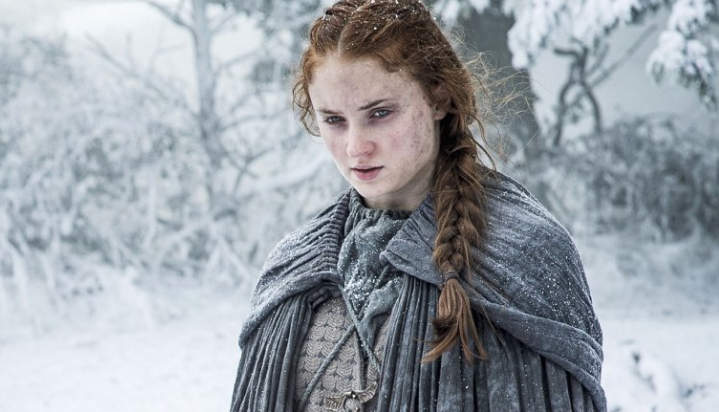 "Si è trattato di questa singola scena per cui siamo stati impegnati tipo cinque giorni. Ogni volta che gridavano 'taglia' io pensavo 'Oh mio Dio, potrebbe essere quella buona, potrebbe essere quella buona'. E poi, invece, dicevano 'Ne facciamo un'altra.' E quindi ho dovuto ricacciare indietro le lacrime e dire 'Okay, non piangere, non ancora'".
La Battaglia di Winterfell è stata senza dubbio la puntata più difficile da girare, su questo concordano tutti i protagonisti. Tra i membri del cast infatti è stata soprannominata La Lunga Notte e chi è fan di Game of Thrones sa cosa significhi. Parlando poi dei vari cimeli che gli attori si sono portati a casa, Sophie Turner ha risposto:
"Ho tenuto una pergamena. Bryan, che si occupa degli oggetti di scena, me l'ha data l'ultimo giorno di riprese. Ma costituisce un enorme spoiler per lo show, per l'ottava stagione, quindi l'ho portata via mettendola in fondo al mio portafogli, nessuno l'ha mai vista".
Grazie Sophie, adesso siamo molto più tranquilli quando mancano ormai 30 giorni alla prima puntata di Game of Thrones 8!