Game of Thrones 8, nuove indiscrezioni sul finale
Questo non è proprio il modo in cui siamo abituati a vedere Emilia Clarke. Meglio conosciuta come Daenerys Targaryen su Game of Thrones della HBO, l'attrice dice che è rimasta molto depressa dopo aver appreso il destino finale del suo personaggio nella stagione finale della serie. Dopo queste dichiarazione i bookmakers impazziti cambieranno riconsidereranno le scommesse su di lei come la favorito per vincere il Trono.
The Independent riferisce che la Clarke ha detto di aver trascorso ore "senza meta" camminando per Londra dopo aver letto l'ultima sceneggiatura come Daenerys: "Poteva anche piovere e avrei continuato a camminare sotto la pioggia senza sapere cosa fare". Inoltre, ha anche ammesso di aver versato "un sacco di lacrime" mentre filmava i suoi ultimi momenti sullo schermo.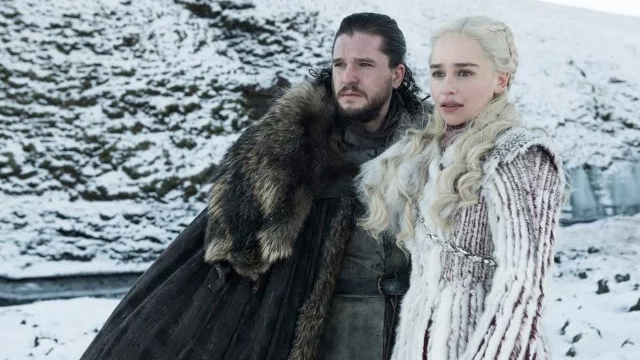 "Questo è stato il momento in cui ho capito che l'alcol può anche essere un depressivo. Stavo lì con un bicchiere di vino e non so perché ma non mi rende più felice". Sappiamo già che non finirà bene per nessuno dei nostri eroi, ma ci piace sperare che questo sia in qualche modo possibile. Manca un mese esatto alla messa in onda di Game of Thrones, il 14 aprile finalmente avremo le risposte alle nostre domande. Interrogativi che con il passare dei mesi sono aumentati a dismisura.
Con la pubblicazione del trailer e delle varie foto dal set sappiamo ad esempio che Sansa non sarà molto contenta nell'ospitare un Targaryen a Winterfell. Arya parteciperà alla sua prima vera battaglia, anche se nel trailer quei pochi suoi frame che abbiamo visto non ci lasciano ben sperare. Sappiamo che l'episodio numero tre ospiterà la tanto attesa Battaglia di Winterfell e che da quel momento in poi le sorti del Trono di Spade cambieranno per sempre.
Sappiamo molte cose ma è come se non sapessimo nulla, questa ottava stagione di Game of Thrones la stiamo aspettando da troppo tempo e come Emilia siamo disperati e disorientati all'idea che tutto finisca.