Anche Sansa Stark si preparerà per la battaglia nella stagione finale di Game of Thrones. La Lady di Winterfell subirà un cambio di costume nell'ottava stagione per essere preparata all'arrivo dell'Esercito dei Morti. "Questa è la prima volta che ho un'armatura", dice Sophie Turner a EW. Il costume non sarà come quello di Jaime Lannister o Brienne di armatura metallica, ma sarà una specie di armatura di cuoio: "Abbiamo l'idea che sia molto protettiva e si abbottona", dice Turner. "Volevo avere un'armatura e volevo che Sansa sembrasse una guerriera. È come il guerriero di Winterfell".
Questo costume non è ancora stato rivelato nei vari teaser e foto ufficiali che abbiamo visto fin ora, forse è una delle cose che D&D vogliono mantenere riservata fino alla fine. Fino ad ora abbiamo visto Sansa accogliere (e che accoglienza) Jon e Daenerys al loro arrivo nel gelido Nord. Nel corso delle stagioni, il personaggio interpretato dalla Turner ha subito un cambiamento dopo l'altro. Nella prima stagione così come nella settima somiglia molto alla madre, nella pettinatura e nel vestiario. Durante il suo soggiorno ad Approdo del Re si adegua alla pettinatura delle grandi signore del regno. Infine, durante il viaggio con Ditocorto prende la svolta dark, viaggiando in incognito per raggiungere i Bolton.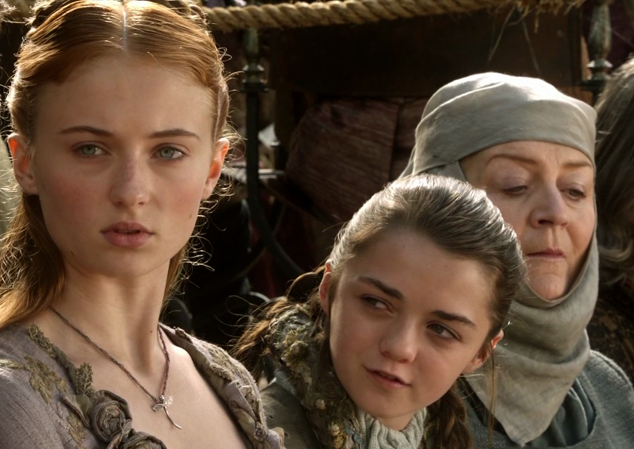 Ognuna di queste trasformazioni fisiche ha portato anche un cambiato nel suo comportamento che l'ha fatta arrivare all'ottava stagione ad indossare un'armatura, come una vera guerriera quale lei è. Questa ultima stagione di Game of Thrones arriverà il 14 aprile e anche se le dichiarazioni di attori e produttori sono un fiume in piena, non sappiamo molto rispetto a quello che ipotizziamo dalle foto o dai video. Questa potrebbe essere una fortuna, in quanto farebbe parte del piano della coppia di creatori della serie che prevederebbe l'assenza di un trailer ufficiale, per maggiori info ve ne abbiamo parlato qui.
Non vediamo l'ora di vedere Sansa con la sua armatura!