Non so se avete già sentito questa storia, ma questa è l'ultima stagione di Game of Thrones. La serie della HBO ci sta preparando e si sta preparando al lungo inverno che inizierà il 14 aprile. I dettagli che fin ora abbiamo raccolto ci aiutano a fare più o meno il punto della situazione di quella che sarà la battaglia più sanguinosa che Westeros abbia mai visto. Sono stati pubblicati teaser che secondo i fan non rendono giustizia alla Serie e adesso possiamo dare uno sguardo anche alle foto. Quest'ultime non ci aiutano a capire cosa succederà, ma riescono a lasciare quel velo di alone e mistero che è sempre stato caratteristico di Game of Thrones.
Se pensiamo che D&D avevano addirittura pensato di non pubblicare il trailer perché secondo loro si sarebbe perso tutto il gusto della prima visione, le foto ce le teniamo ben strette, grazie. Anzi, dovevo proprio aggiornare il mio sfondo del telefono con un nuovo Jon Snow. Grazie. In queste foto che troverete sotto che noi abbiamo assemblato, ma che potete guardare anche qui, i nostri protagonisti sono soli. Come se ognuno di loro debba combattere questa battaglia come singolo. Tranne una, ovviamente, la foto che ritrae Jon e Dany a Winterfell in mezzo alla neve.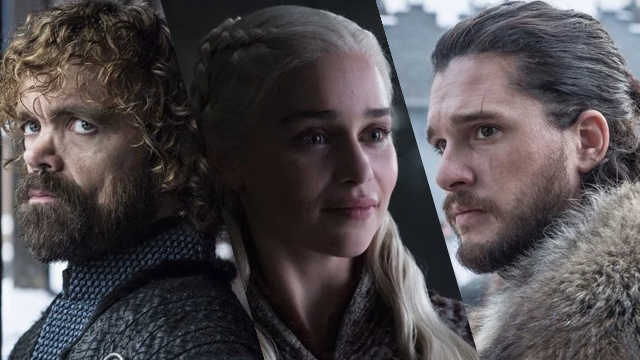 Tutti indossano gli abiti scuri del Nord, anche la Regina dei Sette Regni che ha deciso di voltare le spalle a tutti. Manca solo un personaggio principale in tutta questa storia: il Re della Notte. Vi avevamo anticipato questa folle teoria per cui anche il capo dell'esercito dei morti sia interessato in qualche modo al Trono di Spade. Anche nella pubblicazione delle foto, l'ordine sembra tutto tranne che casuale, ve ne accorgerete. Jaime e Brienne sembra quasi che si guardino, inoltre, il web ha già captato qualche piccola anticipazione. Jaime ha un'armatura insolita che ricorderebbe quella di Robb Stark, segno che ha fedelmente abbracciato la battaglia contro gli Estranei. Mentre Sansa, beh non ci vuole un genio per capire quanto è in disappunto.