Il 2019 è iniziato e questo significa che, finalmente, scopriremo come si concluderà Game of Thrones.
Assente sui nostri schermi dalla fine dell'estate 2017, la serie tv basata sui romanzi di George R. R. Martin andrà in onda sulla HBO nell'aprile 2019. In questi lunghi mesi le speculazioni sulla trama e sul destino dei personaggi sono state tante, e siamo sicuri che continueranno ancora.
Anche i creatori e gli attori, seppur sempre molto vaghi nelle risposte e attenti a non divulgare dettagli importanti, non si risparmiano dal dare piccole anticipazioni.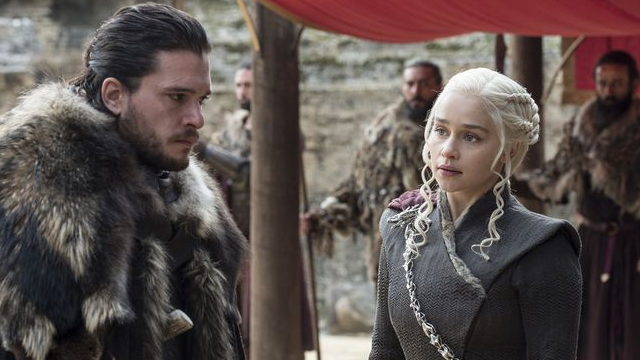 In un'intervista con TV Insider, i creatori di Game of Thrones Dan Weiss e David Benioff e gli attori Emilia Clarke e Kit Harington hanno parlato di Daenerys Targaryen e Jon Snow e di quel che succederà quando i due scopriranno di essere imparentati.
Nella settima stagione Jon e Daenerys, dopo essere diventati alleati, hanno consumato il loro amore. I due, però, sono zia e nipote: lui è il figlio di Rhaegar (Wilf Scolding), fratello di lei. Attualmente, solo Sam Tarly (John Bradley) e Bran Stark (Isaac Hempstead-Wright) sono a conoscenza della parentela, ma ci aspettiamo che nell'ultima stagione la verità sia rivelata anche i due diretti interessati.
A tal proposito Weiss afferma:
"Da un certo punto di vista, questo rende le cose interessanti. La storia non riguarda più l'identità dei genitori di Jon, ma cosa succederà quando lui lo scoprirà".
Dopotutto mantenere l'alleanza è fondamentale, dato che gli Estranei si stanno pericolosamente avvicinando. Riusciranno a collaborare una volta che scopriranno che Jon è un Targaryen e, secondo la linea di sangue, è erede al trono? Di questo la Clarke dice:
"Il sogno di Daenerys è sempre stato quello di vendicare la sua famiglia e riprendersi il Trono di Spade, che le spetta di diritto. Lei ama davvero Jon. Quando e se scoprirà la verità, farà davvero molto male".
E Jon, come reagirà alla scoperta, dopo aver sempre pensato di essere figlio di Ned Stark (Sean Bean)? Dovrà affrontare la verità sulla sua famiglia d'origine e anche i suoi sentimenti per la Regina dei Draghi. Harington afferma:
"Jon è quel tipo di persona che segue le regole. Non può mentire. Scoprire la verità su Dany sarà difficile per lui".
Tutte le nostre curiosità sull'ultima stagione di Game of Thrones saranno finalmente soddisfatte tra pochi mesi.