Game of Thrones si avvicina sempre di più alle sue battute conclusive e, anche se dobbiamo ammettere che ne sentiremo la mancanza, possiamo rincuorarci sapendo che vedremo attori come Emilia Clarke o Kit Harington in altre vesti.
Dopo essere stati resi famosi dal mondo di Westeros, infatti, i vari personaggi della serie hanno cominciato a costruirsi una loro carriera. Tra questi abbiamo già parlato di Kit Harington (potete trovare un articolo specifico proprio qui), ma anche i suoi colleghi non scherzano.
La cara Emilia Clarke, ad esempio, pur dovendo moltissimo a Daenerys Targaryen e a Game of Thrones, si è lanciata in generi del tutto diversi, da Io prima di te a Solo: a Star Wars story. Il legame con il ruolo che l'ha resa famosa, però, sarà sempre indissolubile.
La verità è proprio questa: ogni attore reso famoso per un certo ruolo ha un rapporto particolare con il suo personaggio. Ci sono casi in cui lo ama alla follia, e altri in cui non riesce a sopportarlo. Se il personaggio diventa troppo iconico, infatti, è facile che l'attore venga ricordato per sempre con quel nome.
Ne abbiamo già parlato più volte, ci sono anche le eccezioni che confermano la regola. Ed Emilia Clarke risponde perfettamente a questa categoria. Il suo rapporto con Daenerys è molto positivo, il legame tra le due è forte, e sono tante le cose interessanti che l'attrice stessa ha detto sul suo personaggio. Vediamone alcune insieme.
1) Daenerys l'ha resa una donna più forte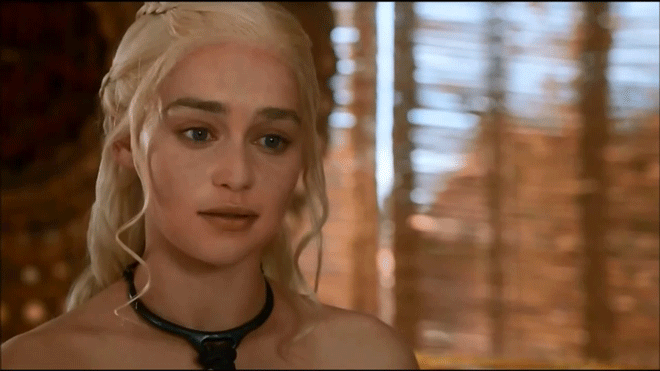 Tutti conosciamo Daenerys Targaryen, e se siamo fortunati ci ricordiamo a memoria perfino tutti i suoi nomi. La giovane Madre dei Draghi si è trovata ad affrontare ben più di una difficoltà per arrivare nel continente occidentale, e in ogni battaglia ha plasmato il suo animo, diventando più forte, più coraggiosa e forse anche più spregiudicata.
La cara Emilia Clarke ha a sua volta dichiarato che il suo rapporto con il personaggio di Daenerys le è stato più utile del previsto. Trovandosi infatti a interpretare una donna che abbatte le insicurezze e si pone in difesa della giustizia, è riuscita contemporaneamente a migliorare anche se stessa come persona, sviluppando maggiore coraggio e forza d'animo.