Dove diavolo è Laurel Castillo. Chi ha ucciso Asher Millstone, e perchè. Annalise Keating sarà davvero morta, o avrà inscenato il big fake al quale ci aveva preparati nelle ultime puntate? Ma sopratutto. Soprattutto. Soprattutto. Come diavolo fa Wes Gibbins a essere ancora vivo? Cosa ha fatto in tutto questo tempo, dove è finito, chi lo ha nascosto se qualcuno lo ha nascosto?
Accordo con l'FBI, clamoroso sotto-accordo coi Castillo o chissà cos'altro, è attorno al destino di Wes che ruota il destino finale di How to Get Away with Murder. Attorno alla gestione dell'unico colpo di scena che probabilmente avevamo previsto tutti, e che mentre una parte di noi bramava accadesse l'altra sotto sotto sperava con tutta se stessa che no, non lo avrebbero fatto. Non avrebbero resuscitato Wes, la serie che ha fatto dell'imprevedibilità un mastodontico punto di forza non ci avrebbe lasciati col fiato in sospeso per l'unica cosa che forse non sarà in grado di gestire. Ci avrebbe tenuti là col dubbio fino all'ultimo, avrebbe giocato un po' con noi ma alla fine no. E invece sì.
Sbarbato, coi capelli più corti, paradossalmente ringiovanito in apparenza dopo anni che non lo vedevamo, Wes è ri-piombato dal cielo nel frenetico universo narrativo di How to Get Away with Murder, per partecipare al gran ballo di fine anno. Catapultandoci dentro un infinito vortice di interrogativi che riguardano presente, passato e futuro dell'uomo più misterioso della serie. Perchè se nel frattempo, durante la storia, i misteri attorno alle vite di tutti gli altri protagonisti si sono pian piano disvelati, il figlioccio di Annalise è sparito e poi ricomparso acquisendo di diritto il titolo di personaggio più oscuro di tutti quanti.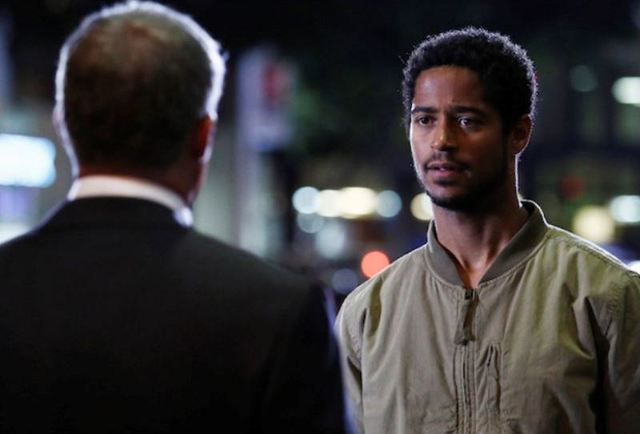 Non sappiamo ancora se questo grande (e più o meno atteso) ritorno sarà un bene per la serie di Shonda Rhimes, ma devo dire la verità: contro ogni logica, sono nonostante tutto fiducioso che anche stavolta gli autori riusciranno a stupirci. E dico contro ogni logica perchè How to Get Away with Murder ci ha davvero insegnato l'arte di saper fare (per bene) i colpi di scena: la scelta di riportare in auge il signor Gibbins sembra quasi controintuitiva, forse l'unica mossa azzardata che può rovinare un disegno altrimenti finora incredibilmente perfetto, e che aspettava solo la pennellata finale. Probabilmente sarebbe bastato e avanzato il mistero su Laurel, quello sulla morte di Asher e quell'altro sul destino di Annalise e di tutti gli altri suoi adepti per avere talmente tanta carne al fuoco che 6 episodi sarebbero stati pure pochi. Ma Shonda e Peter Nowalk hanno deciso di metterci dentro anche Wes, e per quanto possa sembrare folle io credo ancora al possibile ulteriore capolavoro.
Ci credo perchè durante la visione di questa serie la Rhimes e Nowalk mi hanno fatto credere all'impossibile. Mi ero approcciato con curiosità e scetticismo ad How to Get Away with Murder: curiosità, perchè una serie che ha retto 6 stagioni spopolando in tutto il mondo e consacrando Viola Davis come una delle migliori attrici del pianeta mi sono detto meritasse la mia attenzione. Scetticismo, perchè non avevo mai visto una serie di Shonda Rhimes e mi avevano raccontato che principalmente faceva cose trash. Quest'ultima cosa sarà pur vera in generale, ma in Le Regole del Delitto Perfetto il trash è un elemento veramente marginale. A dominare sono i colpi di scena fatti bene, armonicamente coerenti con una trama tanto intricata quanto, finora, maestosamente perfetta.
Una serie che non si prende mai mezzo attimo per respirare e ciononostante, non incappa mai in banali buchi di trama. Se punti tantissimo sul ritmo prima o poi la trama va fuori giri: Prison Break, per citarne una, insegna. Il rischio di incespicare qua e là era tangibile, ma How to Get Away with Murder lo dribbla sempre con estrema maestria, disegnando delle curve puntualmente impeccabili. Non mette mai a dura prova la nostra soglia di sospensione dell'incredulità, ed è proprio questa la cosa che ci rende più increduli.
Può non piacere la sua scrittura vistosa, ma questo è un prodotto che andrebbe studiato nelle scuole di sceneggiatura per l'incredibile capacità gestionale di plot twist e cliffhanger. Perchè un conto è tirar fuori dei colpi di scena belli ma su cui devi chiudere uno o due occhi fingendo che il racconto nella sua globalità non ne sia stato intaccato negativamente, un altro è riuscire a giostrare 7mila stravolgimenti a puntata senza mai sacrificare la credibilità sull'altare del pathos.
Le sue 6 stagioni sono sembrate delle eterne partite a scacchi, ma fatte a velocità supersonica. Continui ribaltamenti di ruoli, schieramenti in costante mutamento – geniale, per citarne uno, la scelta di mettere a fianco di una Keating abbandonata da tutti Connor Walsh nella quarta stagione, ovvero colui che più la odiava – con un unico denominatore comune: se solo uno di loro avesse parlato, se solo uno di loro avesse collaborato con la giustizia, il castello di carte sarebbe finito in macerie.
E non è facile per niente fare una roba del genere senza restituire allo spettatore quello sgradevole senso di ridondanza dei meccanismi narrativi in cui le serie di questo tipo, in genere, vanno a finire.
How to Get Away with Murder ha marciato decisa e sicura di se', sgommando senza mai uscire fuori strada, mostrandoci fieramente tutta la sua spocchia e la sua antipatia. Perchè How to Get Away with Murder è anche una serie antipatica: il personaggio più simpatico della serie è tendenzialmente abbastanza odioso, se preso singolarmente, fatta forse eccezione per Oliver. Ma messi tutti insieme diventano un'orchestra sinuosa, in cui il primo violino Annalise Keating manipola e indirizza tutto il branco di adepti aderenti al suo culto, assuefatti da questa donna tanto potente e brillante quanto intimamente fragile.
Non è una serie molto emotiva, non è quasi per niente sentimentale: gli amori a lieto fine, fatta salva la relazione Oliver-Connor, praticamente non esistono. E' una serie all'insegna di un collettivo naufragio morale, che tiene insieme i protagonisti affannosamente attaccati ai salvagenti che si lanciano a vicenda.

Ma è una serie in grado di colpire e ammaliare potenzialmente tutti, anche noi puristi della lentezza e della bellezza interiore\introspettiva di un prodotto prima di tutto. Perchè anche noi ogni tanto vogliamo guardare qualcosa che ci faccia strabuzzare gli occhi ogni 3×2 senza che siano necessarie sedute di autopsicanalisi prima di passare alla prossima puntata.
How to Get Away with Murder è intrattenimento fatto in maniera divina. E' una serie che sa sempre nascondere le proprie intenzioni, colpendoti alle spalle quando guardi davanti a te o attaccandoti di lato quando pensi bene che forse è il caso di guardarti indietro.
Il dubbio che ci divorerà fino al 2 aprile, data del grande e ultimo ritorno, è che col reintegro di Wes How to Get Away with Murder non sia inciampata in una di quelle stesse trappole che ha teso di continuo a noi spettatori. Che non abbia fatto l'errore fatale di guardarsi troppo indietro, scombinando un puzzle probabilmente destinato alla perfezione. Shonda Rhimes e Peter Nowalk ci hanno abituati a ritmi frenetici, ed è anche per questo che l'attesa per l'agognato finale ci sembra così eterna.
Ma ormai mancano 20 giorni al restart e una sessantina alla definitiva conclusione dell'opera: solo allora capiremo se How to Get Away with Murder ce l'avrà fatta ancora una volta o se, rimasta vittima del suo stesso inesorabile vortice, alla fine sia arrivata a essere così confusa da colpirsi da sola.