Elevators have a lot of meaning on Grey's Anatomy. For sure we wanted to wink at that history without stepping on it or mirroring it. We looked for new ways to use the elevator in the midseason premiere. We were quite successful. It's an exciting, sexy, funny, dramatic joy ride of an episode. Fans will not be disappointed.
Le parole della produttrice di Grey's Anatomy Krista Vernoff hanno ribadito ancora una volta l'importanza dell'ascensore in questa serie tv. Nel midseason finale della quindicesima stagione sono addirittura tre gli ascensori bloccati quando la corrente manca per la tempesta. Teddy, Owen e Amelia si confrontano riguardo un segreto proprio di Teddy, la Bailey deve calmare una specializzanda in preda al panico e Meredith e DeLuca parlano del passato del giovane medico italiano.
I due si avvicinano pericolosamente ma Meredith resiste e, per una volta, segue le regole. Le stesse che ha infranto e che l'hanno portata alla sua vita insieme a Derek.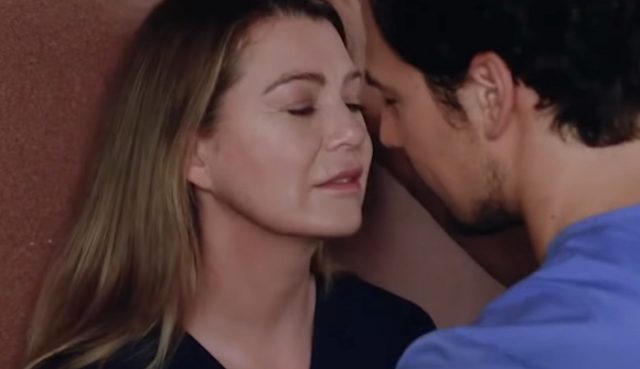 Per molti protagonisti di Grey's Anatomy l'ascensore è il simbolo dell'amore, della passione, dei baci rubati e clandestini. Gli amori nascono e si consumano tra le sue mura e i dottori sperano che le porte si aprano il più lentamente possibile per prolungare quell'idilliaco momento all'infinito. O forse è il sapere che quelle porte si possono aprire da un momento all'altro che rendono quegli istanti ancora più sexy e passionali. Addison ha descritto gli ascensori come luogo di tensione sessuale.
La storia tra Meredith e Derek vive di momenti, di sguardi, di risate e di parole dette nell'ascensore.
Uno dei loro primi baci è avvenuto proprio lì, quando Meredith era solo una specializzanda e Derek il suo capo. La giovane ha provato a resistere invano e si è buttata tra le braccia di Derek, regalandoci uno dei baci più bollenti di Grey's Anatomy. Derek si è proposto a Meredith proprio nell'ascensore, rivestito per l'occasione con i raggi x di tutti i i casi su cui avevano lavorato insieme nel corso degli anni. Una lettera d'amore sia per Meredith che per l'ascensore stesso, patria di tanti momenti indelebili nel corso degli anni.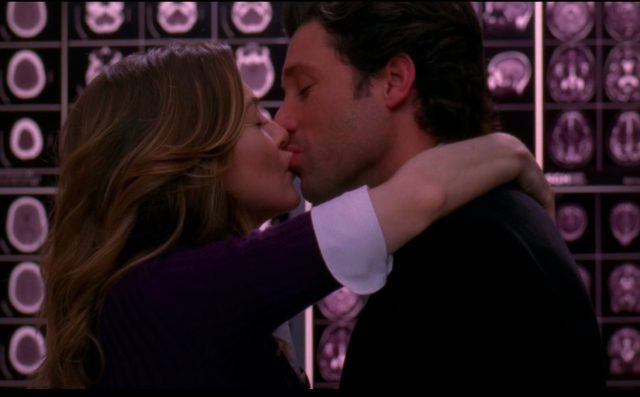 Alcuni momenti fondamentali della storia tra Callie e Arizona si sono svolti nell'ascensore. È stato proprio tra quelle mura che Arizona ha chiesto a Callie di uscire nella quinta stagione. Alla fine della sesta invece le due stanno attraversando un momento difficile ma, dopo la confessione di una paziente che si è lasciata sfuggire l'amore della sua vita per cinquant'anni, le due, trovandosi in ascensore, si scambiano un bacio appassionato. La rivelazione della gravidanza di Callie ad Arizona arriva proprio in ascensore.
Quella scatola metallica chiusa e opaca, libera da sguardi indiscreti, è stata sede di amori che finiscono.
Owen è riuscito a salvare la vita di Cristina e, mentre sono in ascensore, confessa alla donna di volersi trasferire. L'unica cosa che Cristina dice è "ok". I due non si stanno guardando e Cristina si lascia andare alle sue emozioni. Piange, soprattutto quando le porte dell'ascensore si chiudono sia fisicamente che metaforicamente sulla loro relazione. Un vero e proprio pugno allo stomaco che Grey's Anatomy ci ha rifilato.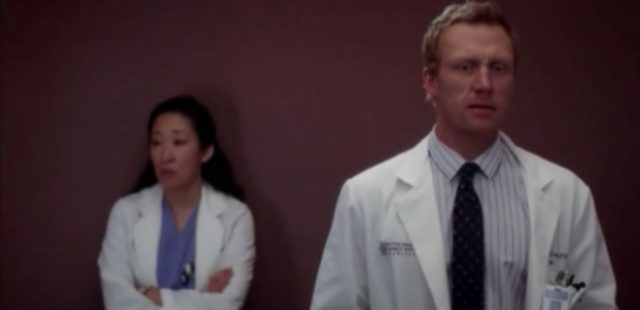 L'ascensore racchiude segreti inconfessabili e sentimenti che, altrimenti, non verrebbero espressi.
Proprio perché è un posto sicuro dove rifugiarsi, dove la privacy regna da padrona, i dottori si lasciano andare alle proprie emozioni. Dopo il disastro ferroviario della seconda stagione di Grey's Anatomy (e non è l'unico episodio catastrofe della serie tv!), Derek ha la possibilità di salvare solo una delle due vittime impalate. La scelta ricade sull'uomo poiché Bonnie è troppo grave. Dopo aver riferito al ragazzo di Bonnie le sue ultime parole, Derek si trova in ascensore con la Bailey che capisce che il collega deve sfogarsi e piangere. Così preme il tasto STOP, dando tempo a McDreamy di elaborare il tutto.
Derek è protagonista di una delle scene più imbarazzanti e divertenti di Grey's Anatomy. Nella quarta stagione Derek, Addison, Meredith e Rose si trovano tutti nell'ascensore. E Mark, quando li vede, sussurra a Derek: "Avresti preferito prendere le scale!". E non è l'unica che l'ascensore abbia visto!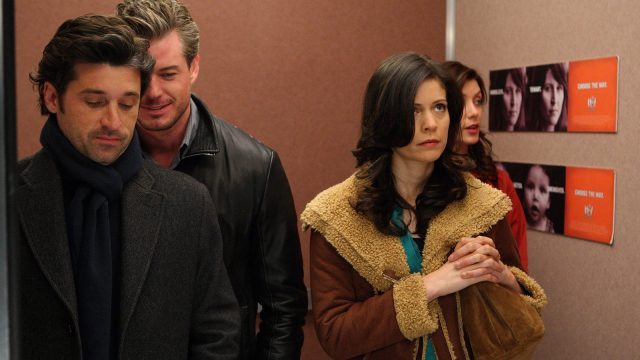 Alcune prime volte sono avvenute proprio nell'ascensore come, ad esempio, il primo bacio gay della serie tv. Quando l'ospedale è colpito da un blackout, George e Alex rimangono bloccati nell'ascensore insieme a un poliziotto con una ferita d'arma da fuoco sul petto. Il paziente è in condizioni critiche e tocca a George salvarlo. Grazie alle direttive di Burke George esegue il suo primo intervento a cuore aperto. Alex era con George ma si era bloccato tra quelle pareti troppo strette per lui. Durante la sparatoria del finale della sesta stagione però l'ascensore ha rappresentato la sua salvezza.
Dopo che Gary Clark gli ha sparato è riuscito a raggiungerlo cosa che ha permesso a Lexie e Mark di trovarlo e di curarlo. Charles Percy non è stato così fortunato. Colpito da un proiettile, la Bailey lo trascina verso l'ascensore per portarlo in sala operatoria. Stavolta però il fidato amico non ha aperto le sue porte e Charles muore tra le braccia della Bailey. È diventato giudice della vita di due dottori: uno l'ha salvato, l'altro no. L'ascensore ha significato vita per Alex e morte per Charles.
Ma la scena più significativa è senza dubbio quella che ha coinvolto Izzie e George alla fine della quinta stagione di Grey's Anatomy.
Entrambi stavano lottando per la vita: George si rivelò essere quel John Doe completamente sfigurato che aveva salvato una ragazza da un autobus in corsa, Izzie era in arresto cardiaco. Ed eccola quest'ultima, con il suo vestito rosa, che sale nell'ascensore che l'avrebbe condotta nell'aldilà. Quando le porte si aprono, George, con la sua uniforme militare, la sta aspettando come se fosse pronto a portare Izzie verso un'altra vita. In Grey's Anatomy non c'è una scala per il paradiso ma un ascensore.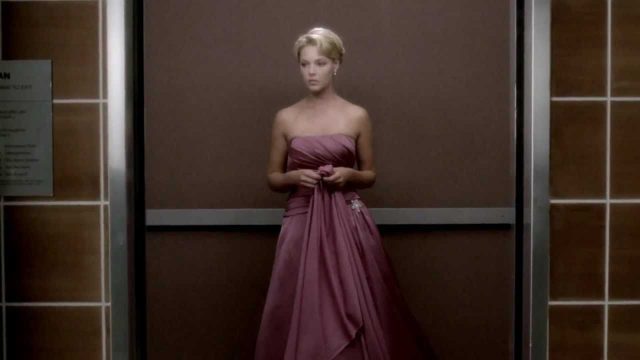 In poche parole l'ascensore è il grande protagonista e custode del Grey Sloan, colui che osserva, protegge e giudica. È il simbolo dell'amore e dei sentimenti, belli o brutti che siano, e il regno incontrastato del gossip e dei segreti. Nulla in Grey's Anatomy è paragonabile agli eventi imprevedibili che si sono verificati all'interno degli ascensori!