Jake Peralta ha una missione da compiere: scagionare Tyrion Lannister dall'accusa di omicidio di Joffrey Baratheon: venite a capire come!
In lontananza si odono campane a festa: per tutti dovrebbe essere un giorno di gioia e felicità, perché il giovane re Joffrey prenderà in sposa la bella e amatissima Margaery Tyrell. La folla è in silenzio, mentre, avvolta da un vestito sfarzoso, la donna avanza verso il futuro marito sfilando davanti alla famiglia di lui, in fervente attesa. Il re la circonda di un pregiato mantello e le si reca accanto. Il celebrante è pronto ad avviare la cerimonia e subito si rivolge alla coppia: negli occhi di lui, pur nella compostezza dell'evento, continua a brillare quella scintilla di follia che non pare mai abbandonarlo del tutto. "Tutti devono sapere che Margaery della casa Tyrell e Joffrey delle case Lannister e Baratheon sono un unico cuore, un unico corpo e un'unica anima. Sia maledetto colui che tenterà di spezzare la loro unione." Le sue parole tuttavia non sembrano provenire dalla sua bocca, ma paiono essere quasi un'eco lontano. Applausi dagli astanti.
Forse una pausa dai drammi e dagli intrighi che sconvolgono Westeros?
La cerimonia è rapida. Dopotutto c'è da festeggiare: i matrimoni dei reali sono sempre un evento irrinunciabile e a quanto pare nulla di ciò che è stato preparato andrà sprecato, ma la folla intera, su suggerimento della stessa Margeary, ne potrà beneficiare. La scena ora si sposta altrove: artisti circensi, musica e sfarzi di ogni tipo. Gli ospiti passeggiano e chiacchierano fra loro (anche se non sentiamo nessun mormorio e nessun brusio) e Olenna, da brava nonna quale è, sistema i capelli della povera Sansa Stark, accompagnata dal marito Tyrion.
Un grande banchetto è allestito: una tavolata a cui partecipano tutti i familiari degli sposi, subito riconoscibili dalle loro inconfondibili vesti. C'è il goffo Mace Tyrell, seduto accanto alla madre Olenna, anziana splendida in tutta la sua magnificenza. E poi ci sono i Lannister, superbi nella loro altisonante superiorità: l'astuto Tywin, la feroce Cersei e il piccolo e ingenuo Tommen.
Sorridono, mimano il riso e fingono di mangiare per qualche minuto, poi una voce tuona "Fate silenzio! Sgombrate tutto! Vi presento Re Joffrey, Renly, Robb Stark, Balon Greyjoy e Stannis: la Guerra dei cinque re!" Così si fanno avanti cinque uomini vestiti a parodia dei famosi sovrani e iniziano a lottare fra loro in maniera scomposta: ci vuole poco per decretare la vittoria del sovrano dalla chioma bionda. Ma qui le cose di fanno interessanti, perchè il Re dei Sette Regni inizia a provocare lo zio Tyrion ricoprendolo di vino e continuando a umiliarlo. Tra i presenti cala il gelo e la folla rimane in silenzio.
Solo una voce lontana inizia a urlare improperi rivolti a Joffrey, ma viene immediatamente fermata.
"Puoi fami tu da coppiere, zio!", ma poi il sadico ragazzetto coronato fa cadere il calice. La tensione è visivamente palpabile quand'ecco che l'arrivo della torta nuziale allenta subito la situazione. Buona la torta, e anche il vino… O così sembra, perché il simpaticissimo sovrano inizia ben presto a tossire pesantemente fino ad accasciarsi in fin di vita al suolo, tra le braccia della madre e dello "zio" Jamie: non prima però di aver indicato con un ultimo e plateale gesto il tanto odiato zio Tyrion.
La folla è in delirio: urla di entusiasmo e applausi investono lo spazio circostante! "Evviva!","Seeeeee!","Finalmente!". Ma poi qualcuno fa cenno alla folla di tacere e ritorna il dramma.
"Prendetelo! Ha avvelenato il vostro re!" tuona la voce di una donna. Poi, cala di nuovo il silenzio, mentre i personaggi si tolgono di mezzo e Tyrion viene circondato da guardie dorate che lo portano via. Si passa subito al processo. A turno, vari personaggi fanno un passo avanti, additando il nano come colpevole: Cersei, il Maestro Pycelle… Sempre più devastato, un Tyrion in catene è costretto a sentire le parole del tradimento dell'amata Shae e a sentirsi giudicato da un padre che l'ha sempre disprezzato dall'alto di uno scranno ricoperto di spade. All'ennesimo torto ricevuto, il nano però non riesce più a contenere la rabbia. "Desidero confessare…" e così prende il via un incredibile monologo che lascia tutti con il fiato sospeso.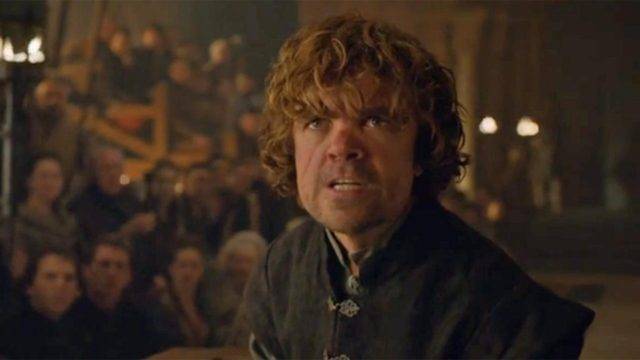 "Sono colpevole…colpevole! Non è questo che vuoi sentire? Sono innocente, ma sono colpevole di un crimine più truce ed empio: essere un nano, la mia colpa è questa. Sono sotto processo per questo dal primo vagito che ho fatto (…).Non ho alcuna intenzione di dare la mia vita per l'omicidio di Joffrey e so che in quest'aula non riceverò alcuna giustizia. lascerò perciò agli dei decidere il mio fato. Io reclamo un processo per combattimento."

Tyrion Lannister
La folla, a sentire queste parole che vibrano e colpiscono più forte di una pugnalata, rimane ammirata ed estasiata. È con un applauso che sono quindi accolte le parole di Oberyn Martell, che, facendo un passo avanti, esclama a gran voce: "Sarò il tuo campione!". Tutti si fanno quindi di colpo da parte da parte per lasciare entrare in scena un energumeno dall'aria truce armato di un enorme spadone, che però pare leggero come una piuma. La Vipera e la Montagna sguainano le armi e danno inizio alle danze. Il combattimento, però, non è fluido e i colpi sferrati non paiono mai andare realmente a segno. Una musica drammatica e concitata al tempo stesso accompagna la scena mentre il pubblico applaude nei giusti momenti. "Tu l'hai stuprata! L'hai ammazzata! Hai ucciso i suoi figli!". Dopo qualche minuto di coreografia, Oberyn attacca con grazia e finalmente ha la meglio. Si avvicina alla Montagna stesa a terra e…. La musica si blocca di colpo.
"Fermiii!". Qualcuno si è appena fatto largo tra la folla. "Fermate questa follia!". A parlare è un uomo la cui armatura risulta davvero troppo larga per la sua misura. "Indietro gente, lasciate lavorare gli esperti. Sono qui per scagionare una volta per tutte l'innocente Tyrion Lannister!". L'uomo si volta a guardare l'imputato: "Jacob McClane della casa Peralta, normalmente noto come Jake Peralta della costa est. Sono un suo grande fan, giunto ad Approdo del Re per porre fine a un'enorme ingiustizia.". Dice togliendosi platealmente un cappuccio che rivela dei corti capelli castani, un naso importante e un sorriso compiaciuto.
Da sotto il palco si sentono voci protestare "Va' via! Stai rovinando tutto!" "Fuori dai piedi!". L'uomo però non sembra troppo preoccupato dalle lamentele e continua "Charles, porta avanti chi sai tu!".
I personaggi in scena sono piuttosto basiti e, quasi dimentichi del dramma in corso, si bloccano per prestare attenzione ai discorsi dello strano individuo. "Signori, come potete vedere, il mio collega sta scortando i reali responsabili dell'efferato omicidio del nostro re Joffrey. Sì, lo ammetto, vedere morire quello str… Ehm, volevo dire quel farabutto mi ha fatto felice come l'ultimo rewatch di Die Hard, ma la giustizia vale per tutti." Mentre l'uomo sta parlando, ecco che al suo fianco compare qualcun altro, un ometto dai grandi occhi e il naso a patata vestito con una parrucca di riccioli neri e l'abito scuro dei Guardiani della Notte che sta scortando con sé due individui legati con una corda. Il primo è un uomo magro e brizzolato sulle tempie, col pizzetto e con una lunga tunica ricamata, la seconda è una donna anziana con un abito dorato: entrambi sembrano piuttosto perplessi.
"Loro, loro sono i veri colpevoli. Io e il mio collega Charles della casata Boyle li abbiamo scoperti proprio poco fa. Pare che i due abbiano complottato per portare avanti i propri interessi. Lei non voleva che la nipote sposasse un pazzo squilibrato, degenerato, torturatore, sadico, assassino, pervertito, crudele… Sì, beh, avete capito. Mentre lui voleva alimentare il suo amatissimo caos e nel mentre fare in modo che la sua piccola Sansa fosse portata via dalla città."
Da sotto il palco, le proteste continuano: "Guarda che la conosciamo la storia!", oppure: "Stai rovinando la rievocazione!". Ma Jake Peralta continua imperterrito: "Ma come, vi chiederete, hanno fatto ad avvelenare il re con lo Strangolatore sotto gli occhi di tutti? Ecco a voi la risposta: con la scusa di sistemarle i capelli, lady Olenna ha strappato una pietra dalla collana che precedentemente era stata regalata da Ser Dontos alla ragazza Stark su ordine di Ditocorto e poi, sfruttando il caos creatosi dalla discussione tra il re e il povero Tyrion, ha versato il suo contenuto nel calice incriminato.". " Bravo, Jake!". Charles applaude l'amico con una pacca sulla spalla e un pollice alzato.
"Pensavano di farla franca questi due, ma li abbiamo beccati nel camerino qui dietro pronti a levarsi il costume per far perdere le loro tracce una volta per tutte!" esclama Jake Peralta compiaciuto. "Canaglie!" dice l'altro.
Il duo però non fa in tempo a compiacersi del proprio successo che da un lato del palco un omone palestrato a petto nudo e armato di uno scudo e di una picca dall'aria abbastanza imbarazzata prende in mano un microfono: "Scusate, quei due: non hanno ben capito che si trattava di uno spettacolo in cosplay delle scene migliori della serie e non un gioco di ruolo dove tutti potevano intervenire a piacimento! Ora leviamo subito il disturbo!" Due agenti di sicurezza dell'evento avanzano con fare minaccioso.
L'uomo quindi si allontana e spinge con sé i suoi due compagni che protestano bofonchiando che erano venuti proprio per modificare il corso della storia. Poi Terry ci ripensa, strappa nuovamente il microfono da uno dei cosplayer e dice: "E comunque il Trono di Spade fa schifo! Lunga vita a The Skyfire Cycle, dodici libri di cronache della guerra tra il cielo e la terra, tra le nuvole e l e rocce, i Sepsidiani e… Fatevi una cultura!". Dopo aver fatto mic drop Terry Raggiunge i suoi compagni. "Che diavolo ti è saltato in mente, Jake Peralta?". Il ragazzo non risponde, si limita a circondare con le braccia le schiene dei suoi amici e a intonare una musichetta che parte piano ma che diviene presto così coinvolgente da trascinare nel coro anche Terry e Charles. È la sigla di Game of Thrones.
"Sapete, in fin dei conti, l'ottava stagione non è così terribile". "Ecco, grazie Boyle, hai rovinato tutto!"
Un'avventura come tante per il nostro Jake Peralta.