Brooklyn Nine-Nine è una di quelle serie. Quelle che quando inizi non puoi non finire, quelle che ti tengono incollato allo schermo, quelle in cui i personaggi rappresentano tutte le sfaccettature della tua personalità e ti chiedi "come è possibile?". La risposta è Michael Shur, autore di The Office (dalla cui astinenza ci siamo curati così), Parks and Recreation e The Good Place, e Dan Goor.
I due, che si conoscevano da quando erano studenti ad Harvard e avevano già collaborato, amavano l'idea di ambientare una commedia in una stazione di polizia. Quindi lanciarono l'idea alla NBC Universal, dove Schur aveva un accordo di sviluppo. L'azienda passò e il duo vendette lo show alla Fox, per poi tornare alla NBC dopo 5 stagioni.
La prima stagione ha debuttato il 17 settembre 2013, e il 27 febbraio scorso è stata rinnovata per una settima stagione (e adesso ha bisogno del nostro aiuto).
In questa infinità di episodi, quali sono quelli che ci hanno fatto amare questa serie infinitamente?
Eccole qui le 5 migliori puntate di Brooklyn Nine-Nine, almeno finora…
1. Johnny e Dora (2×23)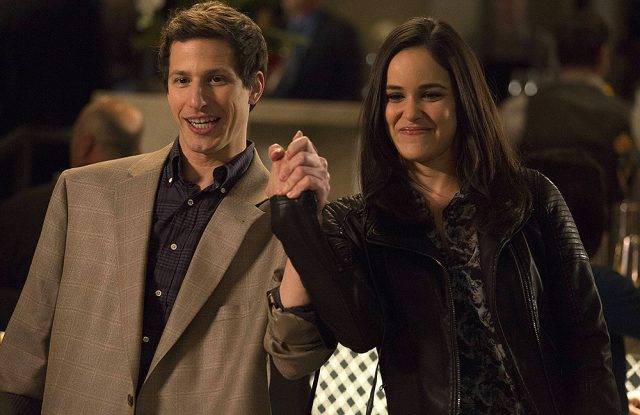 Gina e Terry cercano una lettera scritta dalla malvagia Wuntch per ricattarla e impedirle di nominare Holt capo delle pubbliche relazioni per la polizia di New York, e così costringerlo a lasciare il distretto 99.
Intanto Jake e Amy vanno sotto copertura come coppia per catturare il più famoso ladro di identità di Brooklyn, e il caso li avvicina molto. Moltissimo. Fino al punto in cui tutti noi fan dei Peraltiago siamo impazziti: il loro primo bacio.
2. Crime & Punishment (4×22)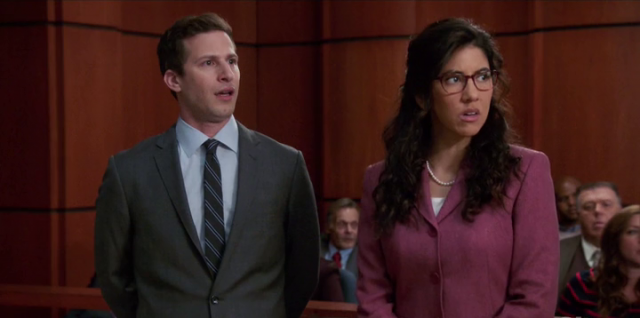 Finale della quarta stagione di Brooklyn Nine-Nine.
Dopo gli eventi del precedente episodio (The Bank Job), Jake e Rosa sono sotto processo per tentato furto in banca. La Hawkins ha costruito un caso apparentemente a prova di bomba contro di loro e tocca al 99º distretto lottare per mettere insieme una difesa inattaccabile.
In un ultimo tentativo disperato, Jake e Amy rintracciano un ex poliziotto che era stato tradito dalla Hawkins e cercano di convincerlo a tornare a New York e testimoniare.
Mentre questo accade, Rosa giunge alla conclusione che la situazione non si risolverà, e Holt la trova pronta a scappare in un ranch in Argentina con Adrian Pimento.
Nel frattempo, Terry e Charles chiedono aiuto a un gruppo di hacker per cercare di trovare dei documenti bancari che possano provare l'innocenza di Jake e Rosa. Sfortunatamente, gli hacker sembrano più interessati a scovare del marcio sul passato di Terry. Faceva il ballerino e posava per pubblicità da giovane. Esilarante.
La Corte alla fine giudica colpevoli i nostri protagonisti e vediamo un piccolo Jake nel panico dire i suoi:
Cool cool cool cool! No doubt no doubt! Cool cool cool!
3. The "Pontiac Bandit" Episodes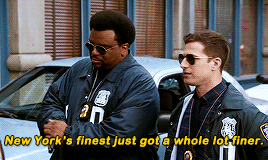 Se guardiamo così tante serie è perché ci piace il concetto di serialità, di abitudine, di ripetizione, per questo le puntate più belle sono quelle che riprendono temi, personaggi o situazioni che sono già accadute. Come ad esempio gli episodi del Bandito delle Pontiac: interpretato dal mitico Craig Robinson.
Doug Judy rappresenta un mix di meschinità e di grande simpatia. Sappiamo dall'inizio di ogni episodio che Doug mente, mente in continuazione, ma lo fa con stile e riesce sempre e comunque a cavarsela, ingannando Jake, che ammaliato dalla sua coolness si lascia fregare.
Doug Judy è uno dei personaggi meglio scritti della serie. Ha dimostrato di essere immaturo, ma di avere un atteggiamento rilassato e intelligente durante le situazioni critiche… e adora la cultura pop, proprio come Jake. Infatti mentre era tenuto in ostaggio con una pistola puntata addosso, ha dichiarato di non voler morire perché era ancora alla seconda stagione di Game of Thrones.