Il 2019 è iniziato con una bellissima notizia: la HBO ci ha infatti regalato un teaser dell'ottava e ultima stagione di Game of Thrones e ha svelato la data di uscita degli episodi. I fan sono subito impazziti e hanno iniziato a scovare tutti gli indizi presenti nel teaser sviluppando anche alcune teorie relative al ruolo delle cripte nella nuova stagione. E se tutti questi sforzi mentali fossero stati inutili? Se non portassero a nulla? Sembra infatti che le cose non siano affatto come sembrano.
A quanto pare il teaser dell'ottava stagione di Game of Thrones che abbiamo visto e rivisto negli ultimi giorni non è un teaser. Si tratterebbe semplicemente di un promo commerciale.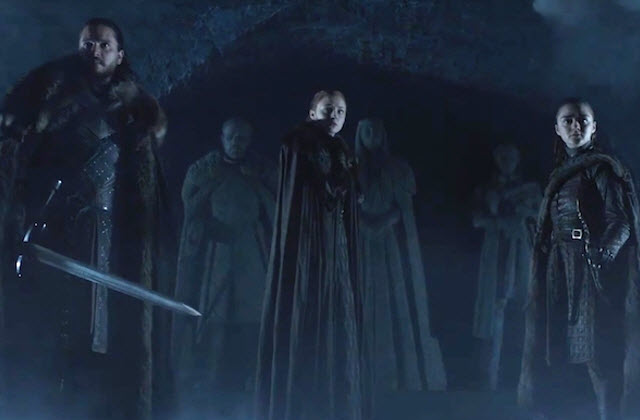 Per chi non se lo ricordasse nel teaser vediamo Jon, Arya e Sansa nelle cripte di casa Stark. I tre giovani si trovano faccia a faccia con delle statue che portano il loro volto. A un tratto le cripte vengono avvolte da un'atmosfera di gelo. È anche grazie a questa drammaticità creata che i fan hanno sviluppato diverse teorie relativamente a quanto potrebbe accadere nei prossimi episodi.
Sorpresa, cari fan: questa scena non fa parte dell'ottava stagione di Game of Thrones.
Le riprese sono state infatti effettuate in modo da renderle separate dal resto della serie. Si tratta quindi di una semplice trovata pubblicitaria. Lo confermano le parole di Sophie Turner (Sansa Stark), rilasciate durante un'intervista con Winter Is Coming prima del lancio del video. Ecco quanto dichiarato:
Abbiamo realizzato questo promo per l'ottava stagione in cui… Non sono certa di poterne parlare, in realtà. Beh, veramente no. Non ha niente a che vedere con la serie. È solo un promo.
Prima del 14 aprile, data della messa in onda del primo episodio, la HBO potrebbe quindi regalarci alcuni veri teaser della serie. Oltre che, naturalmente, l'attesissimo trailer.