Questa notte, prima della messa in video della terza stagione di True Detective, Sky Atlantic ha lanciato la data d'uscita della nuova e conclusiva stagione di Game of Thrones. Per farlo ha contestualmente mostrato un nuovo entusiasmante teaser, dopo i pochi fotogrammi visti la scorsa settimana. Finalmente il 14 aprile potremo scoprire come si concluderà questa straordinaria serie tv che ha saputo catalizzare e coinvolgere l'attenzione e la passione di milioni di spettatori in tutto il mondo.
Questo primo teaser ci dà già però delle importantissime indicazioni. Soprattutto se legato a quanto mostrato finora. Andiamo con ordine. Le prime immagini ci avevano dipinto una scena davvero intrigante. Abbiamo infatti visto quella che pare essere la consegna di Grande Inverno, da parte di Sansa Stark alla Madre dei Draghi.
Nel primo teaser dell'ottava stagione, l'elemento fondamentale che ha catturato la nostra attenzione non è stato però unicamente il contesto, ma soprattutto la scelta delle parole con cui Sophie Turner, Sansa, accoglie a Grande Inverno Jon Snow e Daenerys. Non è solo una formula dettata dall'etichetta. È qualcosa di più che ci riporta a un momento ben specifico di Game of Thrones. Ma ci torniamo fra un attimo.
Veniamo ora al teaser di questa notte. Siamo nelle catacombe della dimora ancestrale degli Stark. La camera riprende Jon mentre avanza con una torcia in mano. La musica è decisa, ma malinconica. Il figlio bastardo di Ned supera la statua di Lyanna. Un ingiustificato colpo di vento proveniente dalle spalle di Jon fa cadere dalla mano protesa della statua una piuma. Vi ricorda qualcosa? Lui si gira per controllare, lo sguardo preoccupato. La voce in sottofondo pronuncia una frase, proprio mentre la piuma sta cadendo:
"You have to protect him."
"Devi proteggerlo."
Di seguito vediamo avanzare con maestosa regalità Sansa. Subito dopo, con la determinazione che la contraddistingue, Arya. Il corridoio è illuminato con la calda luce tremolante delle torce. La voce in sottofondo di Catlyn al passaggio delle figlie è carica di rimpianto.
"All this horror that's come to my family.
It's all because I couldn't love a motherless child."
"Tutto questo orrore che è giunto alla mia famiglia
è perché non ho potuto amare un figlio senza madre."
Di nuovo vediamo Jon avanzare e la voce più attesa pronuncia le parole più inaspettate. Almeno nella trama. Parole che tutti i fan hanno da sempre sospettato e pensato. Sentiamo infatti la voce di Ned Stark rivolgersi a Jon mentre lui si ferma e si gira di fronte alla sua statua. Quelle parole che ci riportano alla memoria una scena di tanti anni fa.
"You are a Stark
You might not have my name
But you have my blood."
"Tu sei uno Stark
Puoi non avere il mio nome
Ma hai il mio sangue."
Jon raggiunge le sorellastre e con loro avanza fino alla fine del corridoio. Lo sguardo dei tre è sorpreso, stupito e forse impaurito. La camera ruota mostrandoci cosa stanno guardando. Quello che vediamo dalle loro spalle sono tre statue. Tre statue che rappresentano i tre ragazzi. Come sappiamo le statue in questo luogo non sono meri elementi ornamentali. Sono vestigia. Sono memoria. Le statue qui sono erette in memoria degli Stark morti. E questi Stark sono loro.
Le torce si spengono e un algido buio scendo su di loro. L'immagine della piuma caduta dalla statua di Lyanna ci viene mostrata mentre lentamente si ghiaccia. Jon e Arya estraggono Lungo Artiglio e Ago. Avanzano d'un passo. Come per difendere Sansa in attesa di ciò che sta per accadere. Il corridoio si riempie della consueta nebbia gelata che preannuncia l'arrivo degli Estranei. Buio.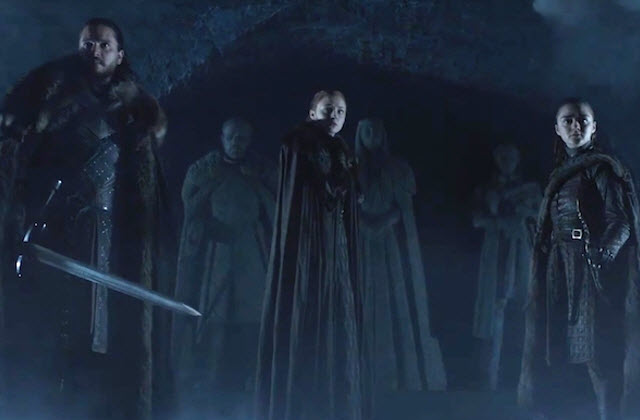 Un trailer mozzafiato che ci catapulta direttamente nello scontro finale. Gli estranei sono a Grande Inverno. Il nemico è giunto. Ora il destino di tutti deve compiersi.
Non è importante sapere in questo momento se tutto ciò sia reale o un sogno. Un sogno magari di Bran, in grado di vedere uno dei possibili futuri. Quello che realmente ci ha affascinati è il richiamo di questo teaser alla prima stagione. Come infatti avevamo riportato all'inizio, già le parole con cui Sansa consegna Grande Inverno a Daenerys ricalcano perfettamente quelle pronunciate da Ned Stark a re Robert Baratheon proprio nel primo episodio della prima stagione.
Grande Inverno è vostra, Vostra Maestà.
Parole che non sono state pronunciate a caso. Ma rappresentano un legame e una fedeltà che, come sappiamo, può condurre alla morte. Anche la piuma che vediamo cadere dalla mano della statua di Lyanna è quella posta da re Robert all'inizio di questa meravigliosa avventura che è Game of Thrones. Il cerchio si sta chiudendo. La fine non poteva che riallacciarsi al principio. L'inverno è arrivato. Non poteva esserci davvero modo migliore per introdurre questa conclusiva stagione che una dichiarazione di intenti come quella che HBO sigla con noi. Un manifesto nel quale si impegnano a spiegare tutto quello che da anni vogliamo sapere. Tutto quello che desideriamo sapere.
La scelta di cosa mostrarci. Le parole di Sansa. La piuma di Lyanna. Le voci fuori campo. Sono tutti elementi che ci riportano esattamente da dove siamo partiti. Dalle prime emozionanti scene che HBO e Martin ci hanno regalato nel 2011 con l'inizio di Game of Thrones. L'ottava stagione sarà all'altezza di queste premesse? Saprà mantenere il peso delle aspettative che ci ha costretto ad avere? Possiamo solo sperarlo e costruire le ultime ma decisive ipotesi su come Game of Thrones andrà a finire.