Robert e Cersei sono insieme da ormai molti anni, vivono in un comodo castello di Approdo del Re con il loro tre splendidi figli. Si sono sposati grazie al volere del padre di lei, Tywin Lannister, che ha assicurato al genero la città, il trono e un cospicuo tesoro da sperperare a piacimento. Su Westeros non ha mai regnato una coppia così invidiabile anche se hanno avuto alti e bassi come tutti. Infatti questa è una storia di Alta Infedeltà targata Game of Thrones!
Lui era alto, capelli scuri con gli occhi color dell'oceano. Poi si è trasformato in un grasso ubriacone da taverna.

Cersei Lannister, la moglie
Cersei e Robert si sono conosciuti molto tempo prima ma Robert era solo un lord zoticone e lei era la figlia dell'uomo più ricco dei Sette Regni. A complicare il tutto, la donna era promessa sposa di Rhaegar Targaryen, il legittimo erede al trono. La fortuna però ride agli audaci e il padre del predestinato sovrano rifiuta l'unione facendo arrabbiare non poco il patriarca Lannister. L'occasione di Robert si presenta quando preso dalla rabbia marcia contro l'attuale re per spodestarlo e Tywin gli propone in moglie la sua bellissima e ricchissima figlia.
Lei non era Lyanna

Robert Baratheon, il marito
Eppure nel cuore di Cersei e Robert ci sono due persone diverse. Per l'uomo si tratta di Lyanna Stark, sorella del suo migliore amico Ned, scomparsa anni prima. Il re non l'ha mai davvero dimenticata. Se è arrivato a regnare incontrastato lo deve alla sua memoria, l'amore lo ha guidato ad affrontare Rhaegar, il suo rapitore, e a mettere fine a un regime di terrore. Cersei, invece, da quando è piccola ama suo fratello gemello Jaime dal quale è stata anche allontanata.
Non facevo che pensare a lui, era come guardarsi in uno specchio.

Cersei Lannister, la moglie
Ma chi è Jaime Lannister? Jaime è il fratello gemello di Cersei. Il miglior spadaccino dei Sette Regni, guardia personale del re Robert e amante passionale della regina. Ha sempre amato infatti sua sorella fin da quando erano bambini. Tanto da arrivare a fare di tutto per proteggere lei e i figli nati dai loro rapporti nascosti. Proprio così, i tre splendidi figli di Robert altro non sono che figli del cavaliere del re.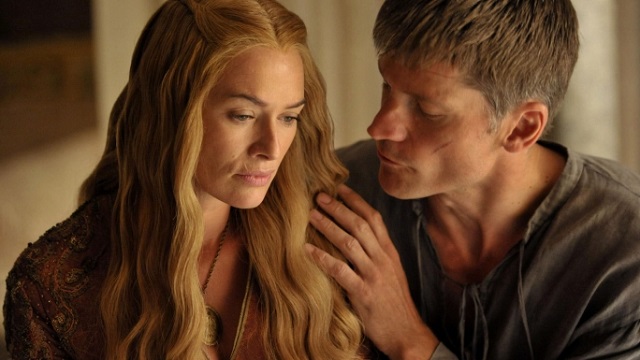 Robert era costantemente ubriaco, cercava ogni volta di costringere la moglie ad avere rapporti con lui e quando non ci riusciva andava nei bordelli della città. Mentre lei cercava di salvare il loro matrimonio e la corona, l'unico a starle davvero accanto era suo fratello Jaime. Bello, gentile, un vero cavaliere di nome e di fatto. Ha riacceso qualcosa in lei che non sentiva da quando era una ragazzina ed entrambi si sono seduti sul trono dell'Alta Infedeltà.
Era diventata per me un'ossessione. Non facevamo altro che drogare il vino di Robert solo per fare l'amore.

Jaime Lannister, l'amante
La loro storia prosegue fino ad avere tre fantastici figli identici a loro, ma le cose non vanno bene. Infatti Jon Arryn, il primo cavaliere del re di Robert, scopre la loro tresca investigando sui figli illegittimi del sovrano. Fortunatamente Cersei riesce a chiudergli la bocca prima che avvenga l'irreparabile. Le bugie e gli intrighi si infittiscono quando suo marito nomina il suo migliore amico Ned Stark (qui le sue ultime parole) come primo cavaliere e quindi si recano a Nord per reclutarlo.
Stavamo facendo l'amore quando mi sento osservare da dietro, penso sia uno spiffero e invece era quel moccioso maledetto degli Stark. Ho pensato: ecco adesso la mia testa e quella di Cersei finiranno su una picca.

Jaime Lannister, l'amante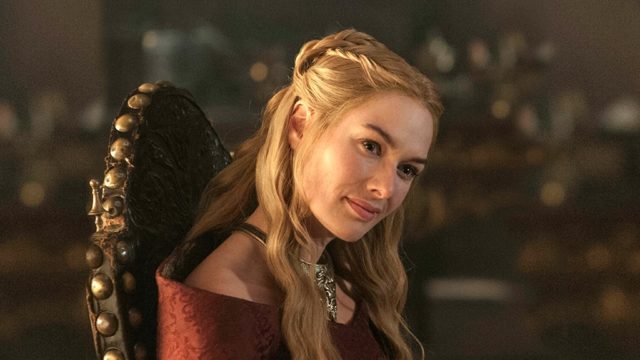 Da quel momento Cersei e Jaime capiscono che devono essere più discreti e coprire le loro tracce. Cercano di far uccidere il figlio di Ned per paura che racconti tutto e complottano per uccidere il resto della famiglia che ha iniziato a fare troppe domande. Persino Robert crede più al suo amico che a sua moglie e questo per Cersei diventa inaccettabile. Quando i due amici stanno per capire che c'è qualcosa tra i fratelli Lannister, la regina fa drogare il vino di suo marito prima di una battuta di caccia. Il resto è inevitabile e ovvio
Ho sempre pensato che non ci si dovesse fidare di uno sterminatore di re ma anche sua sorella non scherza!

Robert Baratheon, il marito
Cersei: Ha regnato con pugno di ferro e un po' di sana follia i Sette Regni. In molti le hanno mosso guerra e hanno cercato di sfondare le sue difese ma lei per molto tempo non ne ha voluto sapere niente, e ha continuato a sfoggiare outfit dal gusto sopraffino.
Robert: Un cinghiale ha deciso di porre fine alla sua sofferenza e di ricongiungerlo con Lyanna. Ovviamente, però, anche questa volta lei ha scelto Rhaegar.
Jaime: Dopo l'esperienza con Cersei ha deciso di cambiare le carte in tavola ma ha perso la migliore delle sue mani. Per poco tempo ha avuto una nuova compagna con cui condivideva molto di più rispetto a Cersei.
C'è un solo modo per essere fedeli ma mille modi per tradire. Questa è una puntata di Alta Infedeltà targata Game of Thrones.