In Game of Thrones gli omicidi sono all'ordine del giorno. D'altronde la serie tv tratta dai libri di George R. R. Martin riprende molto alla lontana la mentalità e la società di un regno medievale, in cui la morte era qualcosa di molto vicina per i motivi più disparati, soprattutto legati alla politica e al potere.
Elencare tutte le uccisioni in Game of Thrones sarebbe un'impresa non da poco, e anche poco interessante, dato che parliamo di una serie tv in cui è normale vedere morti su morti. Alla luce di questo, diventa più interessante focalizzare la nostra attenzione sui parricidi, ovvero quegli omicidi che riguardano strettamente la sfera familiare, sia di parenti prossimi che vicini.
In questo caso il numero degli omicidi si riduce drasticamente e nei pochi che ci rimangono a disposizione abbiamo degli interessanti background narrativi, i quali hanno contribuito a creare quell'universo che ha incantato per otto stagioni.
1) Stannis Baratheon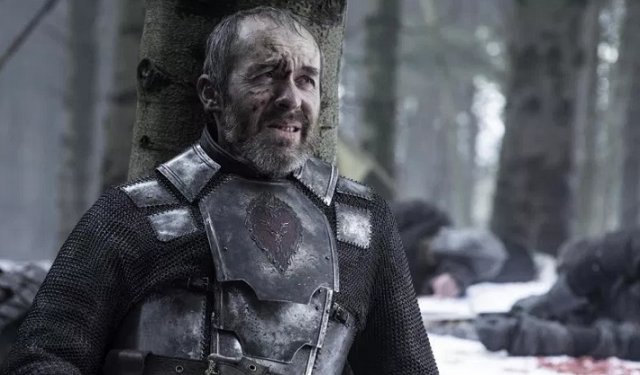 Fratello di Robert Baratheon e pretendente al trono, tenta di percorrere ogni strada per arrivare al suo obiettivo e regnare su Westeros. Accecato dalle parole di Melisandre e dalla fede che ripone nel Signore della Luce, ogni sua mossa nella scacchiera politica è una conseguenza di un consulto con la sacerdotessa, colei che davvero tiene le redini del Lord.
Sarà infatti Melisandre a uccidere il fratello minore, Renly Baratheon, attraverso un'ombra con le fattezze familiari di Stannis e pugnalandolo nel petto la notte prima della battaglia. Ma il vero parricidio messo in atto dal Lord di Roccia del Drago riguarda sua figlia: Shireen Baratheon.
Siamo nella quinta stagione e la situazione per Stannis comincia a farsi difficile. Senza cibo e indebolito dal freddo inverno e dai continui attacchi di Ramsay Bolton, decide di prendere la peggiore delle decisioni. Melisandre convince la sua pedina che attraverso il sacrificio di sua figlia, nella quale scorre il sangue di un re, potrà finalmente ottenere ciò che desidera.
La piccola Shireen verrà arsa viva di fronte a tutti, tra le urla di dolore e l'immobilità del padre. Sarà invece la madre a mostrare per la prima volta un amore materno, correndo verso la sua povera piccola figlia ormai spacciata.