Nel nostro petto bruciano ancora tante parole, infuocate, riversate con foga in questo ultimo anno e mezzo, dopo la chiusura della settima stagione di Game of Thrones. Bruciano come fiamme spettrali, le stesse fiamme con cui Viserion ha posto fine alla centenaria esistenza della barriera. Il sipario si è chiuso così, con un completo disastro. Come se non bastasse, i Sette Regni non sono stati in grado di concludere positivamente una politica mirata a una collettiva cooperazione e le conseguenze non tarderanno ad arrivare. Se per Westeros però, dovremo aspettare ancora poco meno di due mesi, per noi spettatori, le conseguenze sono arrivate con grande anticipo. Purtroppo, anche in questo caso, non sono state positive.
La settima stagione di Game of Thrones si è rivelata essere un (parziale) buco nell'acqua. Esistono tanti momenti esaltanti, certo, come il finale del secondo episodio (quello dell'agguato di Euron alla nave dei nipoti) oppure la regia cristallina del quarto episodio. Ma troviamo purtroppo, ben più di una macchia indelebile che ha rischiato di stravolgere uno show partito con premesse completamente differenti. Quelle di chi nasce come un prodotto ermetico e machiavellico e che rischia di invecchiare in maniera lineare e trasparente.
Fin dal principio è stato un duro colpo accettare una stagione di sette episodi, a fronte di un'abitudine impostata nei canonici dieci, in cui avevamo nella nona puntata, il reale punto di svolta dell'intera stagione.
Il colpo di scena definitivo con il quale il gioco del trono tornava ad essere più intricato e attivo che mai e le carte in gioco venivano rimescolate risiedeva nella penultima puntata. E come era preventivabile, Game of Thrones non ha saputo adattarsi benissimo al cambiamento imposto dalla settima stagione: tante cose da dire e troppo poco tempo per metterle in scena. Questa struttura narrativa viene completamente azzerata, diminuendo anche drasticamente il numero e la portata dei colpi di scena, i quali diventano una mera conseguenza di fatti facilmente prevedibili e, proprio per tale ragione, ben poco accattivanti.
Dove prima esisteva mistero, riflessione, speculazione, su ogni dettaglio e avvenimento che aveva un suo specifico ruolo all'interno della trama, lo show in molti punti è stato completamente lasciato libero di scorrere, come uno scarno ruscello privo di volume. Un modus operandi pericoloso, il quale senza la dovuta accortezza rischia di creare notevoli buchi di trama alla fine dell'ottava stagione. La questione è semplice: Il gioco del trono non è più un arcano.
Le relazioni, le forze in gioco, le strategie. Tutto questo, inevitabilmente, sfuma e si assottiglia.
La narrazione ha subito un cambio di velocità, nitido e drastico agli occhi di qualsiasi spettatore, anche il più distratto. L'atmosfera che rendeva unica e sensazionale Game of Thrones, è stata messa parzialmente da parte per finire in fretta e furia lo show. Senza nessun accorgimento nei confronti dei personaggi o delle relazioni che essi hanno. Arriviamo quindi a uno dei noccioli del problema: gli avvenimenti. Molti personaggi sono trattati frettolosamente e con superficialità. Potremmo fare svariati esempi: Il figlio illegittimo e bastardo di Robert Baratheon, Gendry.
Egli non compare per stagioni intere per poi rivelarsi un compagno affiatato, un guerriero fortissimo e un pretendente al trono, al quale si affidano anche le missioni più importanti della spedizione. Il tanto atteso e desiderato incontro tra Jamie e Tyrion Lannister liquidato dopo stagioni intere con poche frasi di circostanza, neanche troppo importanti ai fini della storia. Un Benjen Stark, personaggio potenzialmente intrigante fin dalla prima stagione, quasi totalmente annullato. Compare nel momento del bisogno non si sa da dove e come, morendo dopo pochi minuti di scontro.
La qualità rimane, perché comunque è Game of Thrones. Ma la settima stagione ha sacrificato parecchio di quelle cose che tanto ci hanno intrigato negli anni passati.
La trama e la narrazione stessa, di tanto in tanto, hanno strizzato l'occhio al fan service e questo può anche andare bene. Il problema giunge nel momento in cui gli avvenimenti accadono con una prevedibilità a tratti irritante. L'amore tra Jon Snow e Daenerys chiamatissimo fin dal loro primo incontro, non ha sorpreso, non ha incantato, non ha emozionato. Jon Snow aveva avuto il suo unico grande amore. Un sentimento che aveva fatto evolvere il suo personaggio ed era ben contestualizzato e utile ai fini della trama. Stessa cosa per Daenerys, con il suo Khal Drogo. Soprattutto non aveva motivo di esistere, se non dopo uno sviluppo adeguato della loro relazione (ma ciò non è stato possibile, come dicevamo, a causa dei tempi stretti).
La morte del drago e la sua trasformazione in Estraneo, per dirne un'altra, appare come un risvolto di trama dovuto, quasi scontato. E anche chi, dei tre, sarebbe stato catturato dagli Estranei, era ampiamente intuibile: quello con il nome di Viserys, il fratello "infame". Altre cose, invece, sono rimaste in sospeso più del dovuto. In primis va ricordato il ruolo di Melisandre, del suo Dio e dei suoi adepti, questione passata completamente in secondo piano, se non del tutto dimenticata. Per fortuna il livello tecnico, in ambito fotografico, scenografico e recitativo rimane magistrale.
Ma anche sul lato narrativo non tutto è da buttare.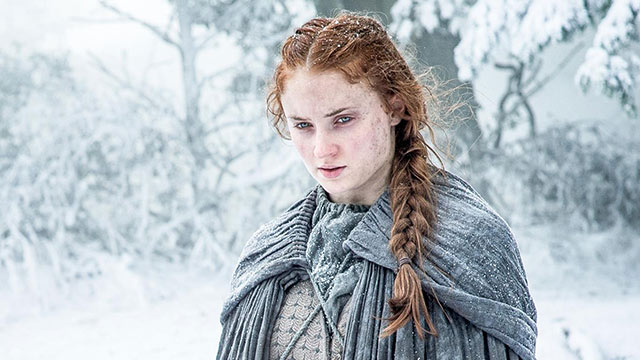 Interessante il ruolo sempre più centrale di Bran e la definitiva evoluzione di una Sansa finalmente carnefice e non più vittima. Uno dei pochi personaggi che ancora ci vuole raccontare qualcosa e lo fa con determinazione e grinta. Stupisce e intriga, ben caratterizzata, proprio come la più detestata tra le regine: Cersei Lannister.
In definitiva questi sono anche gli elementi principali a cui Game of Thrones deve aggrapparsi per il suo atto finale. Affinchè quest'ultima stagione recuperi quel fascino e quella perfezione, anche narrativa, che la distingueva da molti altri prodotti contemporanei. Aspettiamo quindi il 14 aprile per sapere chi o "cosa" siederà su quel trono. Con aspettative, certo, ma anche memori che un'altra stagione come la settima rischierebbe di compromettere un po' la percezione che abbiamo di questa serie.