In Game of Thrones le morti (qui tutti i 151mila morti in un unico video) sono all'ordine del giorno e alcune di esse sono state così dolorose che ancora fanno male. Per fortuna non dobbiamo aggiungere a questo lungo elenco anche Tyrion Lannister, uno dei personaggi più amati di Game of Thrones. Terzogenito di Tywin Lannister e di sua moglie Joanna, è affetto da nanismo e per il suo aspetto è sempre stato disprezzato da tutti, compresa la sua famiglia. La sorella e il padre lo detestano perché Joanna morì proprio dando alla luce Tyrion. Solo suo fratello Jamie prova per lui un reale affetto e una totale comprensione. Nonostante le apparenze o il suo stato di emarginato, Tyrion ha una mente brillante, il genio strategico tipico del padre e una grande capacità empatica. Molti lo hanno sottovalutato e solo dopo hanno capito l'errore commesso.
Sebbene sia ancora vivo, non dobbiamo dimenticarci le tante volte in cui abbiamo corso il rischio di perderlo definitivamente. In qualche modo si è sempre salvato, soprattutto grazie al suo ingegno ma anche ad aiuti esterni.
Vediamo dunque quante volte Tyrion Lannister ha rischiato di lasciarci le penne.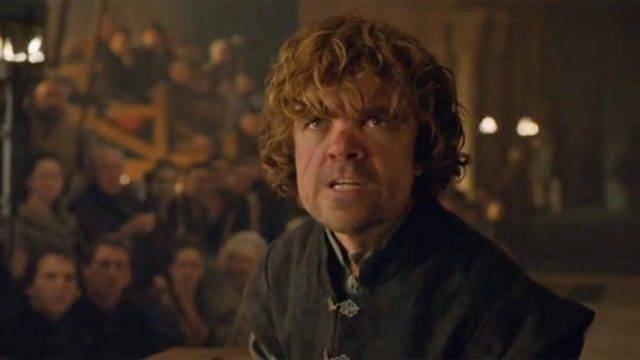 Tyrion Lannister viene processato due volte nel corso di Game of Thrones. Nella prima stagione Catelyn Stark lo accusa di aver tentato di uccidere il figlio e Lysa Arryn di aver assassinato il marito. Rinchiuso in una cella con sole tre pareti, rischia più volte di cadere nello strapiombo. Durante il processo, Tyrion fa appello alla sua grande intelligenza e astuzia, proclamandosi innocente per i crimini di cui è imputato. Durante la quarta stagione, invece, un morente Joffrey e Cersei lo accusano dell'omicidio del re. Il processo è chiaramente truccato ma Tyrion, in virtù di un accordo che Jamie ha fatto con Tywin, decide di dichiararsi colpevole. Le bugie raccontate da Shae, sua ex amante, tuttavia, sono troppo da sopportare e Tyrion reagisce pronunciando uno dei discorsi più epici del panorama seriale.
In entrambe le occasioni, Tyrion reclama un processo per combattimento. Ma, se nella prima stagione viene difeso sorprendentemente dal mercenario Bronn, nella quarta già sapeva che Oberyn Martell avrebbe combattuto per lui contro la Montagna. L'esito del primo processo lo vede uscire vittorioso e abbandonare Nido D'Aquila da innocente. Come tutti sappiamo Oberyn non fa una bella fine. La condanna a morte per Tyrion è inevitabile, ma grazie a Jamie e Varys riesce a evadere dalla prigione e a fuggire. Non prima di essersi tolto qualche sassolino dalla scarpa…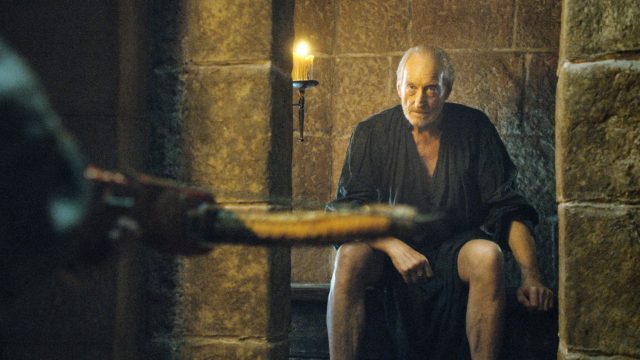 Sempre nella prima stagione, i Barbari delle montagne attaccano Tyrion due volte. La prima quando viene rapito da Catelyn Stark. Durante lo scontro Tyrion dimostra grande coraggio salvando la vita alla donna. Successivamente, dopo essere stato scagionato nel processo a Nido D'Aquila, lui e Bronn rischiano di essere uccisi ma, grazie alla sua dialettica, Tyrion li convince a combattere nell'esercito dei Lannister.
Quello di Lady Stark non è l'unico rapimento che il Folletto subisce. Nel corso della quinta stagione di Game of Thrones, Jorah Mormont lo vuole consegnare a Daenerys per ottenere il perdono della regina. Nel viaggio verso Meereen, gli Uomini di Pietra – persone che hanno contratto la rara malattia del Morbo Grigio – attaccano i due. Per evitare il contagio, Tyrion si getta in acqua, venendo però trascinato in profondità. Il tempestivo intervento di Jorah lo salva da morte certa.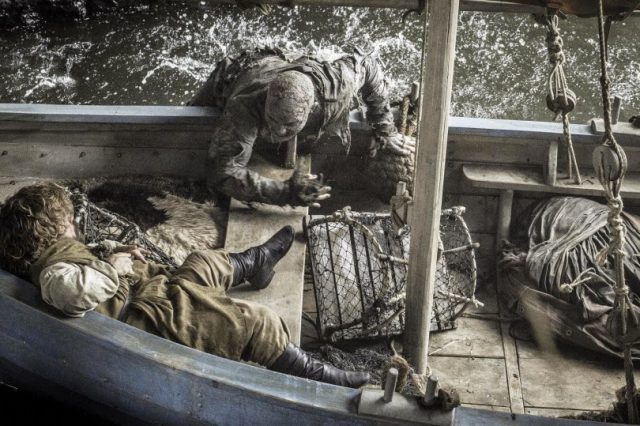 Le avventure di Tyrion e Jorah non finiscono qui. Un gruppo di schiavisti di Volantis cattura i due. Vogliono uccidere Tyrion per vendere le sue parti intime considerate un simbolo di fortuna. Utilizzando la sua prontezza e il suo acume, Tyrion convince il loro leader a venderli come combattenti nelle fosse di Meereen. Ed è proprio durante un combattimento che entrambi incontrano Daenerys. Dopo un dialogo tra i tre, Tyrion diventa consigliere della regina. Alla riapertura delle fosse, i Figli dell'Arpia attaccano l'arena. Inizia così una fuga per raggiungere un piccolo gruppo di Immacolati e solo Drogon salverà una situazione alquanto disperata.
Durante la sesta stagione, Tyrion governa Meereen a causa dell'assenza di Daenerys. Ci sono due momenti in cui Tyrion rischia davvero di morire: quando decide di liberare i draghi rinchiusi nelle catacombe e quando gli schiavisti attaccano la città. Nonostante la fame, i draghi non uccisero Tyrion e forse riconobbero in lui qualcosa di familiare. L'arrivo di Daenerys, invece, fermò l'assalto degli schiavisti a Meereen.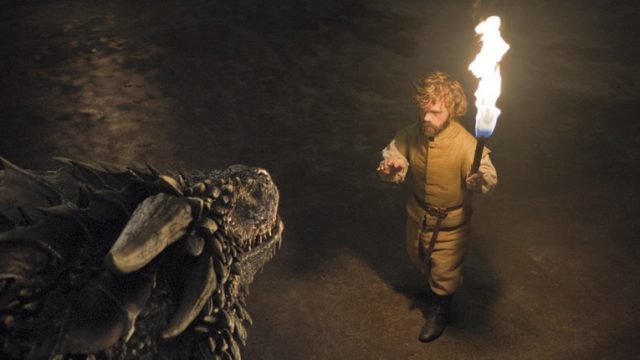 Torniamo indietro alla seconda stagione di Game of Thrones. Tyrion si trova ad Approdo del Re come Primo Cavaliere. Il suo compito è piuttosto arduo a causa del crudele e incompetente re Joffrey e di una sorella che gli mette costantemente i bastoni tra le ruote. Inoltre deve difendere la capitale da un imminente attacco di Stannis Baratheon. Lo scontro spettacolare tra le due casate avviene durante la Battaglia delle Acque Nere. Il Folletto distrugge gran parte della flotta nemica grazie all'Altofuoco, ma questo non è sufficiente per fermare l'avanzata di Stannis. Con grandissimo coraggio, decide di scendere in battaglia dove un sicario di Joffrey cerca di ucciderlo. Solo grazie all'intervento di Podrick riesce a salvarsi.
Tyrion si riprende, nonostante la vistosa cicatrice sul viso, e scopre che il padre è stato decisivo nella sconfitta di Stannis. Sebbene tutti onorino Tywin, è Tyrion l'eroe della battaglia, anche se nessuno lo ringrazierà mai. Perché quando Joffrey se ne è andato come un codardo, dimostrando la piccolezza di uomo che era, Tyrion è rimasto. Con uno dei suoi meravigliosi discorsi, ha convinto i soldati a combattere in uno scontro perso in partenza, salvato in corner soltanto dall'arrivo di Tywin.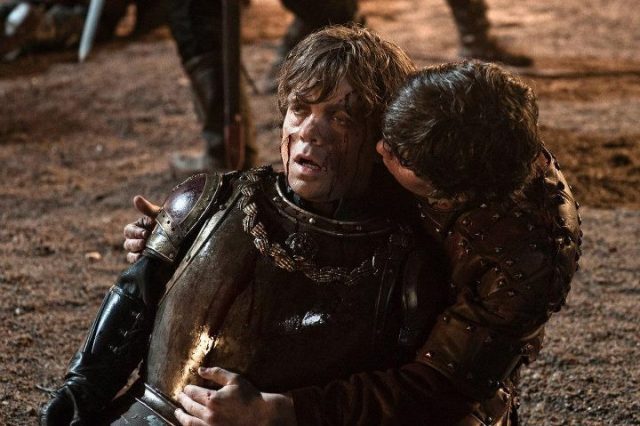 La terza e la settima sono stagioni di Game of Thrones più "tranquille" per Tyrion Lannister. Nell'ultima rischia la sua vita solo quando due guardie Lannister sorprendono lui, Gendry e Davos ma non si ha la sensazione che il Folletto possa davvero morire. Stessa identica cosa durante lo scontro tra Daenerys e Jamie, quando incontra di nascosto il fratello o quando parla con Cersei.
Speriamo, dunque, che il nostro amato Tyrion non muoia nell'ultima stagione. Perderlo sarebbe veramente un duro colpo perché, in fin dei conti, facciamo tutti il tifo per il Folletto. E chissà, magari sarà proprio lui a sedersi sul Trono di Spade… perché la corsa è ancora aperta!