Portare alla luce una serie tv del calibro di Game of Thrones è una vera e propria sfida. Ci sono numerosi colpi scena che non riguardano solo la realizzazione di draghi e degli effetti speciali. Anche le battaglie riportate sul piccolo schermo necessitano di molto lavoro e di numerosi oggetti di scena, così come i semplici dialoghi su un panorama nevoso.
Con Game of Thrones la HBO è ben riuscita a dare agli spettatori degli effetti speciali paurosi. Lo dimostrano i numeri che descrivono alcuni oggetti di scena della serie.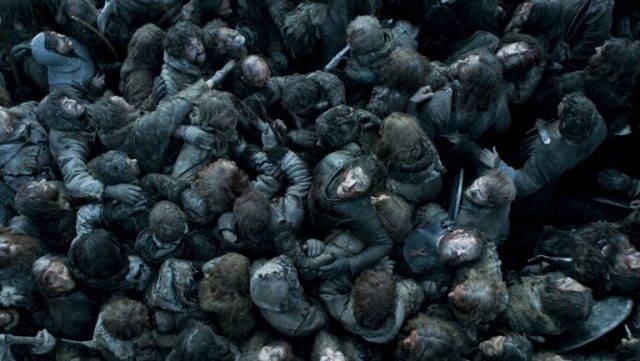 Oltre ai draghi, agli incantesimi e al fuoco (elementi importanti in un serie tv fantasy come questa), la HBO ha fatto uso anche di numerosi oggetti di scena. Uno di questi è, indubbiamente, il sangue finto. Fino ad oggi in Game of Thrones sono stati utilizzati, nel corso delle otto stagioni della serie, quasi 15.200 litri di sangue finto.
Scopriamo insieme quali sono gli altri numeri riportati dalla CNN che si nascondono dietro la produzione di questa serie tv. Le riprese sono state effettuate in ben 10 paesi: Irlanda del Nord, Irlanda, Marocco, Malta, Spagna, Croazia, Islanda, Stati Uniti, Canada e Scozia. Invece, i paesi in cui la serie è trasmessa sono 207. Gli attori in background sono stati 12.986 solo in Irlanda del Nord (la location principale delle riprese).
Per la realizzazione delle otto stagioni che compongono la serie sono state utilizzate 12.137 parrucche. E solo per la capigliatura di Daenerys sono stati realizzati 7 prototipi, diversi per stile e per colore.
40 diverse compagnie di effetti speciali hanno lavorato alla realizzazione della serie. Per mostrare la neve nel corso dell'ottava stagione sono state utilizzate 52.000 sacche di neve finta.
Avreste mai immaginato che dietro la realizzazione di Game of Thrones si nascondessero dei numeri così grandi?