Ormai è passato più di un mese dalla fine di un'era, dalla fine di una storia bellissima. Dalla fine di Game of Thrones. Come per tutte le grandi serie tv, le polemiche per il finale dell'opera di George R.R. Martin sceneggiata da D. B. Weiss e David Benioff sono state aspre e numerose. Molti fan sono stati delusi dalla conclusione di Game of Thrones o più in generale dall'intera ottava stagione. I motivi? Alcuni addossano la colpa a D&D, altri al poco budget a disposizione della produzione, altri ancora alle scelte di trama e alla frettolosità con cui si è conclusa la vicenda. Noi abbiamo scritto molti articoli per analizzare le colpe e abbiamo cercato di esprimerci in maniera oggettiva su ciò che è stata questa ultima stagione.
La verità è che dobbiamo essere grati a Game of Thrones per ciò che ha creato, per il mondo che ci ha fatto conoscere, per la rivoluzione che ha messo in atto nell'ambito delle produzioni per piccolo schermo. Poi ognuno ha diritto di avere un suo pensiero, del resto il pubblico è il consumatore del prodotto Game of Thrones ed è quindi giusto che sia lui a giudicare. Noi in questo articolo proveremo a ipotizzare, in maniera più distaccata possibile, quanti Emmy potrebbe aggiudicarsi Game of Thrones.
Game of Thrones: le vittorie degli anni passati e le candidature proposte da HBO per la stagione 8
Le definitive nomination per la 71esima edizione degli Emmy Awards saranno ufficializzate il prossimo 16 luglio. Scopriremo invece il 22 settembre in quante categorie trionferà Game of Thrones. Le precedenti sono valse alla serie HBO ben 132 nomination, che si sono poi tradotte in 47 premi, un'enormità. Incominciamo col citare le categorie in cui HBO ha proposto la serie. Game of Thrones è stata proposta per le categorie miglior casting per una serie drammatica, miglior design per la sigla d'apertura, migliori stunt e, premio più ambito della notte degli oscar televisivi, miglior serie drammatica.
Per quanto riguarda il premio alla sceneggiatura, poi, HBO ha proposto solo un episodio, l'ultimo. Tre, invece, gli episodi proposti da HBO per la miglior regia: quello finale, The Iron Throne, il quarto episodio, The Last of the Starks e il terzo episodio, The Long Night. Gli stessi episodi hanno anche le candidature per la miglior fotografia. Candidatura anche per la miglior musica di Ramin Djawadi, in particolare quella dell'ultimo episodio. Sempre per quanto riguarda il capitolo finale abbiamo anche la proposta per il miglior trucco e parrucco. Il quinto episodio detiene la totalità dei premi tecnici, ovvero miglior direzione artistica, migliori costumi e migliori effetti visivi.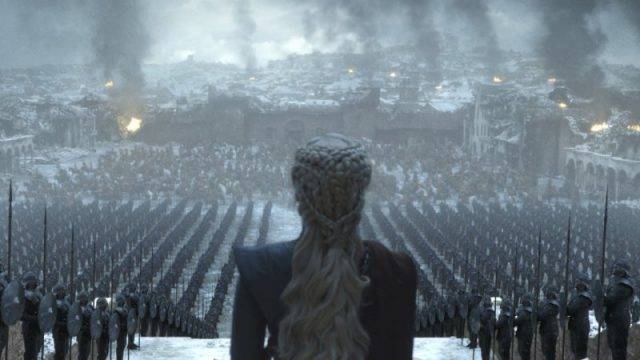 Le candidature per gli attori
Per il ruolo di miglior attore protagonista in una serie drammatica concorre Kit Harington, con Emilia Clarke proposta da HBO per la stessa categoria, ma al femminile. Tra i migliori attori non protagonisti HBO ha proposto Alfie Allen, Nikolaj Coster-Waldau, Peter Dinklage, vincitore nel 2011, nel 2015 e nel 2018, Pilou Asbaek e Richard Dormer. Tra le migliori attrici non protagoniste per una serie drammatica troviamo Maisie Williams, Sophie Turner, Gwendoline Christie e Lena Headey.
Dopo le nomination, cerchiamo di capire in quali categorie realmente potrebbe trionfare. I premi tecnici sembrano scontati. Miglior direzione artistica, migliori effetti visivi, miglior costumi e miglior trucco e parrucco sembrano essere già assegnati. Del resto nessuna produzione può essere al passo di Game of Thrones per quanto riguarda budget e investimenti. Anche per quanto riguarda la musica di Ramin Djawadi non sembra esserci troppa concorrenza, la melodia è oggettivamente bellissima. Stesso discorso per la miglior fotografia e la miglior regia. Per la candidatura a miglior serie drammatica non ci sentiamo di assegnare l'Emmy a GoT e forse nemmeno l'organizzazione dietro agli Emmy lo farà, le polemiche sul finale sono state tante, forse troppe.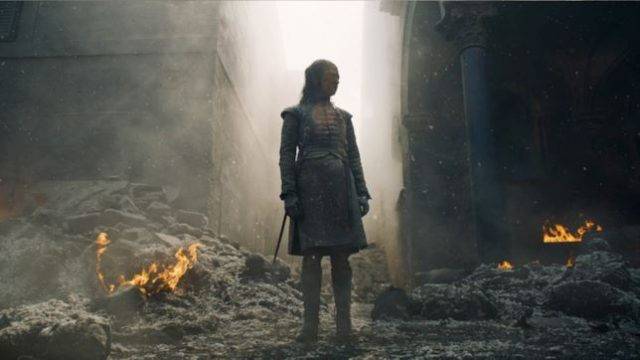 Le polemiche affosseranno la corsa agli Emmy di Game of Thrones?
Forse. Ma è più probabile che affossino i premi "popolari". Per questo abbiamo escluso miglior serie drammatica e per questo vogliamo escludere anche miglior attore protagonista (il "she's my queen" di Jon ci sembra un po' poco per meritare il premio) e pure il miglior attore non protagonista. Stessa cosa quindi per il miglior casting per una serie tv drammatica. Discorso diverso invece per quanto riguarda la miglior attrice protagonista (Emilia Clarke) e non protagonista (Lena Headey). Quella di Daenerys è una interpretazione magistrale, mentre vogliamo assegnare il titolo a Cersei per una questione che va oltre il merito. Vogliamo assegnarle il premio più per una questione di affetto, una scelta per premiare le precedenti stagioni di Lena più che l'ottava. Una scelta che ci sentiamo di fare col cuore.
Quanti Emmy vincerà quindi Game of Thrones? Sbilanciandoci vi potremmo dire nove, restando cauti saremmo sui sei. Scopriremo la verità solo il 22 settembre, rimanendo sicuri di una cosa: che Game of Thrones supererà quasi sicuramente i cinquanta riconoscimenti legati agli Oscar televisivi. Una cifra che ci racconta di cosa è stato Game of Thrones e di cosa soprattutto sarà per le serie future. Riflettiamo su questo e ringraziamo una serie tv che ha fatto la storia.