I am not here to be queen of the ashes…
Come ha potuto Game of Thrones arrivare a questo? Come ha potuto Daenerys Targaryen, nata dalla tempesta, autoproclamata regina dei Sette Regni, distruttrice di catene, la Madre, morire a un passo dall'afferrare il suo stesso sogno?
Come ha potuto un personaggio nato per essere un riferimento per i poveri, gli afflitti, gli oppressi, una statua della libertà vivente, bellissima e terribile, morire bruciata dal fuoco della sua stessa vocazione? Farsi divorare da un cancro mortale che si è fatto strada nella sua mente poco a poco, distruggendo ogni barlume di razionalità e schiantando quella maledetta moneta, in bilico, sul lato della follia?
Non è un processo da imputare solo alla genetica. La follia non è una scelta, certo, ma non è solo una sfortuna, una maledizione inevitabile. La follia deriva anche dalle scelte che facciamo. Molti fan sono rimasti delusi dal repentino cambiamento di Daenerys, prima clemente e misericordiosa, poi tiranna sanguinaria, immagine stessa della ruota da abbattere.
Una dea che stende le sue ali di morte su tutto il mondo, come ci è stato mostrato magnificamente nell'ultimo episodio di Game of Thrones.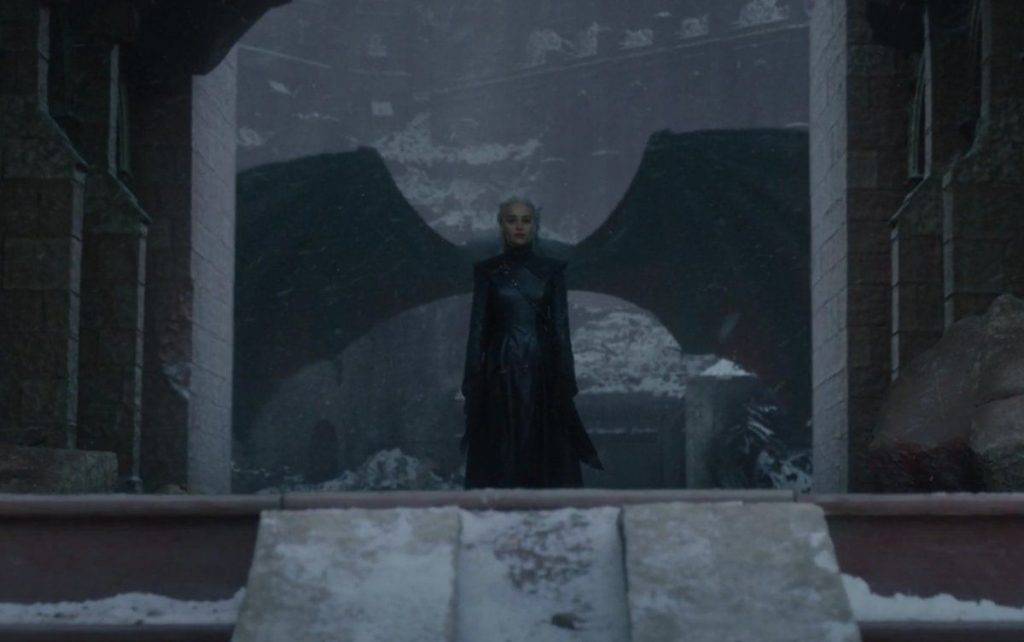 Daenerys passa dall'essere cura per il male del mondo, a essere pestilenza, rovina e morte, la stessa piaga che lei ha tentato per tutta la vita di combattere. La sua follia è complessa, difficile da decifrare. Fino alla fine, lei non fa ammenda di sé, si rifiuta di aprire il petto e vedere quel cancro che si è preso la parte migliore di lei.
A Daenerys viene così negata quella fine catartica, riconciliatoria, che non è stata negata persino al personaggio che più di tutti in Game of Thrones ha incarnato la banalità e insieme la complessità del male. Cersei Lannister, che da regina spaventosa e machiavellica viene trasformata in madre disperata, dinanzi all'ineluttabilità della morte che avanza con rombo di tuono.
Perché Daenerys impazzisce? Ma è forse vero, che pazza lo è sempre stata, che il seme della follia, dopo aver condotto suo padre e suo fratello alla morte, beffardo sorride anche alla Mysa? La risposta più semplice sarebbe che sì, Daenerys è sempre stata pazza. Le delusioni, i tradimenti, le morti che ha pianto negli ultimi episodi hanno funto da detonatore di una follia mai sopita, deflagrata su Approdo del Re come un'apocalisse annunciata.
Si scagiona quindi Daenerys dalle sue responsabilità. I pazzi non possono essere giudicati, i pazzi non vanno ascoltati, solo repressi nelle loro urla sconnesse. Ma noi non crediamo che la Madre dei Draghi fosse sempre stata pazza. Crediamo che la ragione della sua follia vada cercata molto più in profondità, molto lontano da Westeros e da quel maledetto trono, molto prima di Jon e di quel sogno d'amore spezzato.
In soccorso ci viene Tyrion, che durante il suo colloquio in cella con Jon dà voce ai nostri dubbi sull'effettiva follia di Daenerys.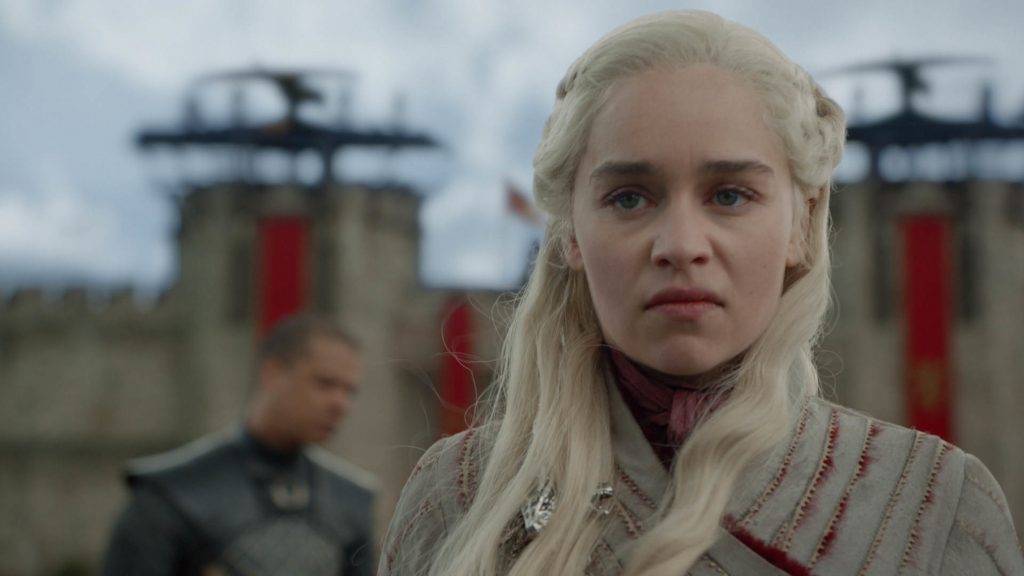 Quando Daenerys ha sterminato gli schiavisti di Qarth, ha fatto bene. Erano malvagi. Quando ha crocifisso i nobili di Mereen, nessuno ha opposto resistenza. Erano uomini spregevoli. Quando ha bruciato vivi i signori dei Dothraki, ha agito nel suo interesse: loro avrebbero fatto di peggio a lei. E quando ha raso al suolo Approdo del Re, chi credeva così ciecamente in lei da non vedere la differenza tra schiavisti e bambini innocenti l'ha difesa.
…e quando vennero a prendere me, non c'era rimasto nessuno a protestare.
Non a caso la Madre dei Draghi viene mostrata nel suo volto più oscuro nell'ultima puntata di Game of Thrones, durante quell'agghiacciante adunata che ci ricorda i momenti più bui della storia dell'umanità. Daenerys non è certo Adolf Hitler. Ma come lui, credeva ciecamente che le sue azioni avrebbero portato un beneficio a coloro che, dal suo punto di vista, lo meritavano. Io so cos'è il bene, afferma Daenerys tra le braccia di Jon Snow. E non c'è frase più lapidaria con cui sigillare una coscienza.
La follia di Daenerys, dunque, comincia in sordina, un'azione misericordiosa dopo l'altra. Tutti applaudono, tutti si inchinano e inchinandosi e applaudendo legittimano quella parte di lei che ha capito cos'è il bene. Così le sue azioni, anche le più sconsiderate, vengono fatte passare per un male necessario. Così la sua convinzione di essere nel giusto diventa salda, inflessibile, intoccabile come quel maledetto trono.
Le voci nella testa di Daenerys sono benevole, rassicuranti.
Sono le voci degli schiavi liberati, sono le voci dei suoi consiglieri che elogiano la sua pietà e la sua giustizia. Daenerys si guarda allo specchio e vede una regina. Pronta a mangiarsi il mondo, pronta a salpare per Westeros e diventare anche lì la Madre, la liberatrice.
Ma arrivata nella tanto desiderata Westeros, le cose cambiano. Le voci sussurrano, cospirano. Quella parte di lei che è sempre all'erta le trasmette segnali di pericolo. Qui non sei conosciuta, qui non sei amata. Qui le cose non sono bianche o nere come a Essos. Schiavi contro padroni. Tiranni contro liberatori. Tu contro Jon Snow. Tu contro Sansa Stark. Tu contro Arya Stark, contro Varys, Tyrion, Cersei, e il mondo intero. Senza più quelle voci dolci e melliflue, il silenzio nella testa di Daenerys diventa assordante.
Fino a quella maledetta sera. La sera di festa dopo la battaglia di Grande Inverno in cui realizza finalmente che nessuno si inchinerà a lei. Daenerys, che è entrata nel fuoco uscendone con tre draghi, che ha liberato gli schiavi, che ha messo a ferro e fuoco il continente, non splende come la stella di Jon Snow, tornato dal regno dei morti. Nessuno là dentro sa chi è lui davvero. Ma percepiscono, annusano l'odore di regalità. E non viene da lei. Viene dal bastardo.
Le voci ritornano. Daenerys si guarda intorno, e improvvisamente la Desolazione Rossa diventa un deserto meno spoglio di ciò che ha attorno a sé. Nel rombo del sangue alla testa, una voce si fa chiara.
Burn them all.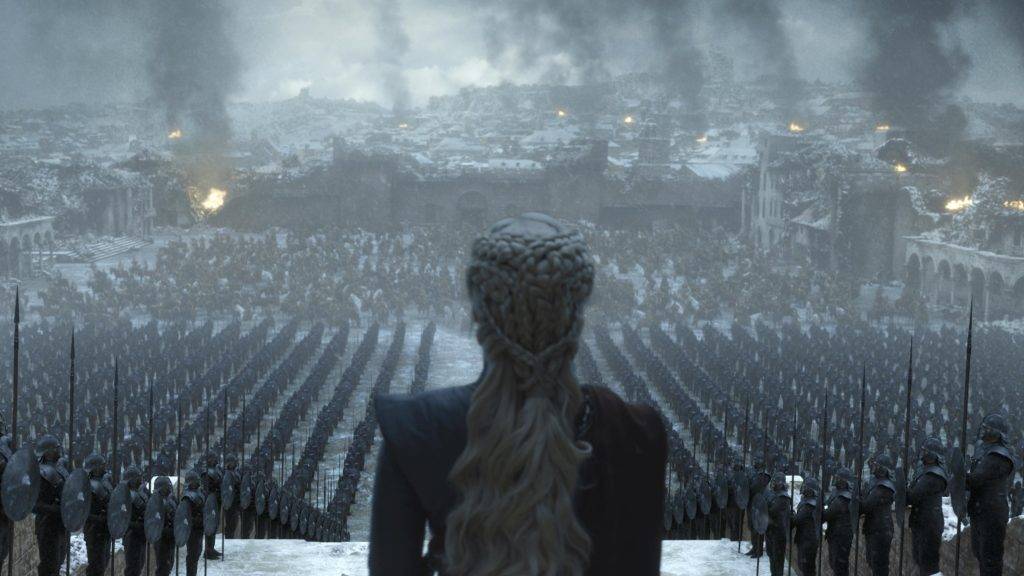 Il tradimento di Varys e di Tyrion, la delusione di Jon, la paura di Sansa e Arya, il dolore di vedere Missandei morire, lo strazio per la morte di Rhaegal, sono la spinta nell'abisso, verso il quale ha inesorabilmente camminato per anni. Daenerys sente le campane. Ma quel suono, quel dolce suono di speranza, diventa la miccia che la spinge nel baratro.
Daenerys brucia Approdo del Re perché sceglie la violenza, perché vuole che tutti la temano. Perché il grido degli innocenti bruciati copra una volta per tutte quelle voci che non le danno più tregua, che sanciscono il suo fallimento. La follia di Daenerys è la follia più pericolosa, di chi crede fermamente in quello che fa. Di chi vede il mondo in bianco e nero, e applicando questa logica manichea non può concepire un modo diverso di portare giustizia che non sia attraverso il fuoco e il sangue.
Daenerys muore perché il suo personaggio è sempre stato votato sinceramente al bene, ma non ha saputo vedere altra via che la propria. Forse meritava una redenzione, uno sprazzo di speranza, la visione in punto di morte della sua ultima apparizione nella Casa degli Eterni. Suo marito e suo figlio, venuti a portarla via. Via da un mondo in bianco e nero. Via da un mondo di troni e potere.
Un mondo in cui essere, solo, Daenerys.