Ci siamo. Dopo otto anni, l'epitaffio a uno dei personaggi più importanti di Game of Thrones prende vita. Non sono del tutto sicura di cosa uscirà da questa pagina: quando immagini qualcosa così a lungo, inizia a scontornarsi, a perdere senso. Spero di rendere giustizia a uno dei personaggi meglio scritti di tutta Game of Thrones, della storia delle serie tv e della letteratura moderna.
Cersei Lannister, la leonessa, regina dei Sette Regni. Possa a lungo regnare.
Arriva così, col passo felpato del felino, vestita di rosso, per la sua ultima guerra. Si muove sinuosa senza fare rumore, la regina già spodestata ma dalla testa alta e fiera, si appoggia al parapetto, da dove si gode la vista più ampia di tutta Approdo del Re. Volge lo sguardo ai tetti delle case, ai campanili, ai vicoli, alle lontane mura da cui presto arriverà la minaccia. La guerra è cominciata.
Tutta la sua vita l'ha portata a questo, tutta la sofferenza, la rabbia, il dolore sono servite a mostrarcela per un'ultima volta affacciata a quella finestra. Il volto fiero, il collo dritto di chi non ha bisogno di una corona per emanare regalità.
Sarà l'ultima volta che vedremo Cersei Lannister come regina, in Game of Thrones.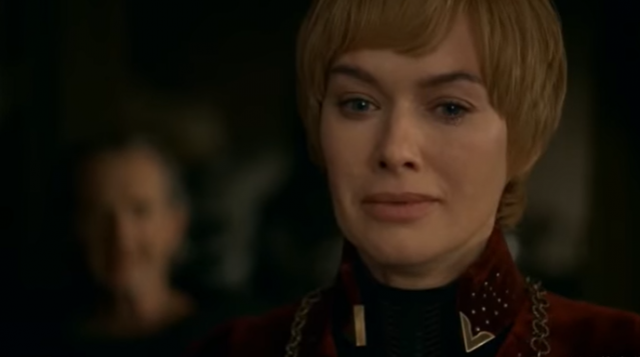 Dal momento in cui Daenerys decide di assediare la città nonostante la tregua, Cersei perde la maschera della regina e si riappropria del suo viso di donna. Una lacrima quasi invisibile le riga il volto, quando sente pronunciare da Quyburn le parole che, dentro di lei, hanno cominciato a risuonare già da tempo: è finita. Tutta la fierezza, la classe, l'inflessibile determinazione Lannister si sciolgono in una lacrima, una singola lacrima in cui c'è tutta la sconfitta di una donna che le ha provate tutte.
Da quando ha sposato Robert Baratheon, ha fatto il possibile per realizzare quel sogno di regalità e potere: ergersi sul trono di spade, più in alto di tutti. Il primo verso del suo primo capitolo delle Cronache ce la mostra così, in preda a folli sogni di grandezza. Sogni che si scontrano con una quotidianità da incubo. Un amore vissuto nonostante tutto, contro tutti, nel disprezzo e nella dipendenza. Un legame di pazzo amore per i figli, portati via uno dopo l'altro da un destino beffardo.
La solitudine che si trasforma in forza: noi contro tutti diventa io contro tutti. Fino alla fine. Non la piega la Walk of Shame, non la spezzano le sue tragedie di madre. Davanti a Daenerys non mostra sottomissione quando per la prima volta le si materializza davanti con i suoi draghi. E nel loro ultimo confronto, nella puntata 8×04 di Game of Thrones, la guarda dritta negli occhi prima di sferrarle il colpo finale, decapitando Missandei.
Una donna fiera, letale e bellissima fino alla fine. Che di fronte alla sua disfatta versa una lacrima silenziosa. Cersei Lannister ritorna finalmente una donna, a un passo dall'abisso. Non di fronte alla distruzione della sua città, alle centinaia di vite innocenti sacrificate in nome di questa assurda guerra. No, ritorna donna perché sente che quella vita che ha dentro di sé non vedrà mai la luce del giorno.
Questo pensiero le è fatale, e lei cede, mentre tutto, metaforicamente e non, comincia a crollarle addosso. Tutti noi avevamo immaginato una morte più eroica, per un personaggio del genere. Avevamo sognato di vederla combattere fino alla fine, sacrificandosi sul trono di spade come stava per fare durante la battaglia delle Acque Nere, o usando le ultime scorte di altofuoco. Non pensavamo che sarebbe morta abbracciata a Jaime, sepolta sotto le macerie del suo palazzo.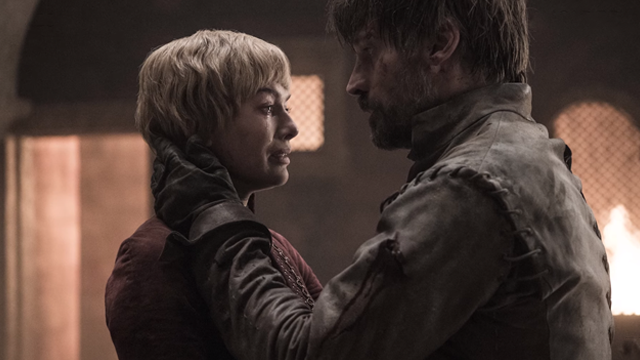 Eppure è l'unica morte che in Game of Thrones spetta a un personaggio come quello di Cersei Lannister.
Una donna che ha sacrificato tutto per il potere, tutto meno gli unici affetti della sua vita: il fratello amante, e il figlio. Una donna condannata a morire da sola, che all'ultimo trova se non il riscatto, almeno il calore di un ultimo abbraccio. Un abbraccio che le viene da chi, per tutta la vita, l'ha amata nonostante tutto.
Avevamo profetizzato la sua morte in solitudine. Una morte gloriosa, certo, ma che avrebbe posto l'ennesimo sigillo sulla disumanità di Cersei. Ci eravamo sbagliati. Avevamo sottovalutato le sfaccettature di questo personaggio, capace di passare dalle azioni più feroci ai gesti più materni. Dietro la maschera inanimata di freddezza c'è ancora una donna, dietro la Madre della Follia c'è ancora, solo, una madre.
Cersei muore compiendo l'ultimo, repentino, atto di evoluzione all'interno di Game of Thrones. Un'evoluzione che brucia e dissolve il personaggio come una fiammante catarsi. No, non è il fuoco di Daenerys che soffia sui rimasugli di umanità di Cersei: è l'amore per il fratello, per il figlio, per la sua verità di donna. Una breve scintilla, sopita sotto montagne di macerie.
Si può dire che Cersei muoia sopraffatta dal peso della sua stessa gloria, travolta dalla grandiosità delle sue ambizioni. Una grandezza inseguita per tutta la vita, e una vita che si conclude con accanto le uniche cose che non ha saputo proteggere. Si può incolpare il destino o lei stessa della disfatta tragica della sua vita. Ma ciò che conta è che è ancora tutto lì.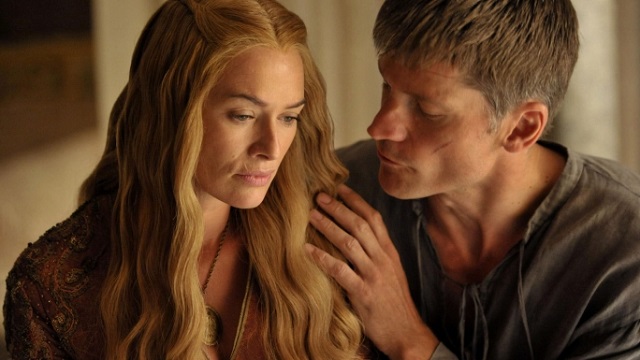 E non conta nient'altro, come sussurra Jaime per calmarla, mentre la morte arriva col suo chiasso di catastrofe. Una morte che la telecamera ci mostra scegliendo volontariamente di non indugiare sui corpi straziati, travolti dalle macerie ma, siamo sicuri, ancora abbracciati.
L'occhio della regia di Game of Thrones fa un passo indietro, con delicatezza e rispetto. Come si conviene a una regina. Facciamo anche noi un passo indietro, un passo che si tramuta con naturalezza in un inchino.
Inchiniamoci di fronte a un personaggio così immenso, così indecifrabile, capace di stupirci anche nella morte. Cersei Lannister lo merita. A prescindere da tutto, e nonostante tutto. Non la dimenticheremo, la leonessa, la despota, la madre, la sorella, l'assassina, la Madre della Follia, la regina, la donna.
Possa regnare a lungo.