Game of Thrones è sicuramente la Serie Televisiva del momento: dalla trama avvincente, alle scene di battaglia e combattimento entusiasmanti, passando dalle armature e costumi che risaltano all'occhio. Si è sempre parlato dei vestiti indossati da Cercei, Sansa o Margaery, ma nessuno, apparentemente, si è mai domandato come fossero stati ideati, per esempio, i mantelli dei Guardiani della Notte, l'esercito più mal messo fra i Sette Regni di Westeros. A questa curiosità ha dato una risposta la designer del reparto costumi della Serie, ovvero Michele Clapton, la quale durante un evento tenutosi a Los Angeles nell'anno 2016, ha infatti confessato una particolare collaborazione fra Game of Thrones ed un'azienda di fama mondiale: Ikea.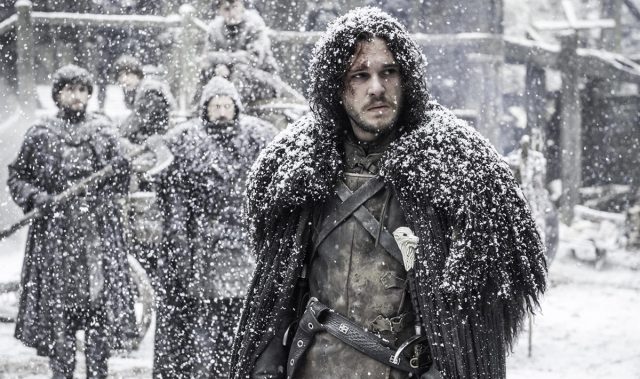 Ebbene sì, le pellicce (non solo dei Guardiani, ma anche dei Bruti) sono state create con dei comuni tappeti che provengono dall'azienda svedese, la quale come saprete, si occupa di immobili e arredo per casa. Questo comune scendiletto (che di listino varia fra i 50 ed i 150 euro) viene colorato, tagliato e provvisto di tutto il necessario per poi essere sottoposto ad un processo di invecchiamento, per sembrare usurato e sporco; per attuare questo metodo di lavorazione, ci vogliono fra le ottanta e le cento persone. Inoltre, al termine di questa preparaione, lasciava i tappeti all'interno della cera, sucessivamente li congelava per adattarlo al clima freddo della Barriera. Durante l'evento, ha spiegato così questa sua decisione:
Voglio che il pubblico senta l'odore del costume.
La costumista, che nel corso degli anni ha collezionato numerosi premi, ha collaborato anche con la Serie Tv originale targata Netflix, The Crown. Non è la prima volta, in ogni caso, che la Clapton parla in modo dettagliato della preparazione dei costumi da lei ideati; durante la sua carriera ha rilasciato moltepliche interviste dove, apputo, ne spiegava la progettazione.
Al minuto 27 circa del video, potete vedere l'intervento della costumista.
Non resta dunque indovinare quale tappeto Ikea la Clapton stava parlando.. Magari per diventare Guardiani per una notte!