Ok, far coesistere nello stesso rigo di testo le parole censura e  Game of Thrones crea una dissintonia equiparabile solo al mettere Antonio Cassano e un dizionario nella stessa stanza.
Del resto, una Serie Tv condita da:
Morti violente
Scene splatter
Blasfemia
Nudo senza il qualsivoglia minimo senso del pudore
Sesso gratuito
Sesso a pagamento
Sesso incestuoso
Sesso per noia
Sesso per coprire buchi di trama
Altro sesso a pagamento
Difficilmente avrebbe potuto coesistere con una società bigotta e mentalmente chiusa come quella di tanti anni fa. Beh, oddio non tantissimi. Insomma, sembra l'altro ieri.
Oh, parliamoci chiaro, ma davvero la Rai lo trasmette?!?
Eppure la censura, in Italia, ha mietuto vittime altrettanto illustri. Lucio Dalla, i Nomadi, Serge Gainsbourg e Jane Birkin, ogni scena anche solo vagamente omosessuale in tutte le Serie Tv (e con gli ultimi casi sotto esame stiamo parlando del 2016. No, seriamente, davvero va su Rai 4??)
Se fosse stato realizzato una trentina di anni fa, probabilmente anche Game of Thrones sarebbe finito sotto le cesoie implacabili dei moralizzatori di stato.
Arrivati a questo punto, la domanda che sorgerebbe spontanea a un malato di mente con molto tempo a disposizione sarebbe:
"Ok, ma come sarebbe potuto essere Game of Thrones se fosse stato censurato anche il più minimo dettaglio scabroso della trama?"
Delle conditio sine qua non appena elencate di tempo a disposizione non è che ne avessi molto, però una delle due a quanto pare è bastata.
Ndr: Per il momento, mi sono limitato alla prima stagione (che tra l'altro stiamo rewatchando). Buon divertimento…
COME SAREBBE STATO GAME OF THRONES DOPO I TAGLI DELLA CENSURA?
PRIMA PUNTATA
Durante una ricognizione oltre la barriera, un Guardiano della Notte (una confraternita di simpatici signori vestiti di nero, amanti dell'ordine) si perde raccogliendo margherite. Incontra dei buffi esseri, magri magri e con gli occhioni blu, ma visto che la mamma gli ha sempre insegnato di non parlare con gli Estranei, scappa e torna verso casa.
Il Lord del Nord e di Grande Inverno, Ned Stark, lo sgrida e lo punisce, costringendo i propri figli ad osservare mentre gli dà un buffetto sul collo. Severo ma giusto.
Nel frattempo, ad Approdo del Re, il primo cavaliere Jon Arryn decreta a sorpresa che è arrivato il momento di andare in pensione, per il dispiacere di tutta la corte. Re Robert Baratheon decide pertanto di andare a trovare il vecchio amico Ned, per chiedergli di prendere il suo posto.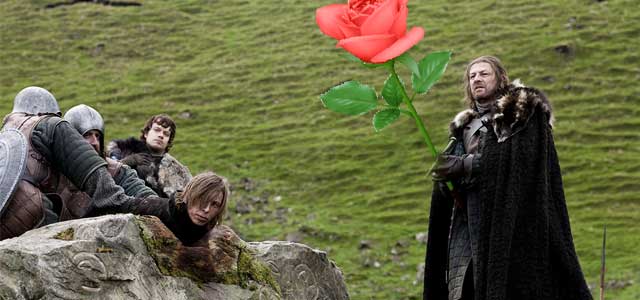 Il soggiorno al Nord dei regnanti si svolge all'insegna dell'allegria più sfrenata, eccezion fatta per un increscioso equivoco. Il piccolo Bran sorprende la Regina Cersei e suo fratello Jaime mentre giocano a scacchi, il passatempo preferito del Re che, anche se non ci gioca più così spesso con sua moglie come una volta, se venisse a sapere che loro lo fanno di nascosto potrebbe comunque rimanerci male.
Jaime lo sfida, muove la torre e fa scacco matto, facendo precipitare i sentimenti di Bran.
Ad Essos, la piccola Daenerys Targaryen è promessa sposa di un bellissimo principe dai lunghi capelli neri, e si prepara ad un matrimonio che sarà senza dubbio improntato sull'amore e sul rispetto della figura femminile che in nessun caso deve essere vista come un oggetto.