Attenzione, questo articolo contiene spoiler su Game of Thrones 8!
Nel corso di Game of Thrones 8 ci stiamo accorgendo, episodio dopo episodio, come, a ben vedere, nessuno sia realmente meritevole del trono. Ora che il pericolo degli Estranei è ormai un ricordo, il racconto si è nuovamente ripiegato sulla più profana rincorsa al potere (o almeno così pare). Si torna a parlare del possibile re (o regina) e anche i personaggi finiscono a interrogarsi sulla questione.
Lo fanno in particolare Varys e Tyrion in un discorso tra consiglieri che ondeggia tra il De Clementia senechiano, composto per istruire Nerone, e Il Principe di Machiavelli. Pragmatismo contrapposto a buon cuore, forza ad astuzia, autoritarismo ad autorevolezza. Proviamo anche noi a calarci in questo gioco, scegliamo le pedine e scopriamo perché nessuno possa realmente dirsi degno dell'ambito trono.
Iniziamo pure dalla più ovvia
Cersei, che non esita a mettere in gioco la vita dei suoi sudditi pur di macchiare l'aura di bontà della sua rivale. Per quanto astuta e donna di enorme capacità di controllo, la degna figlia di suo padre non può davvero essere considerata la regnante dei sogni.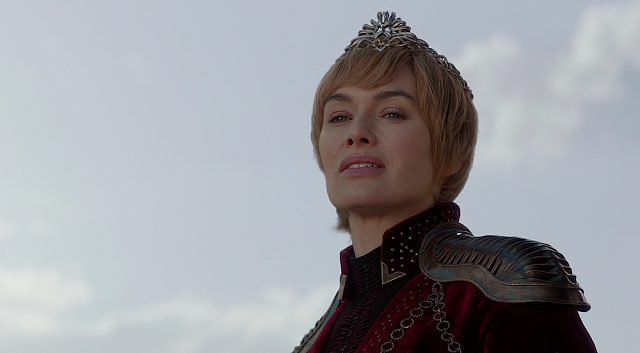 Nel suo cuore alberga solo l'amore per quei figli a cui ha dovuto rinunciare uno dopo l'altro. Per loro (e per se stessa) è stata disposta a tutto senza la minima esitazione. Una vera leonessa per i suoi piccoli ma decisamente non una regina per i suoi sudditi.
Non è da meno, però, l'indiziata numero 1 al trono.
Daenerys, ce ne accorgiamo sempre di più in Game of Thrones 8, inizia ad avvicinarsi pericolosamente ai modi del padre Aerys II, quel Re Folle che prorompeva al grido di "Bruciateli tutti!". La sua ossessione per il trono emerge in ogni sguardo, in ogni atteggiamento, fino addirittura a metterne in dubbio, secondo alcuni, l'amore per Jon. Anche nel suo caso la deriva sembra essere delle peggiori, quella di un tiranno vecchio stampo disposto a tutto in nome di un bene superiore di cui si riempie la bocca.
I più audaci sono arrivati a immaginare un trono condiviso tra i due consiglieri più illuminati, i già citati Varys e Tyrion. Non c'è che dire, sarebbe un'accoppiata davvero insolita e senza la benché minima legittimità. Davvero un eunuco e un nano potrebbero avere l'autorevolezza per governare i Sette Regni? C'è dell'altro, poi.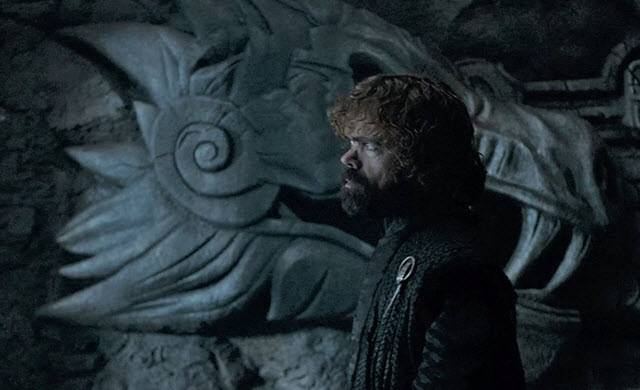 Tyrion in più di una circostanza ha mostrato tutta la sua ingenuità e debolezza. Prima credendo realmente che la sorella avrebbe inviato un esercito, quindi, nella quarta puntata di Game of Thrones 8 sperando davvero di convincere Cersei ad arrendersi. Una mossa disperata? Forse, ma appare incredibile che dopo anni e anni il Folletto non abbia imparato che a far leva sulle debolezze della leonessa di casa Lannister (i suoi figli) non si ottiene altro che renderla più aggressiva e spietata.
Chi altro rimane?
Vogliamo davvero prendere in considerazione Arya o Sansa? Se nel primo caso il totale disinteresse per qualunque aspetto amministrativo e strategico esclude già da sé la ragazza, nel caso di Sansa occorre fare qualche valutazione in più. La Lady di Grande Inverno ha subito un processo evolutivo di tutto rispetto e raggiunto una maturità notevole. Astuta e ponderata quando serve, ha mostrato anche (o però?) di non farsi scrupoli quando si tratta di venire meno a un giuramento.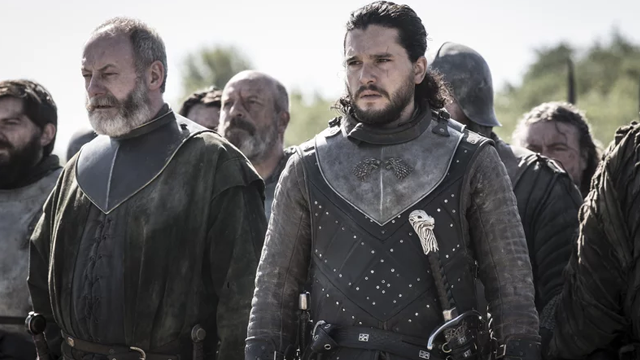 Ne sa qualcosa Jon, il più ingenuo candidato di questa rassegna. La sua fiducia totale nelle donne della sua vita lo fa spaziare dal servilismo più osceno per Daenerys, alla volontà incontrollata di fare e dire la cosa giusta. Il che, come nel caso della confessione alle sorelle, nel quarto episodio di Game of Thrones 8, è tutt'altro che producente.
Insomma, a conti fatti, nessuno dei candidati (o supposti tali) al trono mostra realmente i requisiti per governare e per farlo rettamente, da sovrano illuminato. In balia di brama, ingenuità, crudeltà e infantili giochi di potere nessuno incarna gli ideali del Principe che fu promesso, del portatore di Luce che dovrebbe salvare il mondo dall'oscurità. Portatori di quell'oscurità, piuttosto, appaiono loro.