Attenzione questo articolo contiene spoiler su Game of Thrones 8×01.
Se avete visto il primo episodio dell'attesissimo Game of Thrones 8 non vi saranno di certo sfuggiti alcuni fondamentali dettagli nella sigla. Ma siete proprio sicuri di averli colti tutti e, soprattutto, di averli compresi? Vediamo!
Come ben sappiamo la sequenza di apertura fornisce spesso una sorta di recap degli eventi intercorsi nella storia più recente della serie. Le opening di questa nuova stagione, però, avranno ancora più valore perché – come ha chiarito a corollario del primo episodio Kirk Shintani, realizzatore delle sigle – esse cambieranno di episodio in episodio e saranno ricchissime di indizi.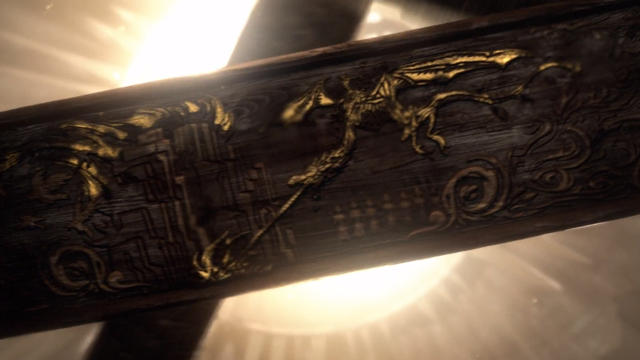 Un antipasto niente male viene dalla stessa apertura di questo primo episodio di Game of Thrones 8. Tanta la carne al fuoco e i dettagli su cui soffermarsi. Iniziando dall'astrolabio che mostra ora una nuova scena raffigurata. Non più il cervo nero dei Baratheon sul trono ma Viserion che crea la fenditura nella Barriera. Sul suo dorso si arriva a distinguere il Night King.
A seguire ecco l'immagine di un uomo nudo.
In mano ha una testa di lupo che mostra a un leone. Sullo sfondo due torri. L'esegesi della scena è piuttosto evidente: rappresenta le nozze rosse. L'uomo nudo altri non è, allora, che l'uomo scorticato, simbolo di casa Bolton, la testa del lupo, quella di Rob e il leone Twyin Lannister, promotore del cruento piano. Tra le due torri un lupo impiccato.
Quindi, nell'ultima immagine dell'astrolabio che chiude l'opening, quattro draghi, una stella nascente e alcuni cavalli in atto di inchinarsi. Siamo di fronte alla genesi di Daenerys, astro nascente dei Sette Regni che con i suoi draghi fa nuovamente splendere nel firmamento dei re la casata dei Targaryen (il quarto drago). I cavalli sono gli animali-simbolo dei dothraki qui raffigurati mentre si sottomettono alla loro nuova regina.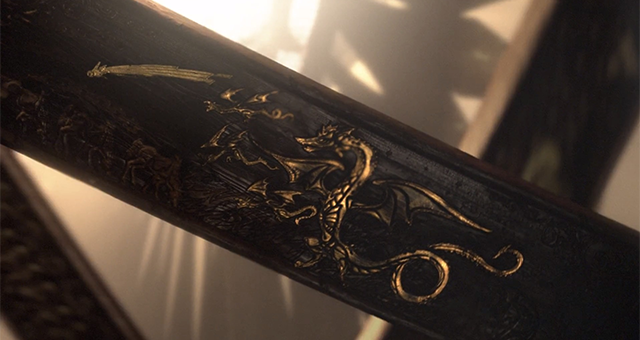 Ma c'è molto di più in questi crediti di apertura di Game of Thrones 8. E un indizio in particolare sembra confermare una nostra teoria.
Alla rappresentazione della breccia nella Barriera si affianca una striscia gelata che avanza verso Grande Inverno. È evidentemente il simbolo del Re della Notte e della sua schiera di non morti, in progressione verso sud. Insomma: lo scontro si avvicina!
C'è un dettaglio che, però, è rimasto più nascosto.
In questa stessa sequenza appena descritta, guardando verso le montagne in direzione di Ultimo Focolare possiamo osservare una spirale. È la stessa spirale che vediamo nel corso dell'episodio, realizzata dai White Walkers con parti umane e che in passato avevamo osservato in più di un'occasione. A questo dettaglio abbiamo dedicato un intero articolo di approfondimento (che potete trovare qui) che ci porta a vedere sempre più probabile una nostra teoria sul finale basata su una playlist presente su Spotify.
Il fatto poi che vengano inquadrate le cripte di Grande Inverno rende chiaro come queste saranno un luogo tutt'altro che secondario nel corso della stagione. E già in questo primo episodio di Game of Thrones 8 abbiamo appurato come la grande rivelazione di Sam a Jon sia avvenuta in questi luoghi. Aspettatevi sorprese da qui.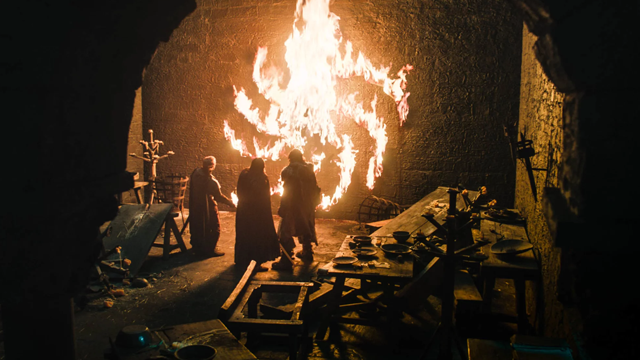 Non molto da dire, infine, su Approdo del Re, che chiude la sequenza e mostra le vie della città e, quindi, il trono. Da notare solo che, rispetto al passato, ci si sofferma meno sulle strade. Il punto focale sono il palazzo e il trono. In altre parole: Cersei.