Ok va bene, probabilmente siete stanchi di leggere l'ennesimo articolo su Game of Thrones. Capisco che molte persone, conclusa l'ultima stagione, così come quando si chiude un grande amore, vogliano solo voltare pagina e andare avanti. Capisco soprattutto quello zoccolo duro di fan delusi che vogliono solo dimenticare l'ultima controversa stagione di Game of Thrones e riporre le poche speranze rimaste nei libri in arrivo (sempre se chi tra di noi li aspetta con ansia ci sarà ancora quando Martin si deciderà finalmente a finirli!), auspicandosi un finale differente.
Tuttavia è giusto riconoscere che esiste anche una parte di fan che, dall'ultima stagione dello show più amato e seguito degli ultimi dieci anni, non è rimasta scontenta. Anzi, gli è pure piaciuta.
È giusto dunque, dopo che abbiamo scandagliato, analizzato e crocefisso ogni singolo errore commesso dalla premiata ditta Benioff & Weiss (anche se non è solo colpa loro, come vi abbiamo spiegato qui), e soprattutto dopo che abbiamo smaltito un po' della sana rabbia che ci portavamo dentro dal 20 maggio, spezzare una lancia (anzi 5!) a favore dell'ultima criticatissima stagione di Game of Thrones.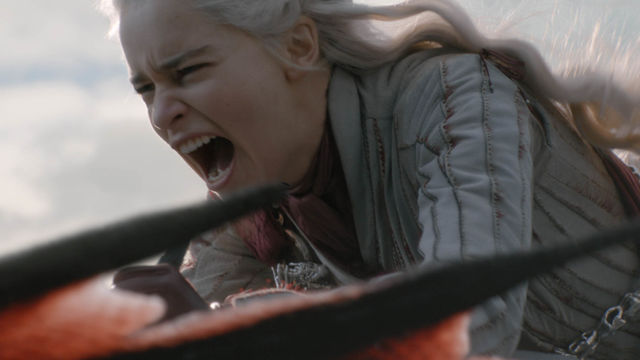 Se abbassate le armi lentamente vi diciamo anche quali sono…
Perché in fondo, dai, qualcosa di buono comunque c'è stato nei sei episodi che abbiamo guardato con il magone in gola, sapendo che sarebbero stati gli ultimi che avremmo visto. Ed è dunque giusto elogiare quel bicchiere mezzo pieno, anche solo nel nome di ciò che è stata questa splendida serie.
1) ARYA E JON FINALMENTE INSIEME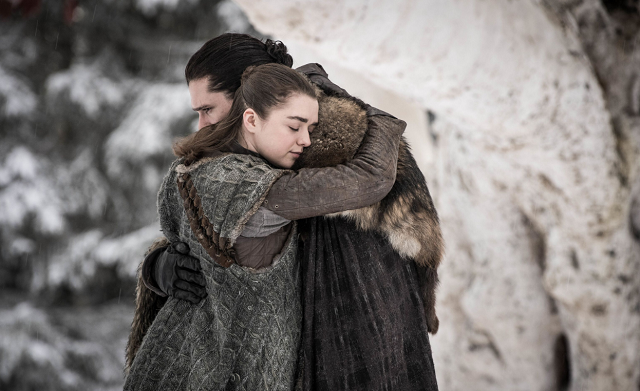 Questo non possiamo davvero negarlo. Rivedere questi due di nuovo insieme è stato un tuffo al cuore che aspettavamo da otto stagioni, da quando la piccoletta più tosta dei Sette Regni armata solo di "un" ago si è imbarcata in avventure sempre più pericolose, scrollandosi finalmente quel "ruolo" di Lady di dosso che non aveva mai sentito suo.
Dopo aver assistito nella sesta e settima stagione alla soppressione della sua emotività, è stato effettivamente emozionante rivedere gli occhi dolci della bambina dispettosa della prima stagione ricomparire sul volto del sicario più freddo di tutta Westeros. Merito di quel cuore buono di Jon, l'unico che poteva ricordarle davvero che prima di essere una No One, prima di essere una giovane donna in cerca di vendetta, è ancora una Stark.
2) I MOMENTI "NO VA BEH" CHE NON POSSIAMO DIMENTICARE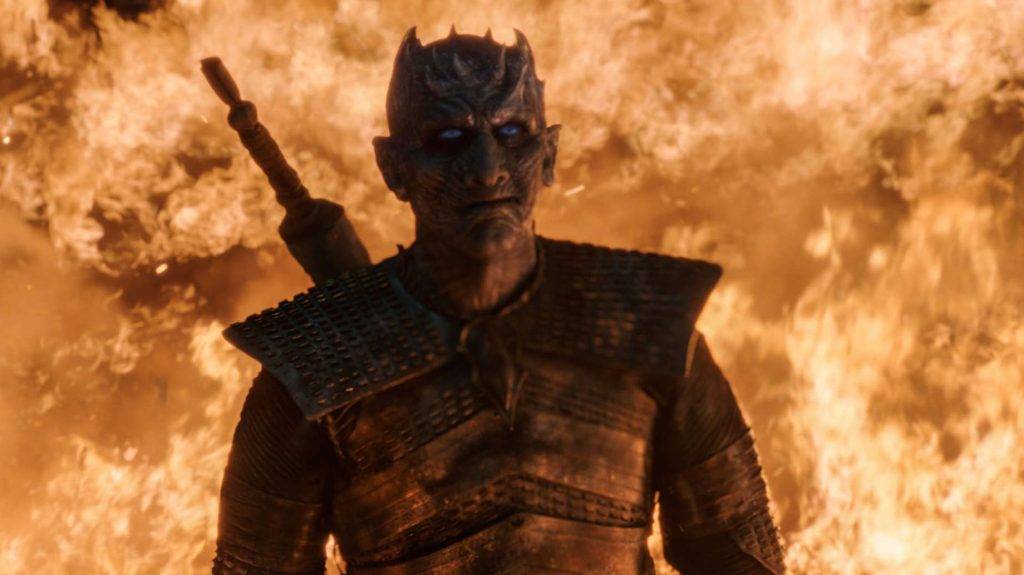 Possiamo aver odiato molte cose degli episodi 8×03 e 8×06 ma ammettiamolo, in queste due scene a Benioff e Weiss è salito il genio creativo tutto di colpo. Nessuna battuta, solo pochi secondi che però difficilmente ci siamo tolti dalla testa. Il sorriso del Night King, che guarda sprezzante una Daenerys incredula convinta di averlo carbonizzato, ci ha elettrizzati. Così come abbiamo ammirato l'iconica entrata in scena nell'ultimo episodio di una Daenerys passata ormai al Lato Oscuro e che, per pochi secondi, diventa un tutt'uno con il suo alato figlio sopravvissuto.
3) JON CHE FINALMENTE SALUTA SPETTRO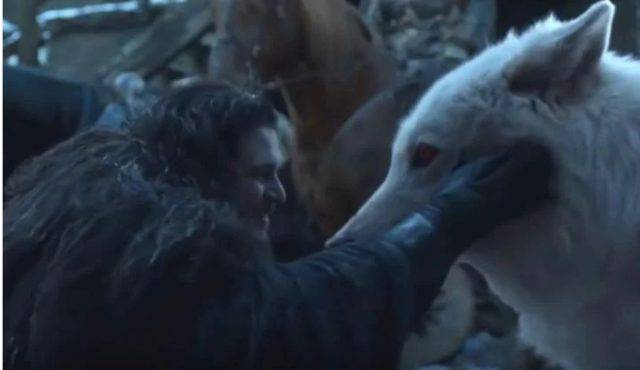 Ok ammettiamolo, questo è stato il momento "Aaaaawww" di tutta la stagione. Sì perché ben nascosti tra noi ci sono dei teneroni che pur esaltandosi per le strategie machiavelliche messe in atto dai protagonisti di Game of Thrones, che spesso hanno portato a gratificanti morti efferate, non hanno perdonato a Jon lo Starkgaryen quel saluto mancato al metalupo albino.
Presentato all'inizio della serie come lo scarto della cucciolata (e già lì la nostra preferenza tra i metalupi dei fratelli Stark era stata comprata subdolamente) e divenuto poi l'immancabile guardia silenziosa al fianco del Guardiano della Notte e pure dei suoi confratelli, che venisse ignorato da Jon al termine della Grande Notte proprio non lo avevamo digerito. Rivedere Jon e Spettro insieme alla fine di tutto è stata una delle magre consolazioni dell'ultima stagione.
4) ARYA E IL MASTINO E QUEL "GRAZIE SANDOR"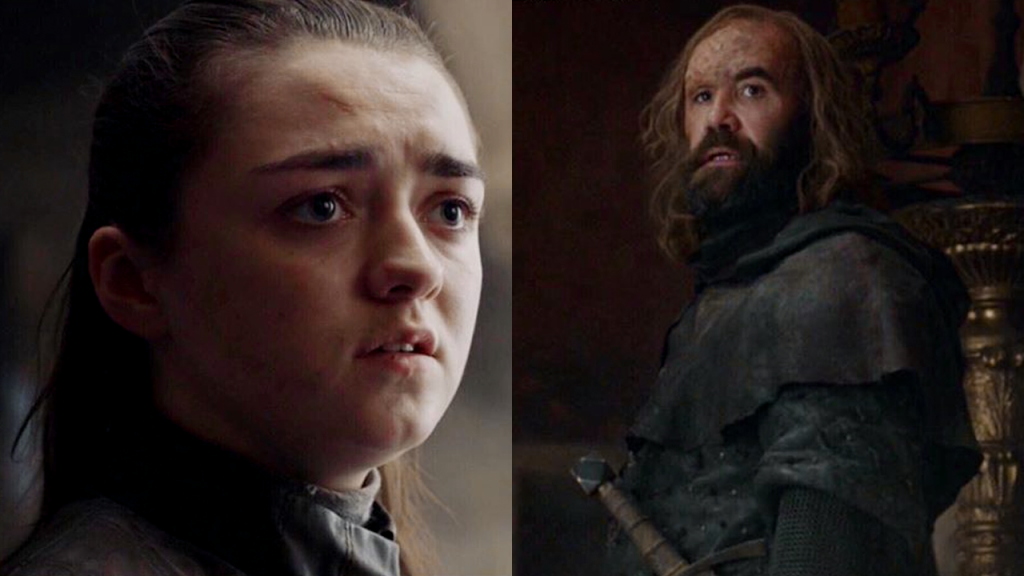 E niente, questi due ci hanno fatto sorridere fin dall'inizio. Si sono odiati e maltrattati senza sosta, lei ha quasi lasciato morire lui e lui non ha mai perso occasione per insultare lei fra grugniti e imprecazioni. Se troppe generazioni non li separassero sembrerebbero quasi una vecchia coppia sposata e invece possono al massimo incarnare un disfunzionale rapporto padre/figlia.
Perché sì, nessuno potrà farci dimenticare Ned Stark, ma grazie al rapporto conflittuale con sua figlia, il più scorbutico dei Clegane è riuscito a scrollarsi, nel corso delle otto stagioni, la nomea di Mastino per diventare finalmente, appena in tempo prima della fine, semplicemente Sandor. Perché dopotutto, proprio come accaduto con Jaime, non c'è niente di più bello del vedere un personaggio evolversi tanto da trasformarsi da farabutto in eroe.
5) LA NINJA ARYA E LA MORTE DEL NIGHT KING
Alcuni hanno polemizzato sulla scelta di far uccidere alla piccola di casa Stark il famigerato Night King, quella che doveva essere la minaccia più pericolosa di tutti i Sette Regni. Alcuni volevano fosse Jon a uccidere l'inquietante comandante dei non morti, altri che ci pensasse Daenerys a cavallo del suo Drogon, ma alla fine la scelta è ricaduta sulla silenziosa e letale No One. E per fortuna, per la maggior parte dei fan, questa è stata la scelta più azzeccata.
Merito anche di una splendida fotografia e di un efficace uso delle musiche, abbiamo seguito con la giusta tensione l'avvicinarsi del gelido Night King all'inerme Bran per poi esultare alla comparsa in scena della piccola Stark che, dopo aver compreso il suo destino grazie a Melisandre, mette fine all'incubo degli Estranei una volta per tutte.