Game of Thrones è costellata di battaglie. Estranei contro bruti, Re contro Re, bastardi contro bastardi, assedi di rara bellezza. Possiamo trovare davvero di tutto e per tutti i gusti. Proprio per questo è stato davvero difficile fare una selezione delle 5 migliori battaglie di tutto lo show.
Abbiamo scelto dei momenti chiave della storia, ma anche e soprattutto dalla grande potenza emotiva. Non per ultimo, dal punto di vista della loro realizzazione tecnica, la quale ha avuto discrete differenze da stagione a stagione.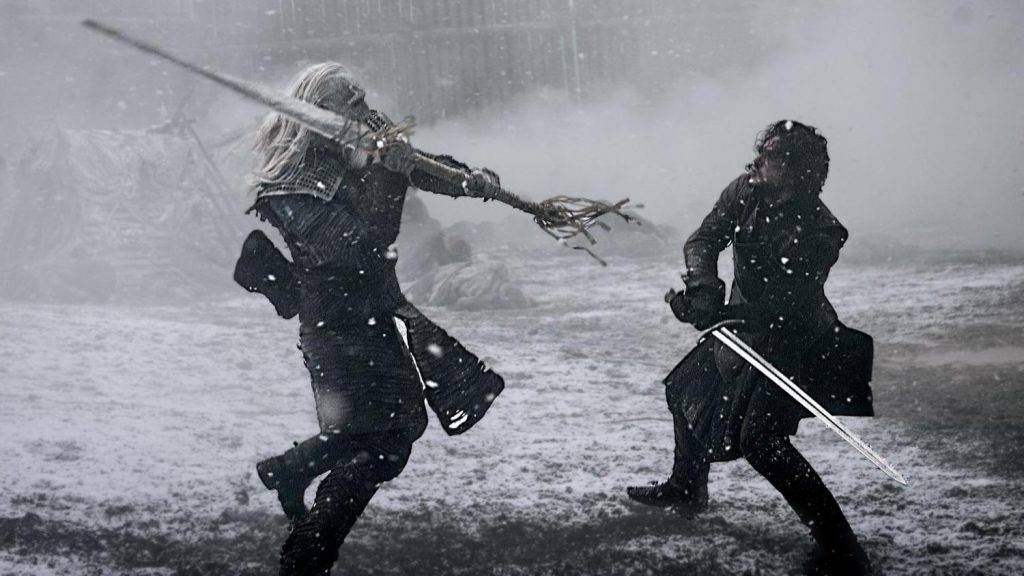 Le battaglie in Game of Thrones sono state una colonna portante dell'intera serie tv: modeste di numero, ma memorabili per il pubblico di tutto il mondo. A tal proposito, anche se non presenti in lista, è doveroso citare grandi battaglie come l'assedio di Meereen, nelle quale vediamo una Daenerys Targaryen ferita nell'animo che si vendica con giustizia contro gli oppressori.
Spoils of War in cui, per la prima volta, vediamo la potenza devastante di un drago in campo aperto.
E la stessa The Bells, penultima puntata dello show: il dolore e la sofferenza umana non sono mai stati così forti e visivamente tanto crudi e diretti. Pronti? Cominciamo.
1) The Watcher of the Wall
La prassi in Game of thrones ha previsto per intere stagioni il massimo colpo di scena nella penultima puntata. Questa prima battaglia della lista non fa eccezione. Parliamo infatti del nono episodio della quarta stagione, il famoso scontro decisivo al Castello Nero tra i guardiani della notte e i bruti guidati da Mance Rayder.
Il terrore e la confusione più totale dilagano tra i ranghi dei guardiani della notte che per decenni non hanno visto una battaglia di tale portata a casa loro. Una battaglia relativamente veloce ma cruenta in cui Jon Snow mostra le sue prime reali doti di leader, prendendo il comando dei guardiani e guidandoli alla vittoria.
In questa battaglia vediamo Spettro che si scaglia con rabbia contro i suoi nemici, facendo finalmente emergere il suo lato più selvaggio e agguerrito. Tra le fiamme e le urla di compagni e amici, tutto lo scontro si sviluppa su due piani: la parte alta e quella bassa del castello, in una frenesia di colpi e scontri individuali.
L'uso dei mammut e dei giganti per la prima volta in azione, di grande impatto visivo, risultano leggermente sottotono rispetto agli scontri corpo a corpo delle due fazioni. Ciò nonostante questa battaglia in pochi minuti ha regalato più di uno snodo narrativo importante, tra questi la morte di Ygritte tra le braccia di Jon Snow e le sue memorabili ultime parole: "Ricordi la caverna? Non saremmo dovuti uscire da lì. Tu non sai niente Jon Snow".