Attenzione! Spoiler sul finale di Game of Thrones 8!
Jon si allontana, guarda, dubbioso e sconsolato, apatico come mai, quella porta che si chiude. È un cerchio durato otto stagioni che si riavvolge su se stesso. Da quel varco Game of Thrones aveva aperto la scena, sulla sua chiusura la conclude. Perché proprio lì? Perché proprio Jon oltre la Barriera? Dove sta andando?
Per comprenderlo dobbiamo analizzare il percorso di Jon. Un cammino mai regolare, sempre incerto e costantemente proiettato verso l'apertura al prossimo. È quella sua inesausta sete di bontà che lo mette in contatto con il Popolo Libero. Tra quel popolo trova il suo primo, grande amore. In Ygritte, Jon vede qualcosa: l'indomabile fierezza e libertà che la sua guardia non gli permette di avere.
L'amore, d'altronde, è la morte del dovere, come sentenziava Maestro Aemon.
E Jon viene meno al suo dovere. Lo fa per amore non solo nei confronti di Ygritte ma dell'umanità. Sempre, nel corso delle otto stagioni, il bastardo di casa Stark è mosso dalla ricerca disperata di una giustizia finale. Una giustizia contro i soprusi e la morte del padre putativo. Una giustizia che gli desse una sua identità e quell'amore familiare che Catelyn, suo malgrado, non aveva mia saputo donargli in pienezza.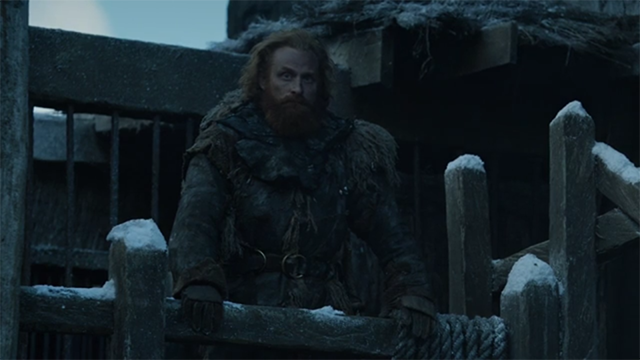 Nel Popolo Libero, Jon scorge la disturbante bellezza della libertà, della possibilità di non stare sotto padroni e di essere giudicato non per il nome che (non) porta ma per la sua tempra. Sarà Tormund in Game of Thrones 8 a ricordare le grandi imprese dell'amico. Di quell'uomo riuscito a entrare nei cuori del Popolo Libero grazie alla sua fierezza, al coraggio e all'indipendenza di fronte a qualunque comando.
Ecco, Jon non ha mai rispettato gli ordini. Non è mai stato uno yes man pronto a servire. A tratti avrebbe voluto ma non era da lui. Era uno Stark ma non sentiva di poter essere il Re del Nord. Era un Targaryen ma senza neanche un briciolo dell'identità di quella casata. Quando Jon guida il Nord lo fa per necessità non per brama. Quando scopre di essere il legittimo erede al trono rifugge da quella prospettiva.
Come la neve Jon veste quel bianco che è assenza di colore, mancanza di identità.
Ma paradossalmente quella sua mancanza diventa forza. Contraddice i suoi superiori, disobbedisce, segue una strada non battuta. Giunge fino al gesto estremo, all'uccisione della persona che ama per il bene dell'intera umanità. Perfino l'amore non l'ha avuta vinta nel suo cuore.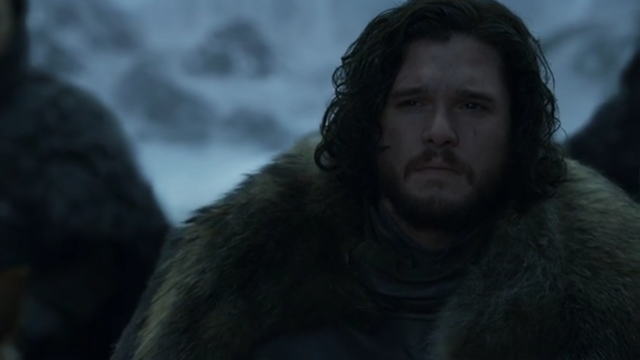 E così quello che rimane di lui è una cosa e una cosa soltanto. Ciò che lo ha sempre contraddistinto contro tutto e tutti: la sua capacità di fare la cosa giusta, dubitando costantemente di ogni convenzione e convinzione, di ogni preconcetto e tradizione. È in adempienza a questa sua morale interiore che va incontro alla prigonia nel finale di Game of Thrones 8.
Una prigione fisica ed emotiva dalla quale può uscire solo in un modo. Recuperando quella libertà assoluta che è indispensabile, come Jon ben sa, a un vero lupo. Lo sa anche Bran quando commina la condanna. Bran che tutto vede, depositario e custode della memoria. Sa che Jon non sta andando a riprendere la guardia.
Sa che lì all'estremo nord ad aspettarlo ci sarà l'unico popolo di cui Jon si sia mai sentito vera guida.
L'incontro con Tormund si accompagna alla ricongiunzione col suo Ghost, con quel simbolo di libertà assoluta e insopprimibile. È un ricongiungimento con se stesso, con la sua natura più autentica. Jon non è fatto, non lo è mai stato, per essere un guardiano. Si allontana così, alla guida del Popolo Libero, scevro da responsabilità e da ruoli di potere.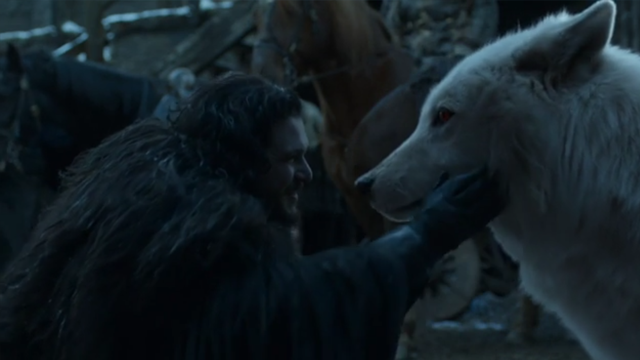 Voltandosi indietro ripensa a quello che è stato, ai suoi fallimenti, all'amore perduto e ai rimpianti che porta con sé. Malinconico e meditabondo, apatico come la neve che ovatta ogni cosa, anche i sentimenti. Ma lì sotto, sotto quel bianco candido, già si apre uno spiraglio di speranza, una giovane piantina che col suo verde brillante anticipa la fine dell'oscurità. Non è più tempo dell'inverno ma di una rinnovata, ostinata vita.