Attenzione! Questo articolo contiene spoiler sul finale di Game of Thrones 8!
Al numero 77 di Barton Street, quel 18 maggio di trentanove anni fa il piatto di un giradischi continuava a girare ripetendo ostinatamente lo stesso rintocco. Lo stesso tic nevrotico di un vinile giunto alla sua conclusione. Non c'era nessuno a poterlo fermare, non c'era più. Ian Curtis si era tolto la vita nella sua casa di Macclesfield, solo, con un film di Herzog e un disco di Iggy Pop come unici compagni. L'amore l'aveva dilaniato.
Pochi mesi prima aveva dato alla luce il suo singolo più commerciale, quello che sarebbe diventato un successo mondiale. Una canzone solo apparentemente vivace ma che al suo interno nasconde un profondo male di vivere, la scoperta dell'insuperabile incomunicabilità umana.
"Love Will Tear Us Apart", l'amore ci dilanierà.
Se Game of Thrones 8 avesse avuto l'ambientazione industriale e crepuscolare della Londra anni '80 questo ossessivo ritornello, love will tear us apart, avrebbe potuto trovare posto d'onore nel momento cruciale della stagione.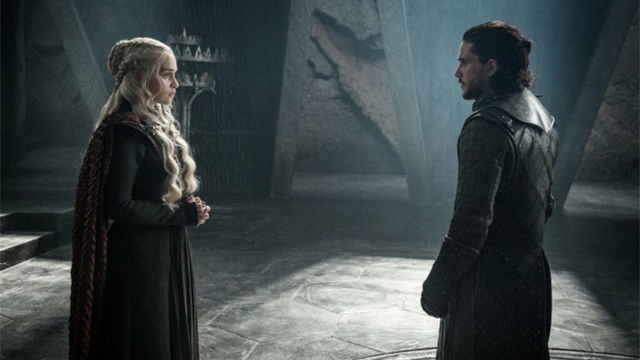 Quando Jon guarda Daenerys nell'ultimo episodio di Game of Thrones 8 sa già. È consapevole delle conseguenze dell'amore e dello strazio interiore che di lì a poco lo assedierà. Jon sa che l'amore ci dilanierà. Sa, perché lo ha visto in Daenerys che si abbandona per amore dei suoi cari alla vendetta e alla follia.
Quando i risentimenti cavalcano alti;
Ma le emozioni non cresceranno;
E noi stiamo cambiando i nostri modi d'essere;
Prendendo strade diverse;
Allora l'amore, l'amore ci dilanierà di nuovo.
Ce ne siamo resi conto sempre di più durante Game of Thrones 8, dell'assurda distanza, dell'imbarazzo palpabile tra Jon e Daenerys. Le loro emozioni avevano smesso di pulsare, le strade si erano fatte sempre più distanti, più antitetiche. Non c'è più intimità tra i due, i baci sono l'estremo, inutile tentativo di ricomporre un'unità ormai irrimediabilmente perduta.
Per Ian Curtis è l'esito ineluttabile di ogni sentimento, dell'uomo stesso.
Condannato ad amare e a perdere quell'amore, sopraffatto dal cambiamento e dal logorio della quotidianità. Il suo amore per la moglie Deborah, sua inseparabile compagna fin dall'adolescenza, era morto. L'amore li aveva dilaniati. Lo stesso amore che spinge Verme Grigio alla follia omicida. Lo stesso amore morboso che riunisce Jaime, nella morte, alla sua perversa compagna.
E ho un sapore nella bocca;
Mentre la disperazione si impadronisce di me;
Solo che qualcosa di così buono;
Può semplicemente non funzionare più?;
L'amore ci dilanierà, di nuovo.

Jon muore veramente, una seconda volta, una più dolorosa volta, quando affonda il colpo, cercando di sottrarsi alla follia d'amore. Quando vede crollare la sua regina, colpita dall'amore dilaniante dei Targaryen. Un amore proibito, quello di Rhaegar e Lyanna, aveva aperto le danze per il trono e la fine di un amore straziante le chiude. Ma anche rifiutando l'amore Jon ne è dilaniato. Non sorriderà più, non avrà più alcuna espressività. Dopo quell'atto estremo ma dovuto tutta la sua vitalità è sparita.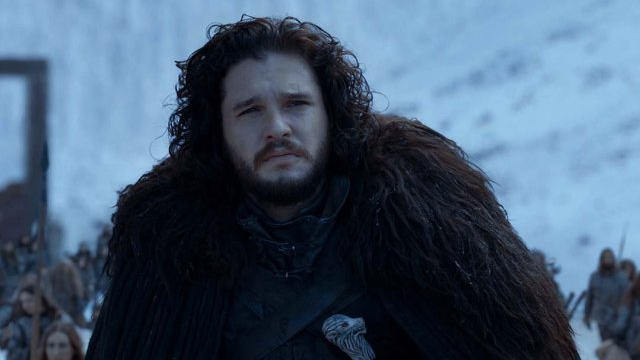 C'è spazio solo per la disperazione ostinata. Può un dolore così grande nascere da un amore tanto profondo? L'amore ci dilanierà di nuovo. Jon è un'ombra stanca. Accetta supinamente la sua condanna ben consapevole che la pena più dura è quella che lui stesso ha inflitto a sé, scosso dal dubbio insopprimibile. "È giusto, quello che ho fatto?", chiede supplichevole a Tyrion.
"L'amore è la morte del dovere", cantilenava il maestro Aemon.
L'amore ci dilanierà di nuovo, urla Ian Curtis. Nella consapevolezza dell'inevitabilità. Di quella sorte che Jon ha vissuto in prima persona, svuotato di se stesso non dalla morte, che su di lui non l'ha avuta vinta, ma proprio dall'amore. Quando si volta indietro per l'ultima volta nel finale di Game of Thrones 8 sa che tutto è iniziato da lì, dall'infrazione del comandamento dei guardiani, dall'amore che ha fatto capolino in lui.
Love will tear us apart again;
Love will tear us apart again;
Love will tear us apart again;
Love will tear us apart again.
Sulla tomba di Ian Curtis campeggia a chiare lettere il verso della sua canzone più nota, del suo ultimo rintocco, del grido rassegnato di chi non può vivere più. Di chi ha lasciato che la disperazione prendesse il sopravvento sottraendolo al successo che l'aspettava e che tanto temeva.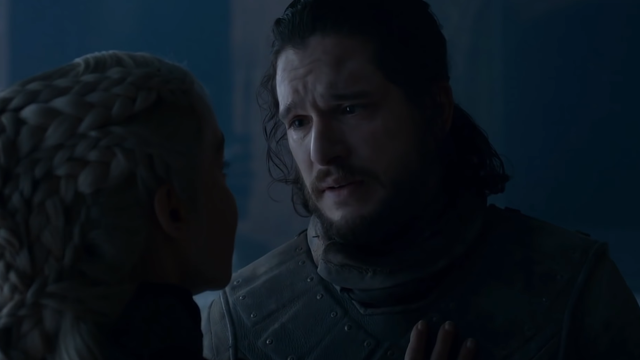 Jon non voleva il successo. Non voleva regnare. Voleva una sua identità che non fosse quella di un bastardo, di un senza nome. Jon e Ian cercano la loro strada, lo fanno perseguendo un senso che sembrano trovare nella purezza dei sentimenti. Ma l'amore li dilania, li condanna all'omicidio e al suicidio davanti a un'emozione che non c'è più, davanti alla corruzione mondana del potere e della ricchezza che hanno colpito chi li circonda. Resta solo il nulla.
Love will tear us apart, again.