Appena pochi giorni fa vi abbiamo dato una notizia folle: Benioff e Weiss, sceneggiatori della serie, hanno affermato di aver nascosto il finale Game of Thrones 8 in una playlist di Spotify (qui la notizia). E lo hanno ribadito convintamente, sicuri che nessuno avrebbe creduto loro. Noi, invece, abbiamo voluto prenderli in parola. Quello che ne è uscito è assurdo e impensabile ma pure incredibilmente coerente.
Ora questa playlist è stata rimossa, non esiste più. Siamo riusciti, però, a recuperare tutti i titoli presenti. Ne è nata un'analisi quasi filologica che ha preso in considerazione testi, parole e significati profondi di ogni brano. Il risultato è che ora (forse) sappiamo, anche se non abbiamo le prove.
Potremmo sapere chi siederà sul trono in Game of Thrones 8, potremmo sapere chi morirà.
Non vi resta che seguirci in questa ricerca folle e decidere se crederci o meno.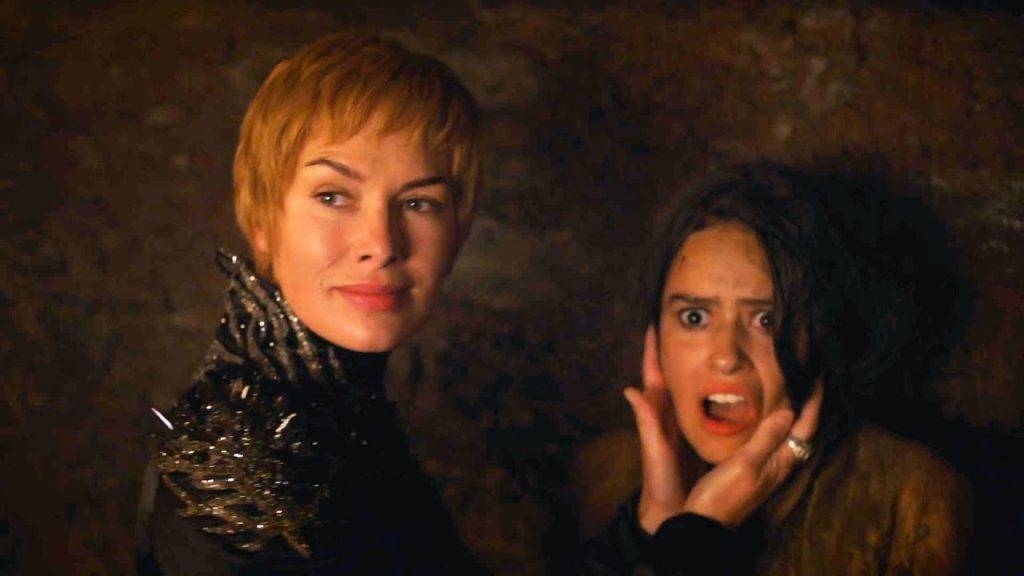 La playlist originaria conteneva quarantaquattro brani, quasi tutte ballate rock con qualche intermezzo pop e rap. Brani molto famosi e altri meno noti. Autentici capolavori in alcuni casi, come Immigrant Song dei Led Zeppelin. Una canzone che risulterà decisiva nel nostro percorso ricostruttivo del finale di Game of Thrones 8. Ma andiamo con ordine.
Alcuni brani appaiono come semplici riempimenti. Eppure, nessuno è scevro di riferimenti più o meno diretti alla serie. È il caso di Mama Kin dei
Guns N' Roses che sembra proprio rievocare la storia di Daenerys e della sua progressiva presa di consapevolezza e indipendenza. Oltre a qualche curioso riferimento ("Sputando fuoco dalla tua bocca / proprio come un drago").
O Girl from the North Country di Bob Dylan e Johnny Cash.
La canzone ci parla di un uomo che si strugge per una donna del nord (Gendry e Arya?). Senza dimenticare Wolf Like Me dei TV On The Radio; Dire Wolf dei Grateful Dead ("Il lupo minaccioso prende ciò che gli spetta"); Little Monster dei Royal Blood ("Sono il tuo lupo, sono il tuo uomo"); Winterlong di Neil Young ("Ti ho aspettata per tutto l'inverno / Sembra che il mio posto sia con te"); i Blitzen Trapper con Furr raccontano di un uomo solitario che diventa un lupo ma, innamoratosi, riacquista umanità; Killer Wolf dei Danzig e Wolves of Winter dei Biffy Clyro.
Quest'ultima in particolare, in un verso recita: "Questa celestiale creatura / È lei il punto / Lei che ci darà la possibilità di sopravvivere all'inverno". Un riferimento alla spada fiammeggiante di Azor Ahai, la "portatrice di luce"? In ognuna di queste canzoni, comunque, aleggiano una pesantissima aura di morte e minacce esplicite.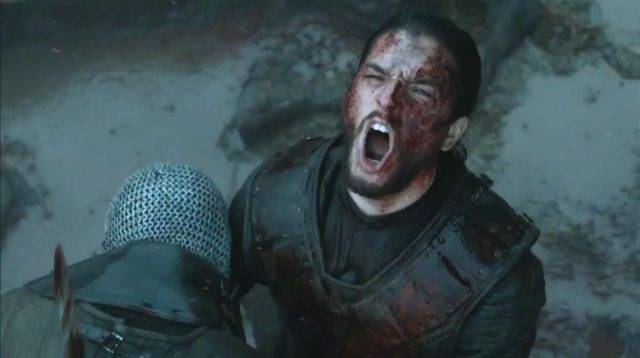 Il culmine viene raggiunto in Devil's Spoke di Laura Marling che, nel video ufficiale, tra fiaccole accese e fuoco divampante profetizza: "Ma io sono il tuo guardiano / E tengo il tuo viso lontano dal mio / Sono tuo finché non arriveranno / Occhio a occhio, naso a naso / Strappandoci l'un l'altro i vestiti di dosso in modo molto strano".
Quello che più colpisce è la sequenza di questi brani in un crescendo di orrore e rovina.
Così Dead Skin Mask di Slayer ci suggerisce cupamente che "Ballo con i morti nei miei sogni / Sento le loro urla vuote / I morti hanno preso la mia anima / La tentazione ha perso il controllo". Crown on the Ground dei Sleigh Bells ("Metti la corona a terra") sembra parlarci, invece, della fine di Cersei o Daenerys.
Senza dimenticare l'enigmatico titolo del brano dei Kaleo: Hot Blood; Cold, Cold, Cold a firma di Cage The Elephant ripete: "E mentre cala il buio, riempie entrambi i miei occhi / La mia vita davanti a me, come un flash nella notte / Con le braccia spalancate / Beh fa freddo, freddo, freddo, freddo dentro.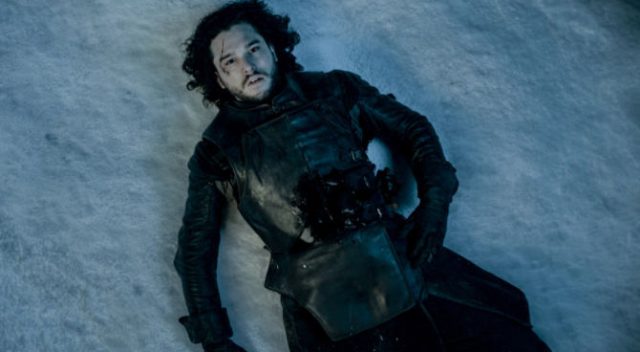 Tutta questa prima parte della playlist è dedicata al rapporto amoroso che sfocia nell'omicidio. Come nella morbosamente edipica The End dei The Doors in cui troviamo espressioni come "Cavalca il serpente", "Questa è la fine, mia unica amica", "[L'assassino] Entrò nella stanza dove viveva sua sorella e poi lui…". Discorso simile per l'incestuosa Sister di Prince.
Il quadro che se ne ricava è quello dell'assassinio in Game of Thrones 8 di Daenerys per mano di Jon (Killer Man), reso un non morto (Dead Skin Mask).
Ma c'è dell'altro, riferimenti ancor più diretti a chi siederà sul trono. La seconda parte della playlist, infatti, apre scenari nuovi, di un mondo post-apocalittico. Un mondo nuovo e non necessariamente peggiore.
Detto di una misteriosa War Pigs targata Black Sabbath (la casata Suggs ha come stemma un maiale alato), la playlist si apre a conclude con una serie di brani che vale la pena analizzare. Immigrant Song, come detto, ma anche Seven Nation Army dei White Stripes, War dei Grandson, Let's Have a War (Fear), Rise Above (Black Flag). E ancora Toxicity (System of A Down), Born for Greatness (Papa Roach) e Here's Your Future (The Thermals).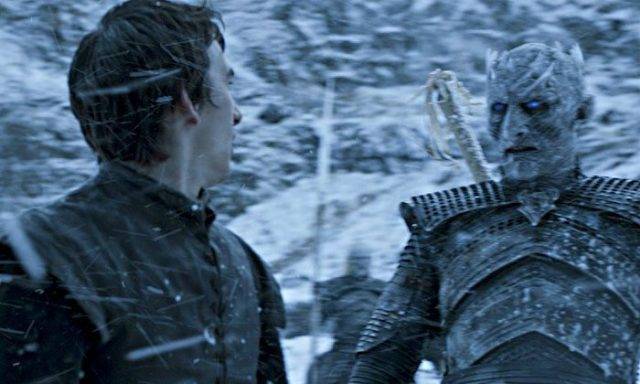 C'è un'incredibile continuità di significato in tutti questi brani. Il tema ricorrente, dominante, è la rovina del mondo, la sua tossicità a causa dell'uomo. E, sempre, gli interlocutori sono misteriosi combattenti che si ribellano (Burn the Fleet, Thrice). "Siamo stanchi dei vostri abusi / Prova a fermarci, è inutile! / Ci ribelliamo!" (Rise Above). Alternative Ulster degli Stiff Little Fingers invoca, per esempio, una rivolta per un mondo alternativo.
E ben tre brani parlano di purezza e sacralità legati a figure apparentemente demoniache.
"Puoi provare e incolparci / E provare a prendere ciò che è sacro / No, non siamo senza nome / non siamo senza faccia / Noi siamo nati per la grandezza" (Born for Greatness, Papa Roach). "Stiamo costruendo una barca / Dove Dio creerà una nuova razza superiore / Perché noi siamo così puri / Perciò questo è il vostro futuro" (Here's Your Future, The Thermals).
E arriviamo, infine, a Immigrant Song. Una canzone scritta da Robert Plant a seguito di un fortunato concerto in Islanda, la "Terra del ghiaccio e della neve". "Avanziamo controvento / Il nostro unico obiettivo è la costa occidentale", urla Plant. "Quanto dolcemente i vostri campi tanto verdi / Possono sussurrare storie di sangue e in che modo noi abbiamo sedato / Le ondate di guerra / Noi siamo i vostri padroni", "Così ora dovreste fermarvi e ricostruire le vostre rovine / Perché la pace e la verità possano vincere oltre il giorno / Della vostra sconfitta".
Il cantautore dei Led Zeppelin descrive, qui, il mondo dal punto di vista dei vichinghi, di cui era grande estimatore (come di tutta la mitologia norrena). Ma è facile, troppo facile rapportare queste parole agli Estranei e al Re della Notte. L'Occidente, la terra del ghiaccio, la guerra. Ma anche una nuova pace, una rinascita e un nuovo mondo. La canzone si chiude, infatti, con un "La pace e la fiducia possono trionfare / nonostante abbiate perso". E l'altro grande leitmotiv dei brani. La rinascita che segue alla distruzione.
Una nuova era di pace che nasce dalla sconfitta.
E se gli Estranei non fossero i mostri che ci siamo sempre immaginati (ne abbiamo scritto qui)? E se il loro scopo fosse rifondare il mondo adempiendo alle antiche profezie (e questo indizio sembra confermarlo ulteriormente)? Ricordiamo che il Night King è stato creato dai Figli della Foresta per proteggere gli alberi sacri dall'abbattimento a opera dei Primi Uomini. Forse un mondo in cui il ghiaccio e il fuoco convivono non è poi così irreale. Forse. Solo Game of Thrones 8 potrà confermarcelo. Ma noi vogliamo crederci.